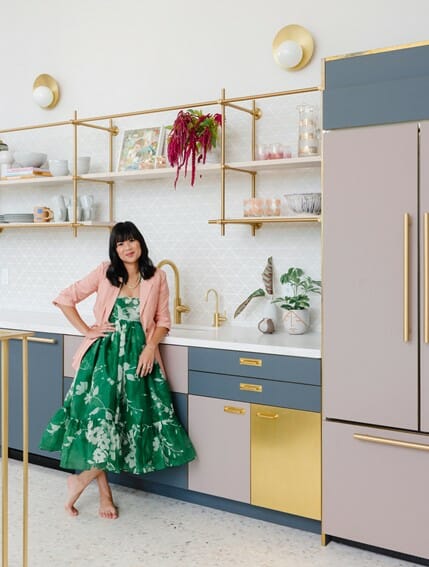 Hi! I'm Joy Cho, Founder and Creative Director of Oh Joy! That's me, leaning on our new Caesarstone countertop in the Oh Joy! Studio, steps away from my new home build. We recently spent six years building a new house in Los Angeles, and this past year we were finally able to move in and use the space – and we love it! We were so lucky to partner with Caesarstone for countertops throughout the house and studio, so I'm going to share all our beautiful spaces and counters with you today…

First up, laundry rooms!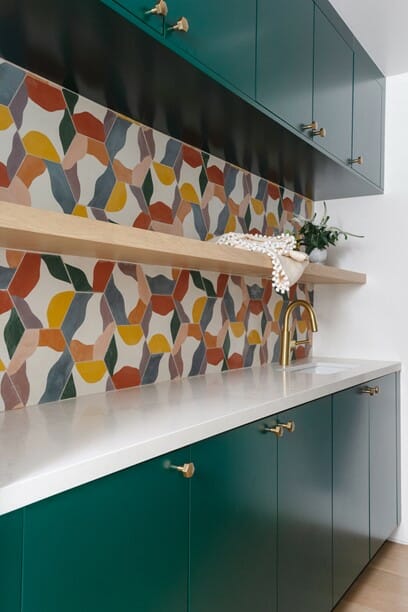 We have this beautiful dark green laundry room in our home with a fun backsplash of multi-color tiles behind it. But the most functional part of the room – the counter! I use this counter to prep laundry loads, pre-soak stains in the sink, and sometimes as a desk to answer emails between washes! If you're thinking about a laundry room makeover, address the counter first! You want something that can get wet and dirty, but that cleans well and can also hold multiple loads of clean clothes (that I'm going to fold…someday)!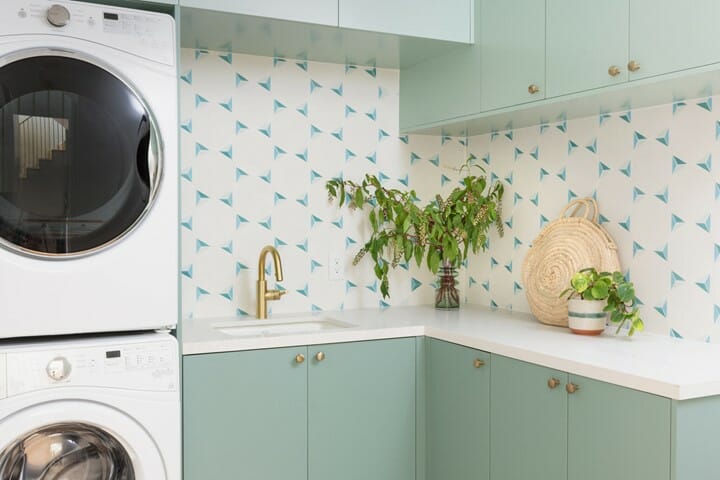 In the studio, we have a corner-sty;e counter which opens up even more options. We have guests come through regularly, which means we're washing LOTS of bedding that needs a big space to fold and store.  

In our laundry rooms, we used Caesarstone Calacatta Nuvo 5131

Next up, entryways!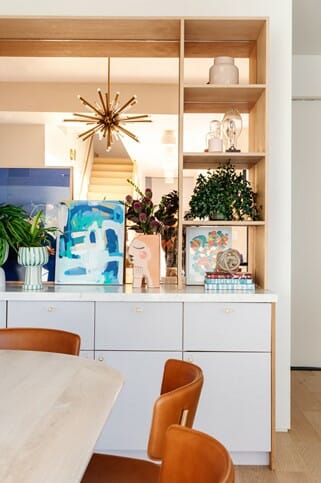 In our house we have this beautiful built-in custom cabinet with a Caesarstone countertop. It looks beautiful and holds lots of our favorite art and planters, but can also handle keys and umbrellas and purses and everything I have in my hands that I drop immediately when I walk through the front door.

In our dining room, we used White Attica 5143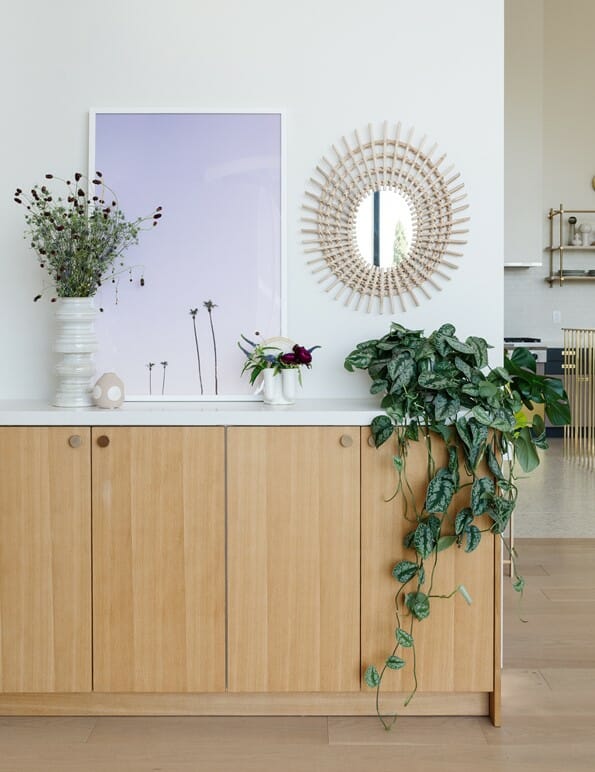 We did the same thing at my office studio! At the upper floor entry, there's a cabinet topped with Caesarstone that holds our favorite plants (no worries about staining, dirt or overwatering because it's so easy to clean) and whatever mail comes in gets dropped off there, too!

In our entryway, we used Caesarstone Calacatta Nuvo 5131

And then my favorite uses for Caesarstone, Bathrooms and Kitchens…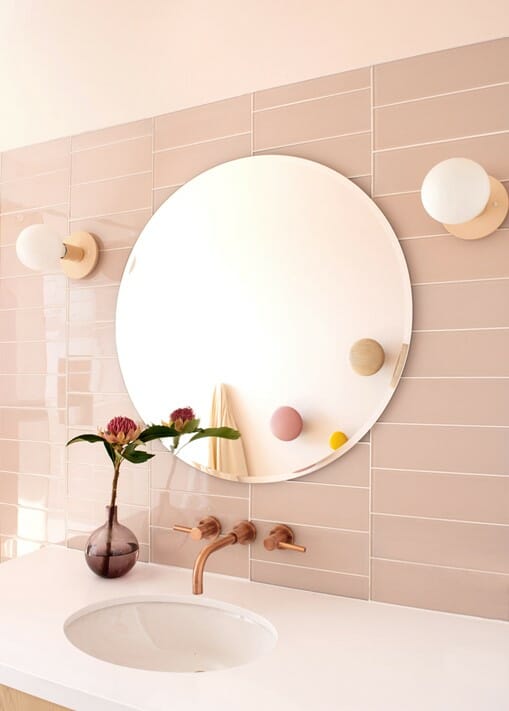 I love quartz and partnering with Caesarstone because of how kid-friendly the material is. I have two daughters (6 and 9) and I wanted their space to be beautiful but USABLE (and I think we succeeded with this awesome pink bathroom). Quartz holds up under splashes, spills, toothpaste explosions, and every other thing life throws at it.

In our girls' bathroom, we used Caesarstone Pure White 1141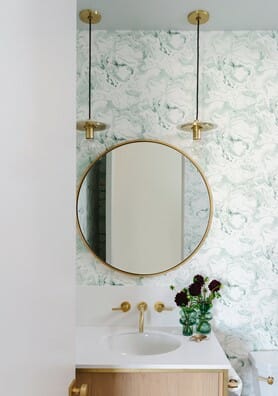 All three of these guest bathrooms (mix of guest bathrooms and powder rooms) have quartz Caesarstone countertops. That way we don't have to worry about anything harming the counter while we're not around, don't have to set any "rules" for guests (like you need to with more precious, less durable substances like marble) and stands the test of time.

In our guest bathrooms, we used Caesarstone Calacatta Nuvo 5131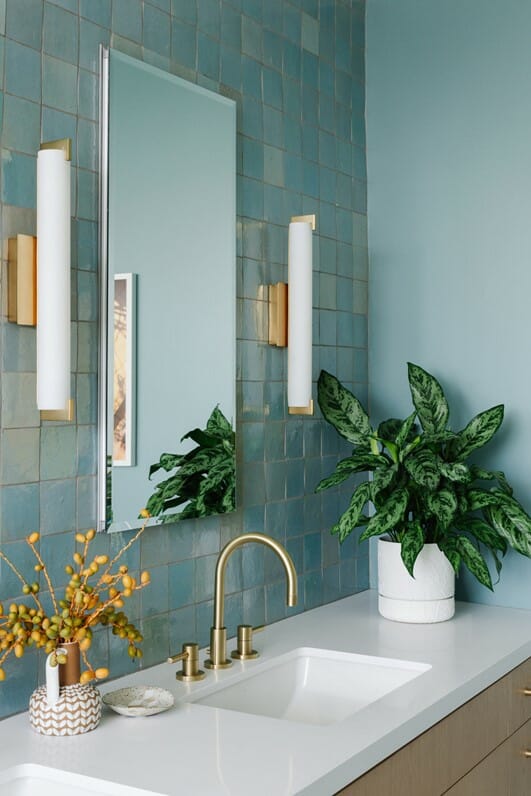 In our main bathroom, we have Caesarstone quartz, too. While kids can sometimes make messes, so can adults! We want to be comfortable in our space, have it look clean and sophisticated, yet not beat ourselves up over shaving cream or mouthwash spills.

In our main bathroom, we used Caesarstone Pure White 1141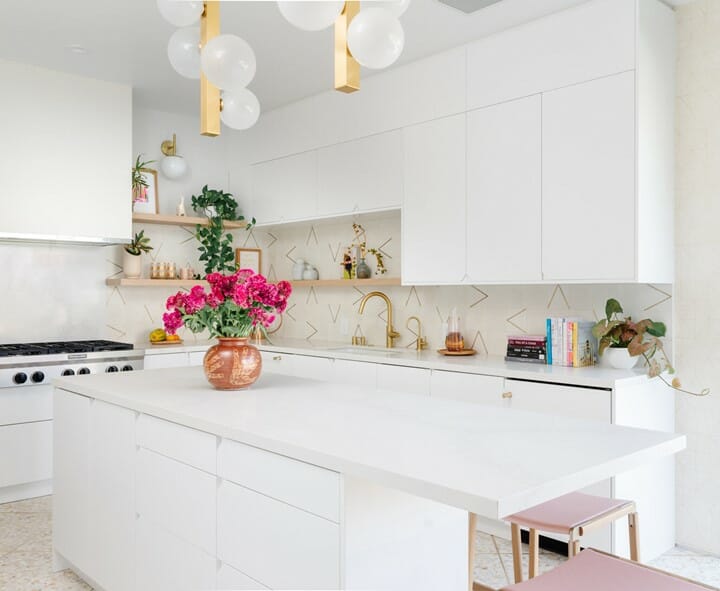 Finally our kitchen! Isn't it pristine and beautiful? I just love how all the white makes it look so clean and organized. We have our countertops and island in Caesarstone quartz and these are the highest traffic areas in our house! We don't worry about spilling wine, cooking oils, or kids pouring their own juice. Everyone gets to work, everyone can make a mess, and then everyone helps clean up and it goes back to its original state! Having had a marble countertop in a past kitchen, I know for certain Caesarstone quartz was the right choice for me and my family. How about you?

In our kitchens (first & last photo), we used Caesarstone Calacatta Nuvo 5131