Whether remodeling an existing kitchen or starting from scratch, selecting countertops is one of the most exciting aspects of the home design process in Charleston, SC.
Aside from providing a robust surface for cooking, eating, and socializing, they are also the focal point of the kitchen. As such, it is vital to select the proper countertop material.
One of the most popular materials for residential countertops is engineered quartz. Read on to learn more about all the quartz countertop options that Charleston, SC has to offer.
Why Consider Quartz Countertops?
Durability, a non-porous nature, and an eye-catching appeal are just a few of the many benefits of quartz countertops. Homeowners who are on the fence about whether or not to go with quartz for their kitchen surfaces should consider this list of reasons as to why quartz is among the best materials for their countertops in Charleston, SC.
Durability
Quartz countertops in Charleston are extremely durable. In fact, quartz ranks a 7 out of 10 on the Mohs Scale of Hardness, making this countertop material highly crack, chip, and scratch-resistant. As a result, quartz is a go-to material choice for homeowners with high-traffic surfaces, as they can last for many years to come.
Warranty
Quartz countertop manufacturers are so confident in their product's durability that they provide substantial guarantees, which are a great assurance of premium quality and top notch craftsmanship.
Caesarstone offers a Residential Lifetime Warranty that protects the original owner but can be transferred to a new owner. Once transferred, the guarantee is valid for ten years, prorated from the installation date. Please note that the Residential Lifetime Warranty only applies to indoor countertops.
Caesarstone's warranty does not cover damage caused by misuse or outside use. It also doesn't apply if the countertops are being used commercially. Caesarstone also has a wide range of beautiful color collections like the whitelight color collection or the outdoor color collection.
Homeowners should note that Caesarstone has separate warranties (ten-year and lifetime) for outdoor quartz products. Homeowners can click the following link to fill out a Warranty Form or to learn more about the inclusions and exclusions of the agreement.
Appearance
Lastly, quartz countertops come in a variety of sleek and contemporary styles. Given its engineered nature, quartz countertop manufacturers can produce any design, pattern or color a homeowner is looking for.
Quartz countertops can be made to match the kitchen's cabinetry, backsplash, or other decor. As such, homeowners are able to customize the look of their countertops to align with their chosen kitchen style. Quartz can also mimic the appearance of other materials, such as marble or concrete.
Additionally, some quartz countertops, like from Caesarstone's Pebbles Collection, are made to resemble nature-inspired landscapes. With colors like 1001 Riverlet, 1004 Stoneburst and 5161 Icellion, homeowners can bring the calming presence of nature into the heart of their home.
In the end, quartz allows you to produce any design and the choices are virtually unlimited.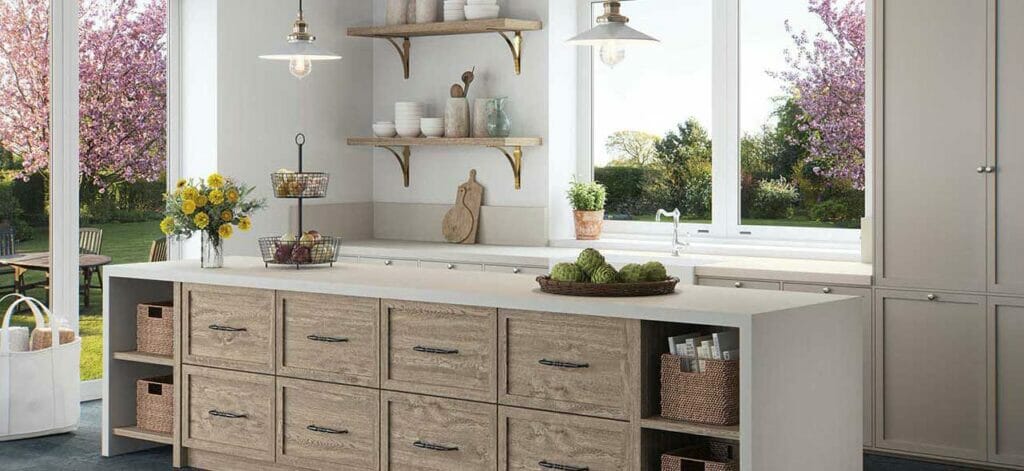 Where To Buy Quartz Countertops In Charleston
Before looking for that perfect quartz countertop, take a look at ten places to buy them in Charleston.
Home Depot East Charleston
Curated surfaces inspired by great design, contemporary styles, and surprising details will bring your imagination to life. Caesarstone's designer quartz products are now available at Home Depot.
Mevers Kitchen & Bath
Their expert staff has continued their history with excitement and dedication to excellent design, workmanship, and attention to detail, whether it's new construction, home renovations, bathroom projects, or kitchen remodeling.
Mevers Custom Kitchens uses only the finest materials to construct the best custom kitchen cabinets, countertops, and hardware available today. They supply products that embody both past and current design trends to help our customers realize their vision while staying inside their budget. Visitors can trust the design and production professionals at Mevers Custom Kitchens to work together to produce a one-of-a-kind design that meets their exact requirements.
Spartina Kitchens & Baths
The company's interior design team has nearly 30 years of experience and can help homeowners reinvent any space with practical and beautiful bespoke cabinetry and quartz countertops. Spartina Kitchens & Baths can design an excellent custom installation that subtly improves any living setting, from sleek and minimalist to bold and contemporary.
Signature Kitchens & Baths of Charleston
Since 1977, Signature Kitchens & Baths of Charleston has represented the best of customer service and product quality in the industry, with one of South Carolina's most beautiful showrooms. With over 8,000 square feet of exhibition space, Signature Kitchens boasts the largest collection of creative kitchen and bath designs in the area.
Jilco Kitchen & Bath
Since 1991, Jilco has provided Charleston, SC with high-quality cabinetry and countertop products. Builders, contractors, and homeowners can go to Jilco if they need help fulfilling their project goals while providing quick and dependable service.
Southern Components
Southern Components values long-term partnerships and cares about their client experience. As such, they work to improve and grow their knowledge of each of their projects so that they can provide solutions throughout the process. When they join any team, they provide a good and full experience. Each member of the Southern Components team is driven to find answers to the most difficult problems.
They will work closely with the project team to eliminate as many differences as feasible, from desired aesthetic and design intent through mechanical operation and end-use. Their team recognizes that the homeowner will continue to live in their house and create memories. ​​
Atlantic Stone LLC
Atlantic Stone LLC is the leading source for natural and cultured stone countertops, vanity tops, backsplashes, fireplaces, showers, bathtubs, and more.
Atlantic Stone LLC pledges to provide exceptional client service while conducting themselves with honesty and integrity. For any countertop, tile flooring, or grout surface needs, their mission is to provide customers with the greatest level of professionalism. The trained workers clean up after themselves and safeguard the surfaces around work areas.
When they claim they provide reputed services, they mean that they always keep in mind that the quality of their work determines their reputation. As a result, they will go to any length to achieve each client's vision for their residential or commercial clients.
We are the top natural stone fabrication and installation company in South Carolina, serving both residential and commercial clients for over 20 years. Our goal is to assist you in designing long lasting works of art that takes mundane rooms and transforms them into extraordinary and breathtaking focal points.
Our capabilities are only limited to your imagination and the natural stone that Mother Nature gives us.
From humble beginnings, we've become the tile setter and stone fabricator of choice for leading builders, architects, and interior designers.
Whether you're building or remodeling, you can trust Atlantic Stone to deliver superior results.
Call or visit our showroom. We look forward to earning your business.
Palmetto Surfacing Inc.
Palmetto Surfacing Inc. has been providing bespoke countertops to customers since 1984. P.S.I. has high-quality products from all over the world and a large selection to choose from. They specialize in surface manufacturing and countertop installation. Their team of design specialists and installation crews all have extensive industry expertise. They provide exceptional craftsmanship, prompt delivery, competent installation, and a pleasant customer experience.
Tile and Stone Design Studio
When it comes to quartz countertops in North Charleston, SC homeowners can visit the Tile and Stone Design Studio.
When customers buy with them, a showroom salesperson pays attention to their unique individual needs so that their purchase fulfills their objectives. In this North Charleston showroom, there are numerous full-time salespeople eager to assist customers in designing the dream home. To better meet the needs as a consumer, they keep on the bleeding edge of tile manufacturing, tile applications, room design software, and new products.
Southeast Kitchens
Creating beautiful places is more than a job for Southeast Kitchens; it's an investment in the customer's quality of life and long-term property value. The design team at Southeast Kitchens makes the construction and remodeling procedure as simple as possible for homeowners and business owners alike. Homeowners and business owners can trust in Southeast Kitchens for any project!