Using high-quality Caesarstone quartz for patio countertop surfaces has become a new trend. Homeowners and landscape artists have started to use Caesarstone quartz to change outdoor living areas. Traditional patios, porches, and poolside rest areas are transformed into cozy refuges where family members and friends can escape the stress of everyday life.
The kitchen is often the heart of a home's interior. This is also applicable to outdoor settings and living areas where the grill or other cooking appliances are kept. Whether it's on a patio, a deck off the kitchen, or by the poolside, the grill functions as the heart of an outdoor kitchen, serving as the focal point of the property on the exterior of a home.
Continue reading to learn about the latest exterior patio counter trends.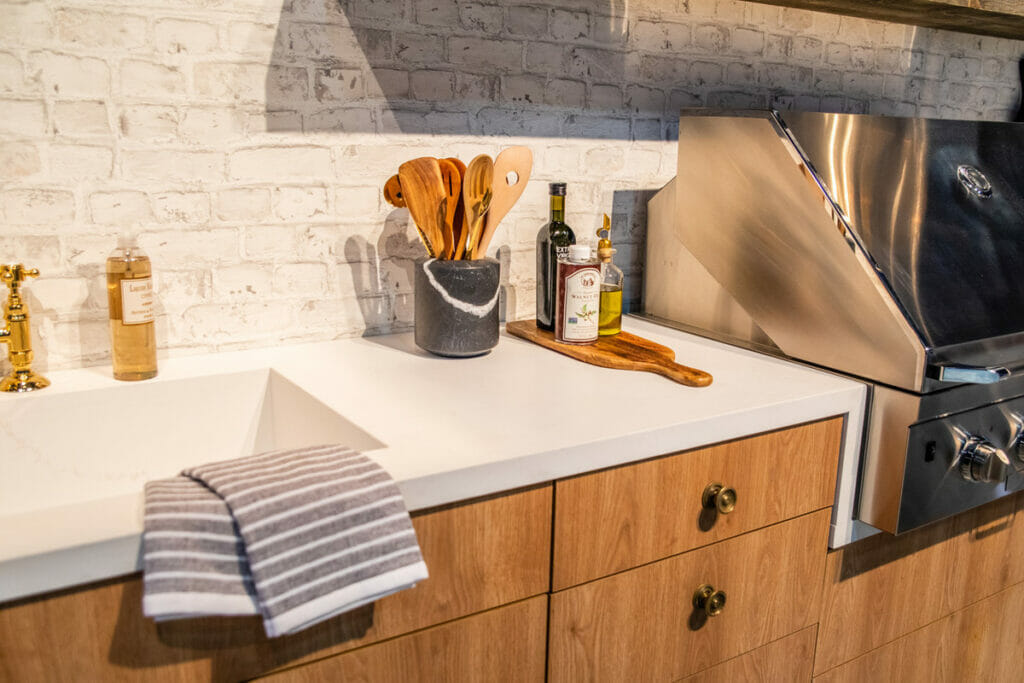 Caesarstone Quartz in an Outdoor Living Space: Patio Countertop Ideas
Naturally, most homeowners want the same comforts in their outdoor kitchen as they would in their indoor kitchen. A Caesarstone quartz countertop is one of the most popular features among homeowners who are designing an outdoor cooking space. Caesarstone quartz countertop's strength and durability allow it to withstand a wide range of environmental variables in addition to its visual appeal.
While homeowners should consult a landscaper for most of the work on their outdoor living area, including a kitchen, homeowners may get a Caesarstone Quartz countertop from the same store that provides one for their family's home's kitchen. Outdoor Caesarstone quartz countertops, like interior Caesarstone quartz countertops, can be used for a variety of purposes.
The following are some examples:
A Caesarstone quartz outdoor patio counter provides a great top for an island next to a grilling or smoking area, allowing homeowners to prep food before grilling, smoking, or preparing another way.
Additionally, a Caesarstone quartz outdoor patio counter can be used as a buffet or serving area for entertaining, where families can set out food, drinks, additional plates, napkins, and utensils.
Install a permanent eating area by adding a Caesarstone quartz counter on top of a built-in stone base if the patio area is modestly sized.
A Caesarstone quartz counter can also be used as a seating area at the border of a patio. This is especially true if homeowners have a pool and are concerned about damp swimsuits ruining their patio furniture's luxurious cushions.
If a homeowners lifestyle includes entertaining guests aged 21 and over, a Caesarstone quartz countertop can be used to create a designer-looking bar that will amaze anybody that visits the space.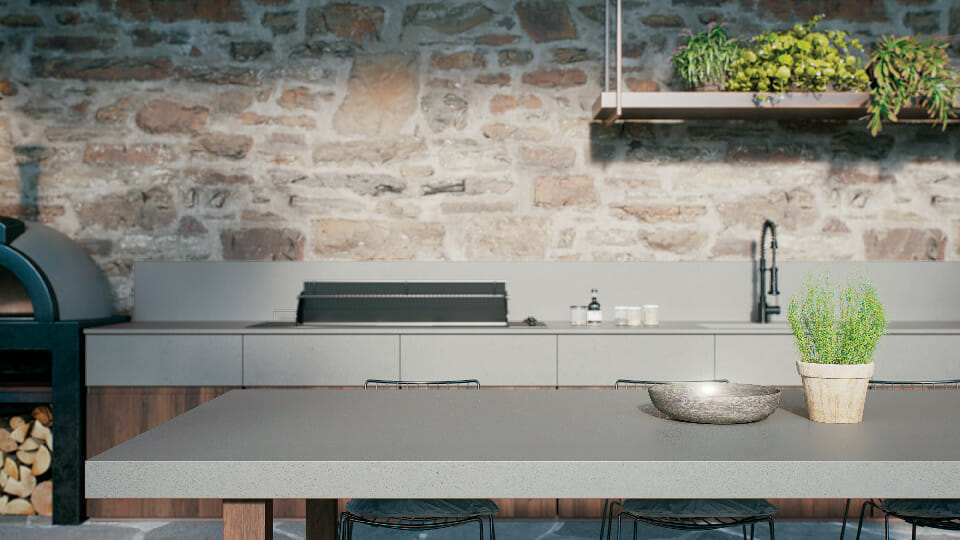 Advantages of Caesarstone Quartz In Outdoor Spaces
Installing quartz countertops from Caesarstone in any residential space, such as in an indoor kitchen or on top of a bathroom vanity cabinet, provides homeowners with durability and an appealing look. Homeowners can get the same benefits from Caesarstone quartz countertops in outdoor living spaces because it can withstand extreme temperatures and other elements. For instance: 
Caesarstone products, as previously mentioned, can withstand a broad range of temperatures since it is formed deep underground.
The stone's natural design allows homeowners to select a one-of-a-kind piece of practical art to enhance any outdoor living environment.
Cleaning is a breeze with Caesarstone quartz countertops. Simply wash it with warm water and a moderate detergent.
Caesarstone quartz counters are much easier to keep clean than counters made of other materials. To extend the life of a counter, inquire at the store where it was purchased about having it sealed.
Caesarstone quartz is available in a wide spectrum of colors, making it suitable for almost any outdoor living space. This includes any landscaping that's been done around the patio, barbeque, or other locations, such as flowering annuals or perennials.
Homeowners don't have to stick to the basics while renovating an outdoor living space. Caesarstone quartz counters can also be enhanced by the addition of accessories. Cushions on patio seats, for example, or a hammock stretched between two neighboring trees, can give an added layer of relaxation while also complementing the aesthetics of Caesarstone quartz patio counter surfaces.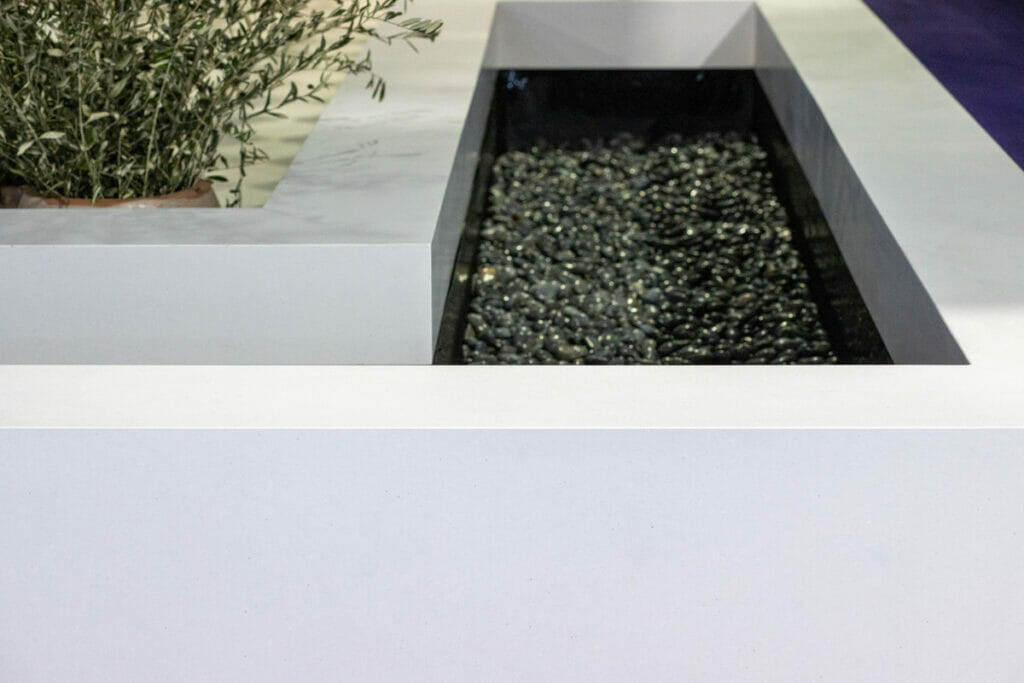 Caesarstone's Outdoor Quartz Collections
An extension of the home, outdoor spaces are a place where homeowners can enjoy a cup of coffee, read the newspaper, cook an al fresco meal, or sip an aperitif while enjoying the fresh air. As such, patio designs not only add to the home's overall style and character, but also create a sense of peace, calm, and tranquility.
Following so many months apart, outside spaces will be the first port of call for entertaining friends and family – both safely and privately. As a result, people have learned to appreciate the value of outdoor space not only for personal enjoyment, but also for hosting and socializing. Caesarstone's innovative outdoor equipment is the answer to all homeowners who love to cook, dine, and entertain in their own backyard.
Caesarstone has been at the helm of surface innovation since 1987, driven by a passion for cutting-edge design. Today, Caesarstone is the only quartz manufacturer in the world where homeowners looking to transform their patio design can find premium countertops specially crafted for outdoor use.
Caesarstone's Outdoor Collection is the perfect addition to any patio kitchen. Quartz's durability lends itself to act as a natural first choice for hard-wearing outdoor surfaces, as it is highly resistant to chips, stains and cracks. With a go-to range of colors, this patented innovation from Caesarstone is also designed to withstand harsh weather conditions while preserving the natural beauty and contemporary appearance of any patio kitchen design.
515 Palm Shade, a classic white marble with delicate warm veining.
406 Clearskies, a pale gray concrete pattern suitable for contemporary gardens.
405 Midday, a white concrete look to fit tiling, stone, or decking.
Caesarstone's commitment to sustainability extends beyond its products. The company's cutting-edge production facilities strive to reduce carbon emissions, water usage, and waste while increasing renewable energy utilization. Caesarstone recycles nearly all of the water used in its plants, and its energy use is steadily decreasing, with a high aim of a 10% decrease by 2025.