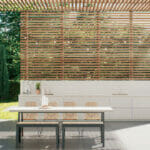 Quartz countertops have become very popular in the recent past. Given the wide array of benefits, a quartz countertop purchase is a worthwhile investment that is unparalleled by other countertop materials such as granite and marble. The durability, wide variety of colours, uniformity, reduced maintenance, and antibacterial properties are just some of the reasons you need a quartz countertop. One of the many considerations when installing a new quartz countertop is selecting how far an overhang will work best for the space.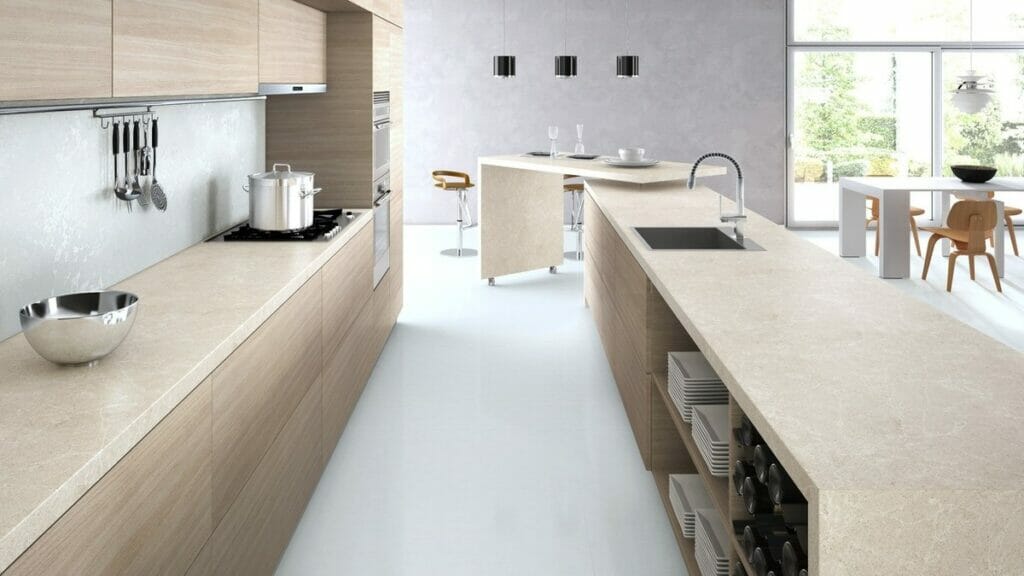 What is a countertop overhang?
A countertop overhang is a part or section of the countertop that covers cabinets and drawers beneath. A countertop overhang protects the drawers from spills, crumbs and any other objects that can fall from the surface of the countertop.
Considering its functionality, how far should a quartz countertop overhang? This decision should be based on various factors:
The brand: While quartz is a strong countertop material, the quartz strength can differ between brands. At Caesarstone, we produce the toughest quartz countertops on the market. Learn more about the benefits of choosing Caesarstone here.
The space you have in your home: A countertop overhang can come in handy especially when you need an extra prep space or shelving. However, it can also take up quite a bit of space in a small kitchen.
The 70% rule: 70% of your countertop needs support. This can be achieved through other fixtures such as corbels, brackets or posts.
The thickness of the quartz countertop: If you're planning on using a thinner quartz countertop with a larger overhang, it will need extra support.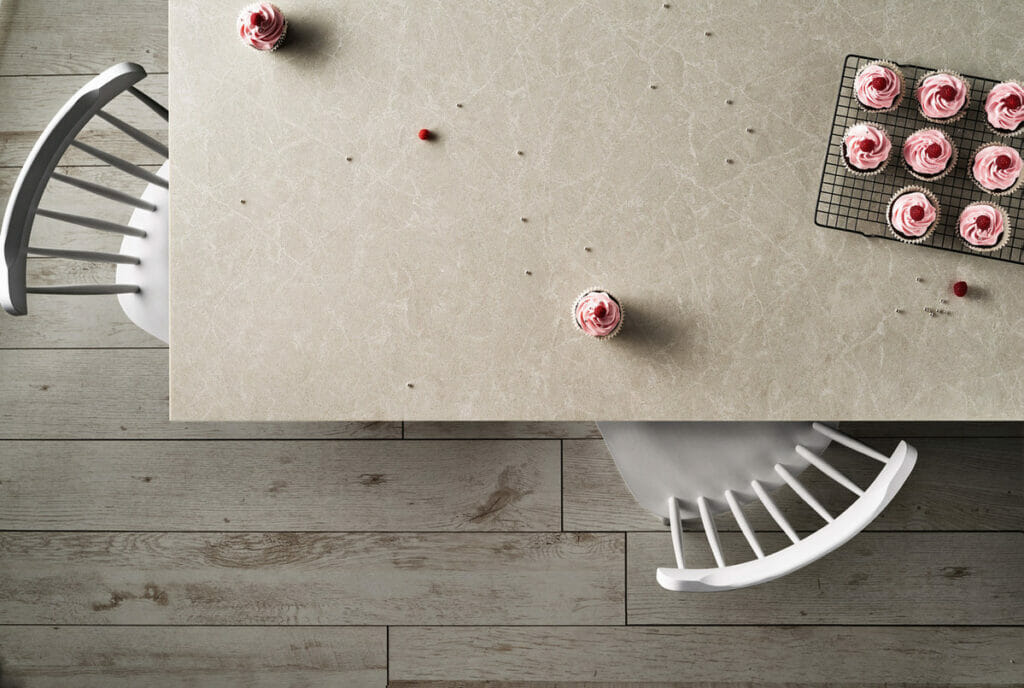 What are the maximum overhang requirements?
The maximum overhang for a quartz countertop should not be more than 1/3 of the countertop depth. Also, it should not exceed 15 inches.
Quartz countertop overhang measurements determine how long or wide a kitchen countertop should be, allowing buyers to choose countertops easier based on the design of their kitchen.
Standard countertop overhang measurements
The standard quartz countertop overhang is 1 ½ inch.
If using inset cabinetry, your quartz countertop overhang limit needs to be less than that of frameless or overlay cabinets. This keeps spills from cupboards and drawers while also ensuring a comfortable standing distance at the countertop.
Island overhangs
The standard island overhang countertop is 12 inches. However, you can have a longer overhang provided you add support that extends half the distance of the overhang.
The 12 inches island overhang countertop is generally utilized for a bar seating area around the island. While an extension can even create more room for this, you might be limited by the additional support needed.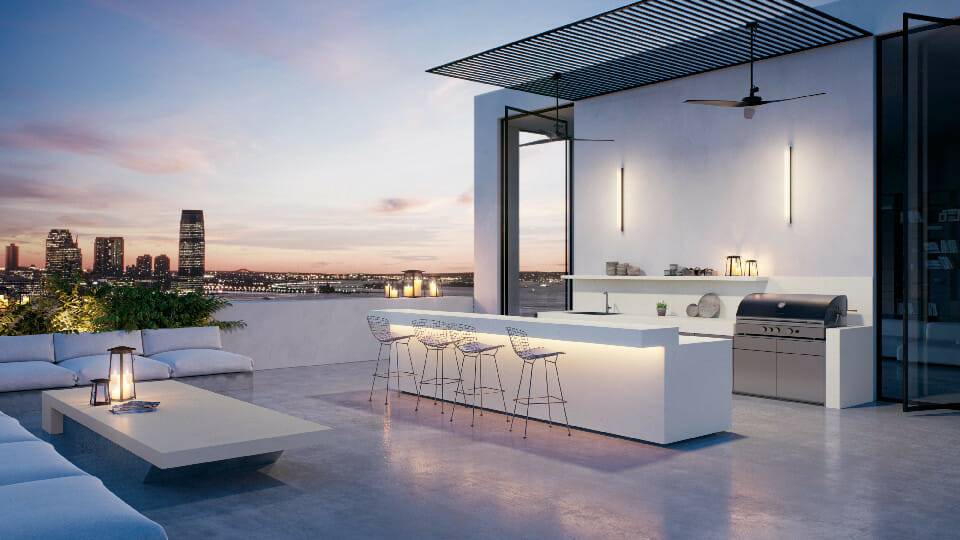 Access standards
For people who need ADA-friendly spaces, countertop measures are different. The standard quartz countertop depth for this is 17 inches with a height of 27 inches. While the countertop can go higher according to preference, the standard height is 28 inches from the floor.
With wheelchairs, ensure you allow for a larger width than that of a standard seat, approximately 36 inches of width.
Quartz countertop overhangs at seating areas
A seating area in your kitchen not only makes for a great hang-out space but also adds to the functionality of your space. To accommodate a comfortable seating area, the length of the overhang will extend beyond the standard overhang length.
If you have a smaller space but need to have a seating area, take note that the legs protrude less with an increase in height. As such, you will need less space when at a height of 42 inches above the floor as opposed to 30 inches above the floor. For a seating area, you will need at least 24 inches of space per person.
If you opt for a quartz countertop overhang, you should consider adding support for safety purposes. The most popular and functional quartz countertop overhang supports include:
Corbels: These are functional supports that jut from a wall. Corbels can support quartz countertop overhangs from a 15 inch to a 24-inch overhang. Whether you opt for a decorative or basic functional corbel, ensure they fully support the weight of the quartz countertop overhang. They should not be installed too far apart and should have a three-feet distance. The advantage of using corbels to support your quartz countertop overhang lies in its aesthetics and functionality.
Brackets: These are much similar to corbels but brackets have a portion installed on the countertop underside. Though less expensive than corbels, you need better precision when calculating the size that should be installed and they function better on shorter overhangs.
Posts or substrates: Overhangs over 24 inches can only be supported by posts or substrates. For full support, ensure your quartz countertop overhang is balanced on the posts with three feet between each post. The only con to this is the reduction of legroom around the quartz countertop.
Separate islands: For an extended overhang, up to four feet long, it would be best to add more counters in your space or add a quartz surface kitchen island.
Quartz countertop overhangs do not have to be boring. Here are some overhang styles that will enhance the aesthetics of your space:
Demi-bullnose overhang style: This is one of the most popular quartz countertop overhangs. If you are looking for a softer, curved look that will emphasize the veining and patterns, the demi-bullnose is the way to go. It is also very easy to clean.
Ogee overhang edge style: This gives the kitchen a sense of elegance. Since it can feel large, it is best-suited to large spaces.
Basic eased overhang edge: If you are looking for a practical overhang edge, the basic edge will give you just that. The softened edges also ensure safety while preventing breakage.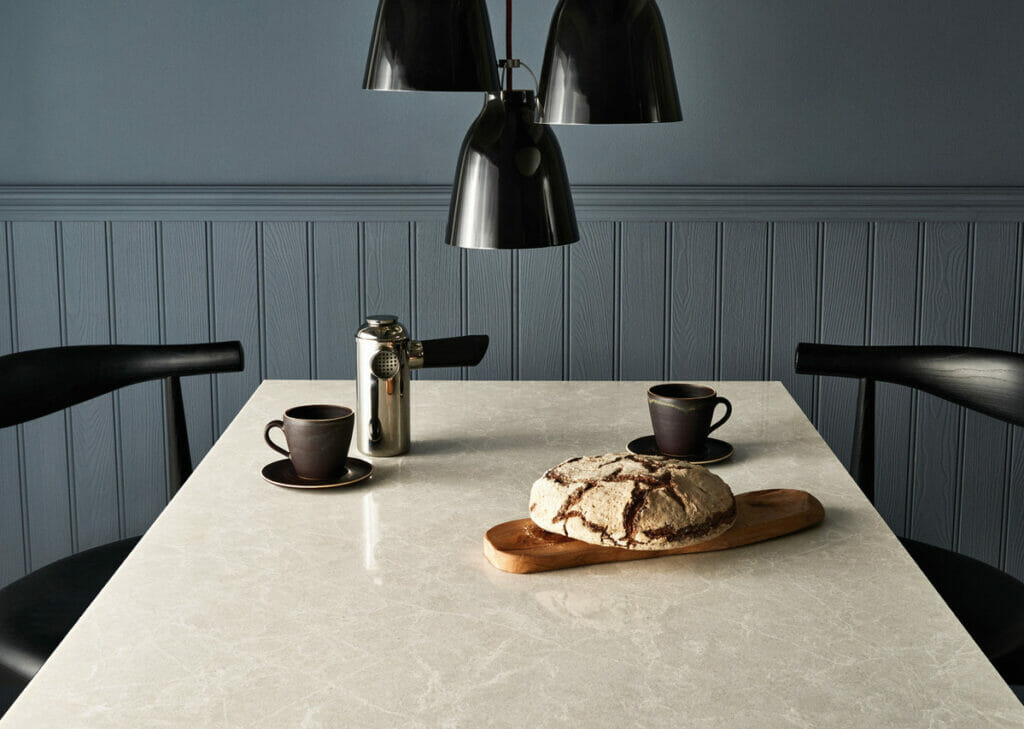 Quartz is one of the best materials for those looking to create a countertop overhang. The strength and durability ensure it can support up to a 14-inch overhang without extra support. However, 70% of your quartz countertop must be supported by cabinetry and the thickness of the quartz must be factored in as well.
Even with the strength of a quartz countertop, safety is paramount. Always use the necessary support for your quartz countertop overhang. Especially if it is over 14 inches.