Thinking of giving a new look to a retail store? Well, installing countertops can be the first place to start. Countertops influence a customer's first impression of the space. This is the place where customers can explore options and make selections. So, it should look beautiful enough to grab customers' attention.
By choosing the right countertops, retailers can increase customer's interest by highlighting the main features of the products they display at their stores. Well, one such option is quartz countertops.
Quartz countertops are a fantastic addition to any retail space thanks to their ability to mesh naturally with a variety of modern designs and styles. Read on to learn why quartz countertops are perfect for retail stores and to explore the best design ideas for retail store countertops.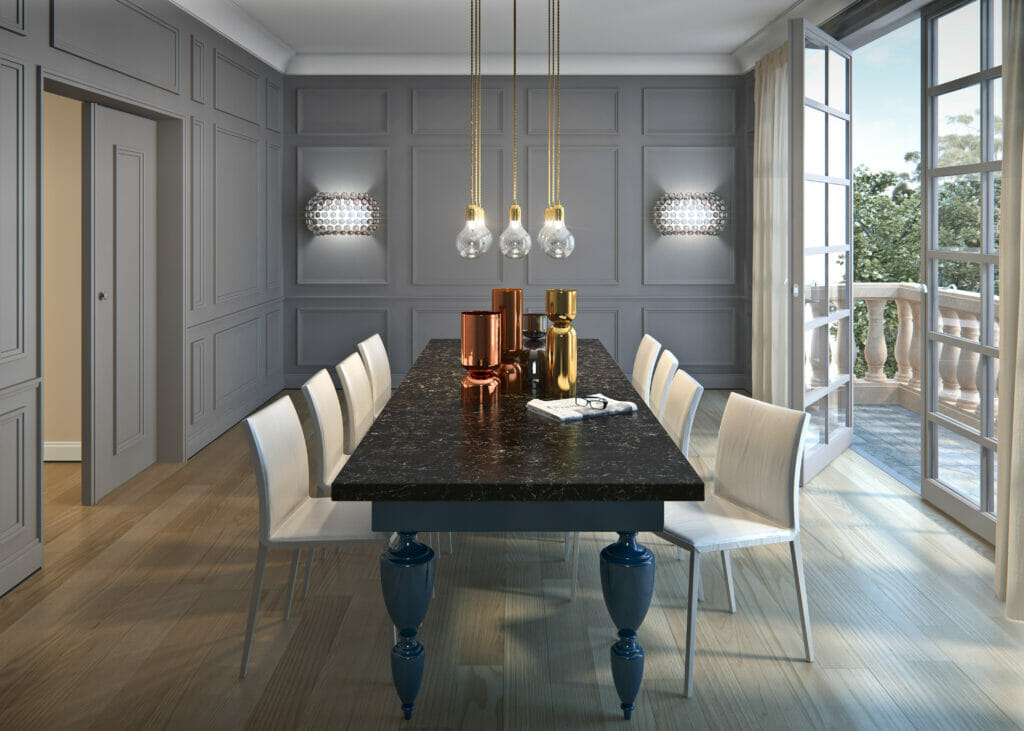 Why would quartz countertops be perfect for retail stores?
Retail stores have unique needs when it comes to commercial countertops. There are some factors to be considered when it comes to displays, countertops, dressing room surfaces, and more. And quartz is something that fulfills all of such factors due to its low maintenance needs and durability.
Here are some of the reasons why business owner should choose quartz for their retail store counters:
Quartz countertops are stylish
With so many modern, sophisticated colors and patterns available, quartz countertops offer a variety of design alternatives for all types of retail counter layouts. Also, since it is man-made, as opposed to many countertop materials, it does not have any imperfections.
Traditional, rustic, farmhouse or dark-colored countertops with light-colored cabinets and white quartz counters with dark shade cabinets are a few popular combinations to choose from.
Quartz requires very little maintenance
Cost and appearance are always important when it comes to countertops, but what about functionality? The good news is that quartz countertops are simple to maintain.
Quartz doesn't require regular sealing and is almost impossible to scratch or chip. Also, quartz is resistant to heat and unwanted stains.
To clean a commercial quartz countertop, business owners or employees can simply scrub it down with warm water and a moist cloth. Doing this will remove all of the unwanted dust and build-up from the countertop surface.
Exceptional design options
Who doesn't like a plethora of options when it comes to designing retail store countertops? Well, quartz countertops offer a wide array of design options and opportunities.
Retailers can select from a stunning array of hues, patterns, edge styles, and finishes to create the perfect look that perfectly reflects a sense of fashion.
Now, let's look at some ideas for retail store countertops that retailers can try to make their counters look beautiful.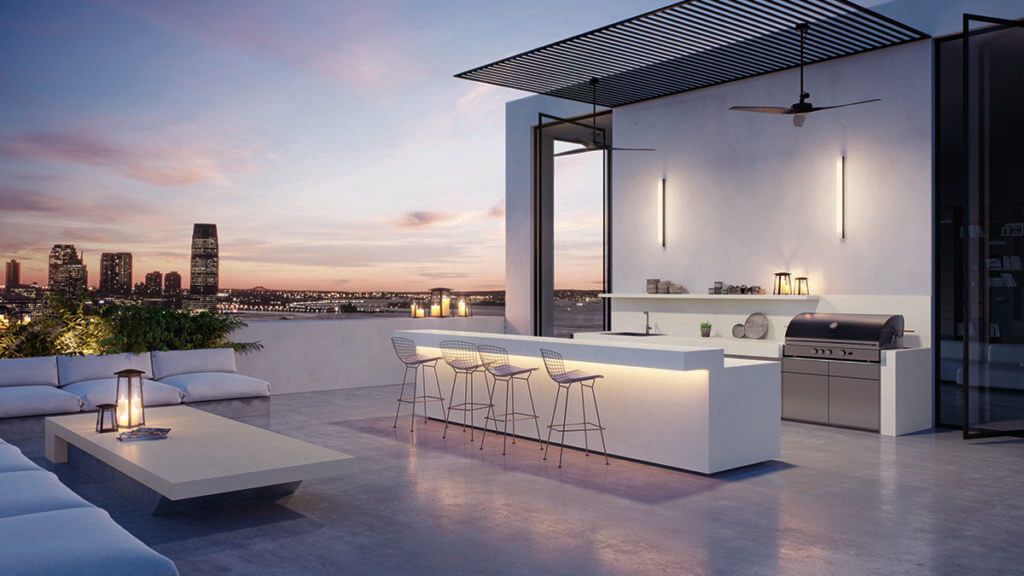 Quartz surfaces are incredibly resilient
Quartz is another option for retail countertops that is highly resilient. It is a material that can stand up in a high-traffic area like a storefront, hotel lobby, or commercial kitchen.
Many manufacturers even provide a warranty because they are that confident in the durability of their quartz products. This can be comforting to know when buying quartz for large-scale, high-traffic applications like retail countertops.
Quartz is environment-friendly
Quartz is one of the most environmentally friendly options for retail store countertops (when compared to other solid surface countertop materials).
Natural stone must be extracted from the Earth and frequently travels great distances before being used. Quartz is a better alternative for the environment because it is man-made and is frequently formed from recycled resources.
Retail store countertops ideas
1. Make it a work of art
Feeling imaginative or creative? Then show creativity by picking the right retail store checkout counters. Retailers can go for multicolored quartz countertops with white cabinetry. Plus, they can add decorative items such as art, painting, and anything related to their brand offerings. For instance, retailers can try Caesarstone's 6338 Woodlands with white cabinetry. The combination looks great and will enhance the whole appearance of the space.
2. Go rustic
Quartz countertops work best with wooden cabinets for those who want the rustic feel for their retail stores. Its ambiance bridges the gap between calm indoors and natural outdoors. Plus, for retailers selling something vintage, rustic elegance is something they would want in their retail store space. So, for instance, they can go for Caesarstone's 5820 Darcrest with light shade wooden cabinetry.
3. Give a magical sparkle with mirror and glass
Those who want to create a magical yet modern space in their stores can go for mirror and glass cash counters with quartz countertops. It looks modern and authentic, which enhances the brand image. Plus, customers are bound to be impressed by the magnificent design structure.
Caesarstone's 515 Palm Shade works best with glass and mirror design for cabinets. Additionally, retailers can enhance their design by adding modern gold or silver borders to the surface.
4. Give a touch of modernization with vintage aesthetics
Retailers who love the vintage feel but also want a modern touch, can go for a wooden pallete base with quartz countertops. Doing this provides the space with the optimal balance between modern and vintage. Also, one can add vintage aesthetics such as old coffee pots, clocks, and paintings to make it look more authentic. Caesarstone's 5810 Black Tempal works best with a light shade wooden palette base.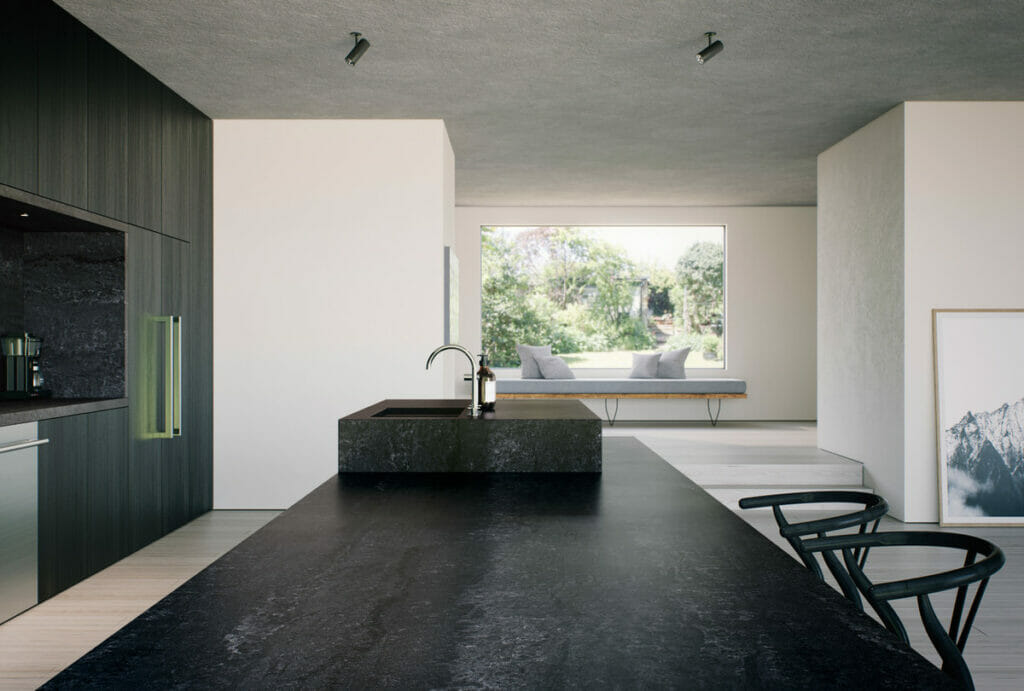 5. Pinkish tones
Those retailers whose store is all about feminine products can go for a pink desk with cabinets combined with light shade quartz countertops. It will make it obvious to customers that this retail store is all about feminine products. Caesarstone's 1141 Pure White goes well with pink decor and cabinetry. This beautiful quartz counter will uplift the look of the store without breaking the budget!
Ideas for retail store countertops – Conclusion
These were some of the retail store countertops ideas that one can try out for their retail stores. Depending on the brand's products or services, one can go for rustic, modern, or vintage. Quartz countertops are the best counter materials to be paired with cabinets. It makes the most durable and flexible counters that can be utilized for ages.
Business owners can check out the Caesarstone catalog to find the ideal quartz countertop product for their future retail space designs.