Porcelain countertops are fairly easy to clean because they are durable and nonporous—making these types of countertops almost maintenance-free.
Besides being easy to maintain, this material is heat resistant, has a low water absorption rate, is UV light resistant (yes, that means that extended sunlight exposure is a non-issue), and this material typically comes in a wide variety of colors and patterns to fit all design choices and styles.
Continue reading to find out how to clean porcelain countertops and more.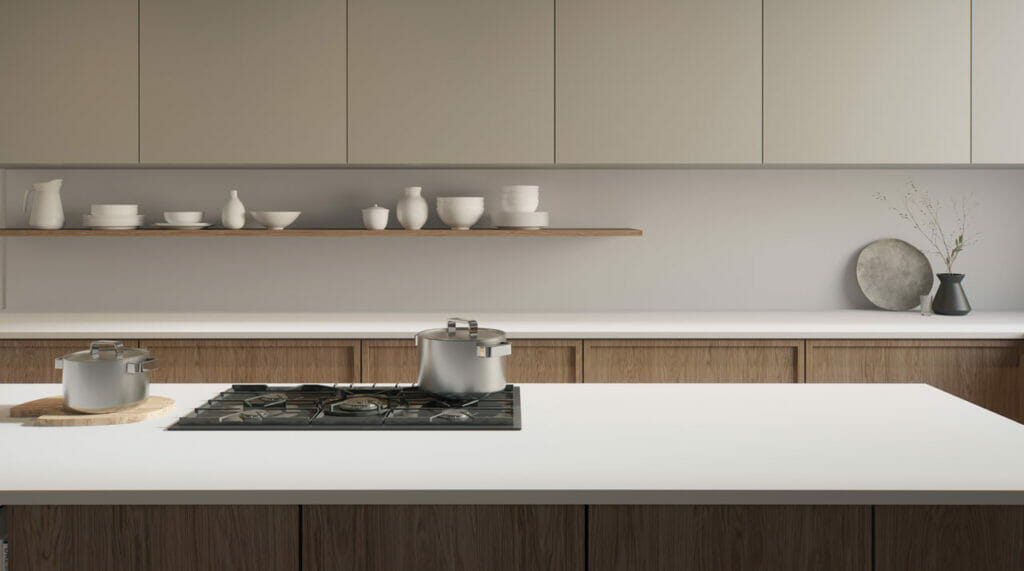 What is porcelain?
Porcelain is an extremely durable, scratch-, rupture-, and pressure-resistant pottery-like material, making it perfect for countertops. In fact, in terms of comparison, porcelain is harder than granite, and almost as hard as quartz.
Its hard and nonporous structure creates protection against heat. Also, porcelain is UV light resistant, meaning that it will hold up to lengthy periods of sun exposure.
Aside from its strong characteristics, porcelain draws from elegance. From striking colors to bold veins and extraordinary patterns, porcelain is not only beautiful, but functional, and easy to care for.

Consider opting for high-quality products like Caesarstone's 110 Whitenna or 504 Lumena for a unique and innovative design.
A quick history of porcelain
First made in China, porcelain (in general) was consistently used throughout history because of its resilience and durability—porcelain was also a material used in art. Standing the test of time, it continues to be used creatively, but also in homes as countertops, cookware, and more.
Porcelain is produced by heating a mix of powdered china stone and kaolin, more commonly known as white china clay, at over 2600 degrees Fahrenheit. The heat solidifies the material, making it into a dense solid.
Upon manufacturing, porcelain gets coated in a glaze to give it a timeless and classic finish.
How to clean porcelain countertops like an expert
Thankfully, the best way to clean porcelain requires little maintenance. Due to the fact that it's nonporous and it doesn't need to be sealed, porcelain countertops have a low-effort cleaning routine.
Below are the best tips for keeping porcelain countertops in tip-top condition:
How to clean porcelain countertops after installation
To get the best results, homeowners should clean freshly installed porcelain countertops with gentle soap, water, and a soft microfiber cloth or sponge. Completely dry the surface with a clean cloth or paper towel.
Daily maintenance
Homeowners can keep their porcelain countertops clean by wiping them with soapy water and a soft cloth. This is especially helpful when spills occur, as to avoid any stains.
Always dry the surface after washing to produce the best results and prevent Patina from building up.
How to clean stubborn areas on porcelain without damaging the surface
In circular motions, gently rub the surface with a soft cloth and warm soapy water. Afterward, rinse the area and dry with a paper towel or clean cloth. Repeat this process until the area is clean.
Cleaning products
Since porcelain countertops are nonporous, there is no need to use harsh chemicals and strong detergents. Simply keep porcelain countertops clean with regular home cleaning products.
Another alternative would be to use warm soapy water. Just remember to not use plant oil soaps because they can leave an oily film.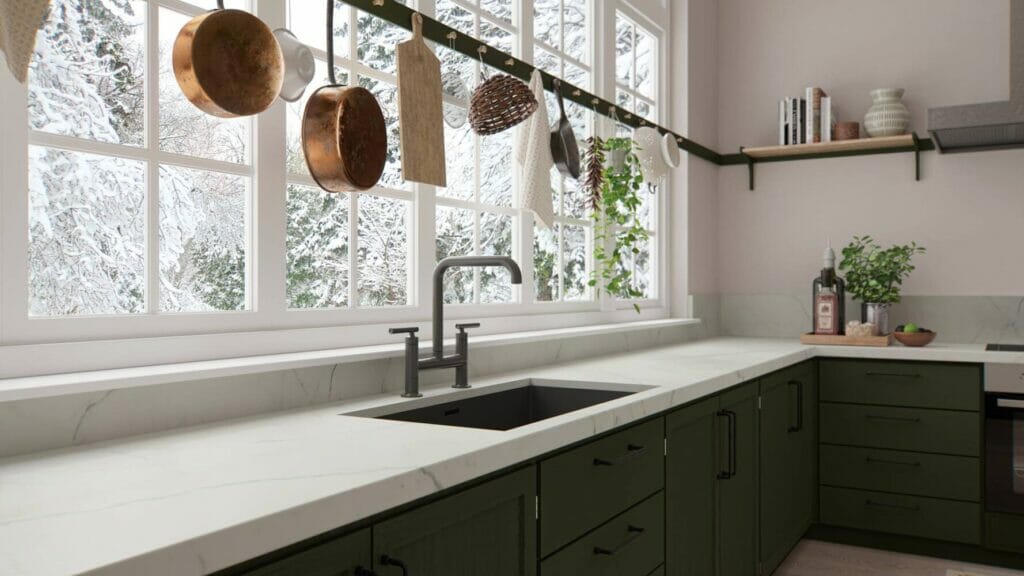 Avoiding wear and tear
Follow this advice to avoid unnecessary wear and tear and make cleaning porcelain counters easier than ever before:
Patina
Avoid patina, the layer of wear that forms on surfaces as a result of aging and exposure to spills and dirt, by wiping spills right away. It is also best to keep the countertop dry.
Darker surfaces require extra care as patina and stains may be more noticeable. Avoid using cream-colored cleaning products.
Harsh chemicals
Using harsh chemicals like hydrofluoric acid can ruin the top of a porcelain countertop.
Heat
Homeowners can place cookware directly on porcelain countertops straight from the oven or the cooktop. However, it is best to avoid using appliances that produce their own heat for long periods of time without using a heat-safe mat. 
Scrapes
If anything dries on the surface, scrape it off carefully with a putty knife. Then, wash with warm soapy water and a soft cloth. Always dry the surface after cleaning.
Polishing machine
Do not use a polishing machine on a porcelain countertop.
Hard knocks
Prevent breaks and chips by avoiding hard knocks.
Taking care of darker surfaces
Dark surfaces require an extra layer of precaution because they show fingerprints, patina, and other signs of daily use more than lighter surfaces.
Patina can also occur on darker surfaces easier. Therefore, it is important to wipe up spills and dry immediately.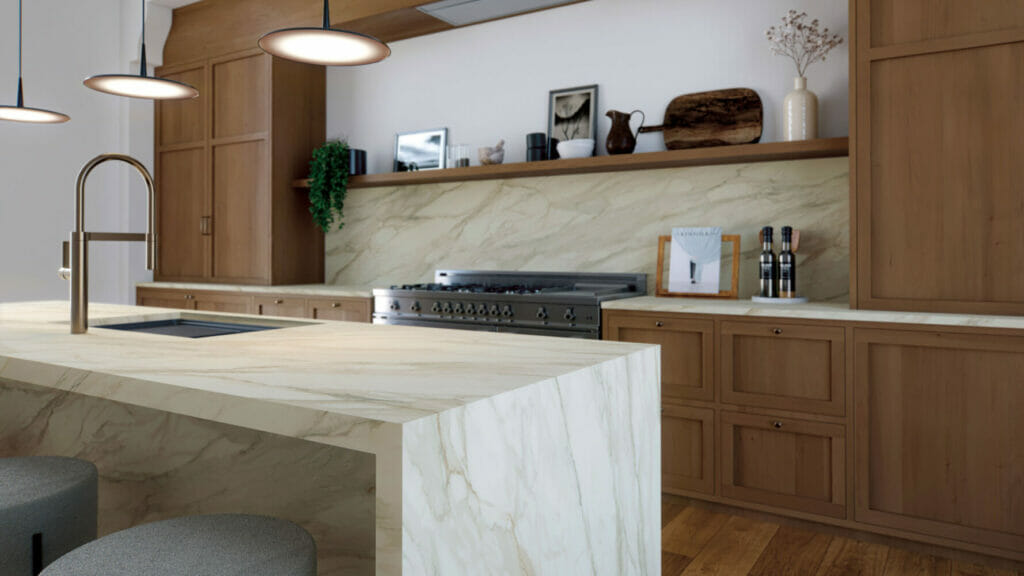 Cleaning porcelain countertops: All you need to know ー Conclusion
Learning the best way to clean porcelain makes the job easier and more maintainable. Plus, porcelain is a dependable material thanks to its durability. It can withstand heat and everyday use extremely well.
Visit Caesarstone's easy care guide for more information on how to maintain porcelain countertops.
Homeowners can also take comfort because Caesarstone's countertops have a lifetime warranty. For more information on warranty conditions, check out the Register Warranty page.

The Pebbles Collection is a great option for those looking for a natural and organic feel. The Pebbles Collection also offers eight new sustainable surfaces that nurture comfort and calm.
FAQ
Below are some frequently asked questions and answers:
What are the pros of porcelain countertops?
Not only is porcelain an elegant, timeless, and modern choice, but it is heat resistant, durable, has a low water absorption rate, has UV light resistance, and is very easy to clean and maintain.
What are the cons of porcelain countertops?
These surfaces have few cons. However, homeowners should be aware that porcelain can crack under blunt force and have a higher price point than other materials. That being said, the total expense will depend on factors like the size, color and manufacturer.