Designing a home or business space can be tough. There are so many "what if's?" at play; what if the design gets boring? Gets old too quickly? Becomes tacky?
No need to worry—homeowners and business owners can find countertops in OKC that are classic, timeless and will never go out of style. Since quartz is compatible with different aesthetics, it is easy to change the style down the road, too.
Upgrade or renovate a home or business with quartz countertops and learn more about why quartz countertops are the optimal choice.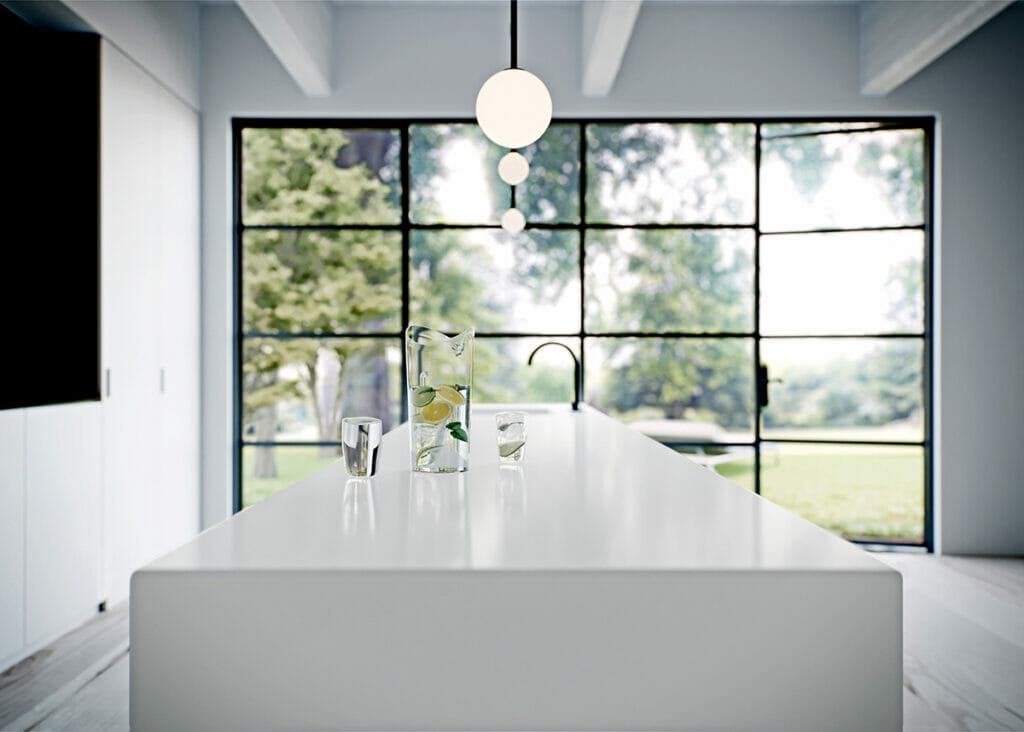 Why should homeowners choose quartz countertops in OKC?
Quartz is an excellent choice in countertops for a multitude of reasons. 
For starters, its durability is hard to beat—quartz is tougher than steel and almost indestructible. Caesarstone takes abundant raw quartz minerals found in nature and transforms them into high-quality surfaces. Great for kitchens, bathrooms or business spaces, quartz countertops are sure to elevate any style or design.
Let's discuss all the reasons quartz should be the number one choice for countertops in residential and commercial spaces:
Durability
Nonporous
Antibacterial
Stain-free
Natural and classic in color
High-quality
Easy care and maintenance
Sustainable
Durability
Quartz is a very durable material, so much so that it is almost indestructible. It ranks 7 out of 10 on the Mohs Hardness Scale, making it harder than a steel nail or a sharp knife. This characteristic of quartz is important for withstanding chips, denting, scratching and other kinds of damage that may occur.
Nonporous
Quartz's nonporous material means that it is resilient. Its tough exterior creates a long-lasting product.
Antibacterial
Say goodbye to bacteria, mold, mildew or other germs. The nature of quartz is ideal for keeping surfaces clean, making it a great choice for kitchens and bathrooms.
Stain-free
Breathe a sigh of relief knowing that a spill won't ruin a Caesarstone quartz countertop. This surface is nonporous and nonabsorbent—one less thing to add to the weekly cleaning list.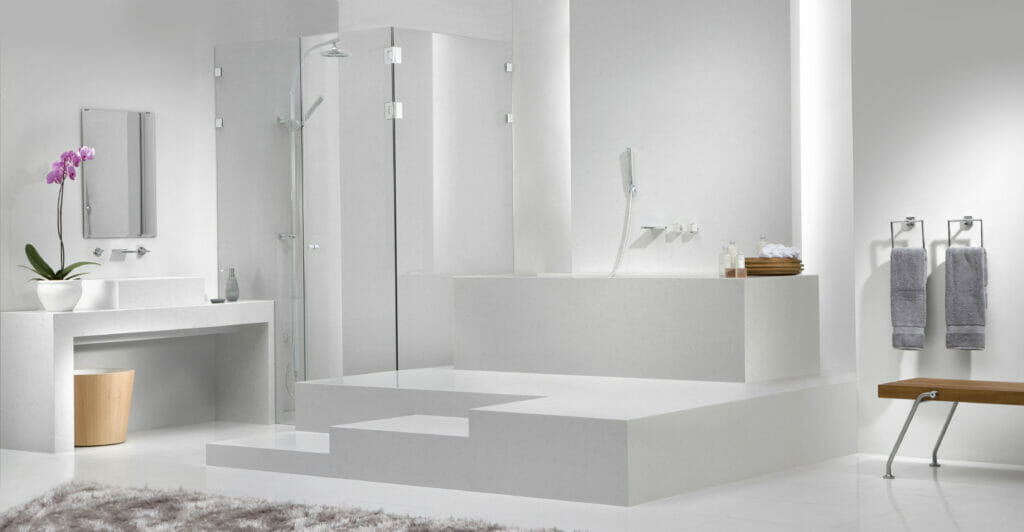 Natural and classic in color
Modern. Classic. Timeless—all qualities that quartz is known for. Its luxurious white colors can be used for delicate and bold designs or as a neutral base to build other aesthetics. For homeowners and businesses looking to mix it up, no problem.
High-quality
Caesarstone is so sure of its quality that a lifetime warranty is extended to its products – a guarantee that homeowners and business owners can trust.
Easy care and maintenance
Simply grab a soft cloth and non-abrasive cleaner or soap to clean a quartz countertop. Yes, it really is that easy. There is no need to seal the surface, making it much easier to maintain.
Sustainable
Signed, certified, and delivered. Quartz is an environmentally sustainable choice for its durability and low maintenance, making this surface one that supports better use of resources.
Disadvantages
There are not many, but in full transparency, let's discuss the possible disadvantages of quartz countertops. In some cases, quartz can be a more expensive option. However, this is not always the case and it is best to compare samples and offerings. Also, quartz tends to last longer, making it a great investment in a home or business.
Be aware that this type of countertop requires professional installation.
Inspired designs: Countertops for kitchens in OKC
Time to get inspired by these timeless designs—waiting to be used for the next build or renovation:
Cape Cod
Encompassing thick stripes, nautical designs, and delicate florals, the Cape Cod interior design pairs nicely with 1111 Vivid White. Its pure white, super soft tonality will complement the traditional and calming styles of this design choice.
French Country
Caesarstone's 4600 Organic White countertop fits within the French-country style; one that emulates European elegance and rustic accents. The natural appearance and soft undertones fit well with the inviting atmosphere of French country spaces.
Colonial
Classic and traditional, just like quartz, and just like 1141 Pure White. The design blends seamlessly with any space to create a touch of country and a lovely Victorian feel.
Contemporary
From simplicity and subtlety to clean lines, contemporary design works to create a welcoming and minimal space. Don't be afraid to add some bold colors, like the ones found in 4033 Rugged Concrete.
Stylish kitchen countertops in OKC
The style and design of a space can impact which kitchen countertop to choose from. Browse Caesarstone's catalog to view all the options. Caesarstone offers a wide array of countertops for a kitchen in OKC.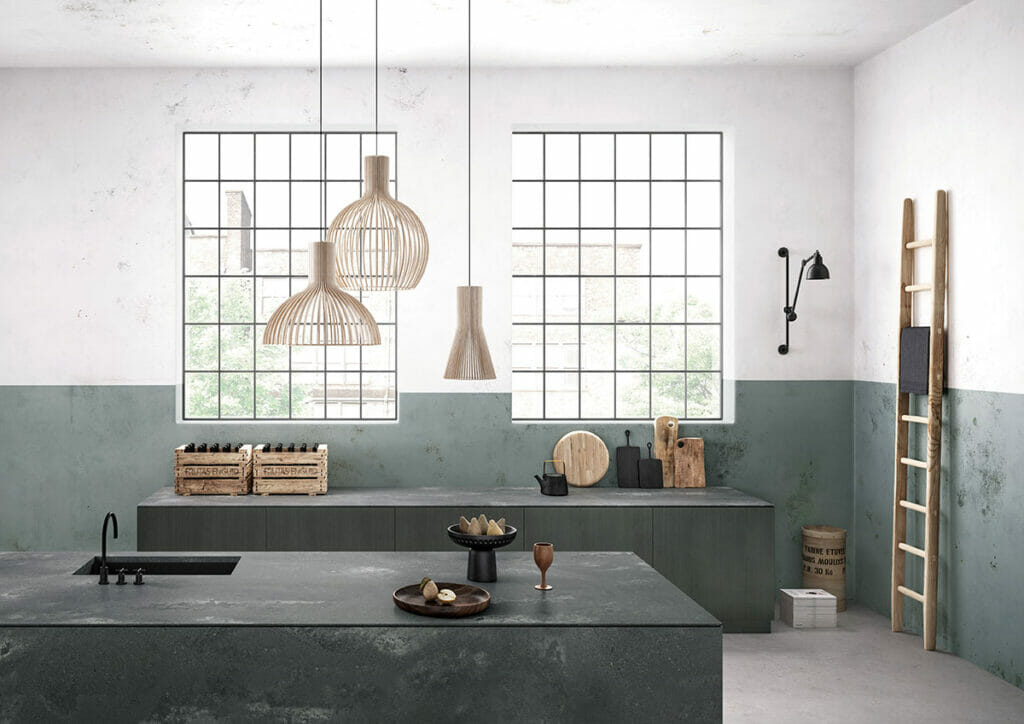 Countertops in OKC: Where can homeowners and business owners find them?
Homeowners can find the perfect surface at any of the following locations in Oklahoma City. Don't forget to order a sample to ensure that the countertop fits the space perfectly.
Countertops in OKC: Locations
Find out where to buy quartz counters in OKC:
Young Brothers at 100 North Classen Boulevard, Oklahoma City, OK 73106
Countertops by Tom at 18 N. Klein Avenue, Oklahoma City, OK 73106
Kitchen at Forest at 50 N. May Ave, Oklahoma City, OK 73107
ProSource Oklahoma at 3532 SW 2nd Street, Oklahoma City, OK 73108
Hahn Appliance Warehouse (Edmond Kitchen & Bath Design Center) at 3947 W Reno Ave, Oklahoma City, OK 73107
F.A. Highley Company at 3800 NW 39th, Oklahoma City, OK 73112
Home Depot #3901 S Oklahoma City at 7400 S Shields Blvd, Oklahoma City, OK 73149
Home Depot #3902 N Oklahoma City at 3040 NW 59TH Street, Oklahoma City, OK 73112
Home Depot #3911 Midwest City at 1600 S Sooner Road, MIDWEST CITY, OK 73110
KB Gallerie at 7701 N Broadway Ext A2, Oklahoma City, OK 73116
Pinnacle Granite Solutions at 2909 S. Ann Arbor Ave, Oklahoma City, OK 73128
Home Depot #3908 W Oklahoma City at 6800 W Reno Avenue, Oklahoma City, OK 73127
Home Depot #3909 Nw Oklahoma City at 7620 NW Expressway, Oklahoma City, OK 73132
Pacific Shore Stones Oklahoma Showroom at 149 NE 138th St, Oklahoma, Edmond, OK 73013
Home Depot #3919 Quail Springs at 14201 N Pennsylvania Ave, Oklahoma City, OK 73134
Home Depot #3917 Moore at 650 SW 19TH Street, MOORE, OK 73160
Natural Stone Design at 3900 S. Broadway 4W, Edmond, OK 73013
Marble Designs at 400 NE 150th Street, Edmond, OK 73013
Home Depot #3907 Edmond at 1901 S Broadway, EDMOND, OK 73013
Luxe Kitchen & Bath at 1589 South Broadway, Edmond, OK 73013
Granite By Design at 104 NW 16th Street, Newcastle, OK 73065
Oklahoma Countertops and Flooring at 602 South Main, Newcastle, OK 73065
Home Depot #3906 Norman at 850 ED Noble Pkwy, NORMAN, OK 73072
Artistic Tile and Marble at 4203 S. Division, Guthrie, OK 73044
For more fabricator and retail locations, visit Caesarstone. Explore options online by simply clicking on the Caesarstone interactive visualizer.
Quartz countertops in Oklahoma City ー Conclusion
Adding Caesarstone quartz countertops in an Oklahoma City home or business will create a timeless look that complements any design.
Homeowners and business owners in OKC can count on quartz to be durable, antibacterial, environmentally friendly, easy to care for, and elegant.