Caesarstone's man-made stone countertops maintain all the benefits of the natural stone. They are superior in their durability and are innovatively crafted to be beautiful, easy to maintain and safe for all households.
From neutral colors like 5141 Frosty Carrina to unique patterns like 5151 Empira White, there is a plethora of options for every style.
Read on to learn the answer to the question: "what are quartz countertops made of?".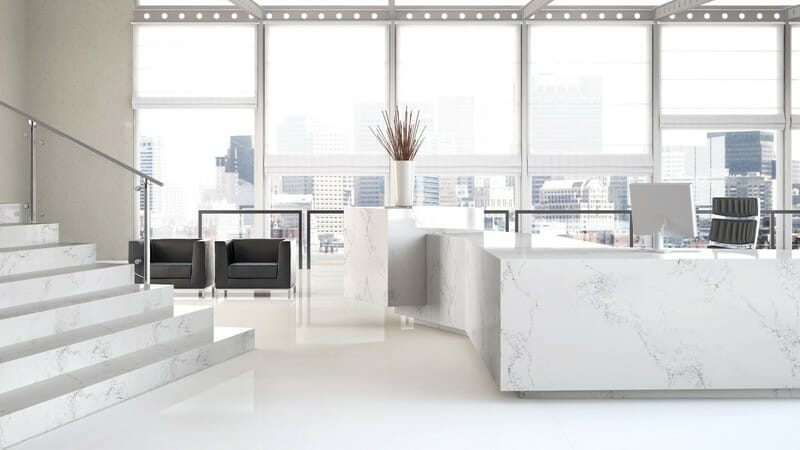 How quartz countertops are made — An in-depth guide
Since Caesarstone's quartz countertops are produced in a controlled environment, they meet safety and manufacturing standards every time. These surfaces create the majority market segment of quartz surfaces. 
Now let's find out, "what are quartz countertops made of?". Caesarstone's technology combines engineering innovation and raw quartz minerals to create beautiful quartz surfaces.
Caesarstone creates premium surfaces out of the abundant raw quartz minerals found in nature. Caesarstone quartz countertops feature as much as 90% pure quartz minerals, providing them with unmatchable strength, beauty and versatility.
These are things that homeowners should be educated about if they've been wondering "what is a quartz countertop made of?".
Why should homeowners choose Caesarstone quartz countertops?
Caesarstone's designs are classic, unique, and durable. They stand the test of time, both in looks and quality. Homeowners can expect only the best with Caesarstone's quartz countertops.
Superior durability
Quartz is the hardest stone surface, ranking 7 out of 10 on the Mohs Scale. Caesarstone uses up to 90% of pure quartz minerals in its quartz countertops to produce exceptional standards for countertops.
Check out 4043 Primordia for a full-bodied industrial look.
Innovative
Caesarstone has paved the way for engineered quartz's popularity. With cutting-edge technology that stood the test of time, choosing Caesarstone is choosing quality, care, and craftsmanship.

Consider a more dramatic feel and take a peak at 4033 Rugged Concrete—a great option for those looking to make their spaces feel bold.
Design options
Quartz comes in all shapes and sizes. It is a versatile material boasting unique patterns and rich colors suitable for any design and style.

Learn more about how 4030 Pebble can fit into this design choice.
Safe
The countertops are guaranteed to be nonporous and non-toxic, making them a great option for avoiding bacteria, mold, and mildew.

Not only are quartz countertops safe in quality, but they also provide a timeless appearance. Consider 4011 Cloudburst Concrete for a design that will stand the test of time.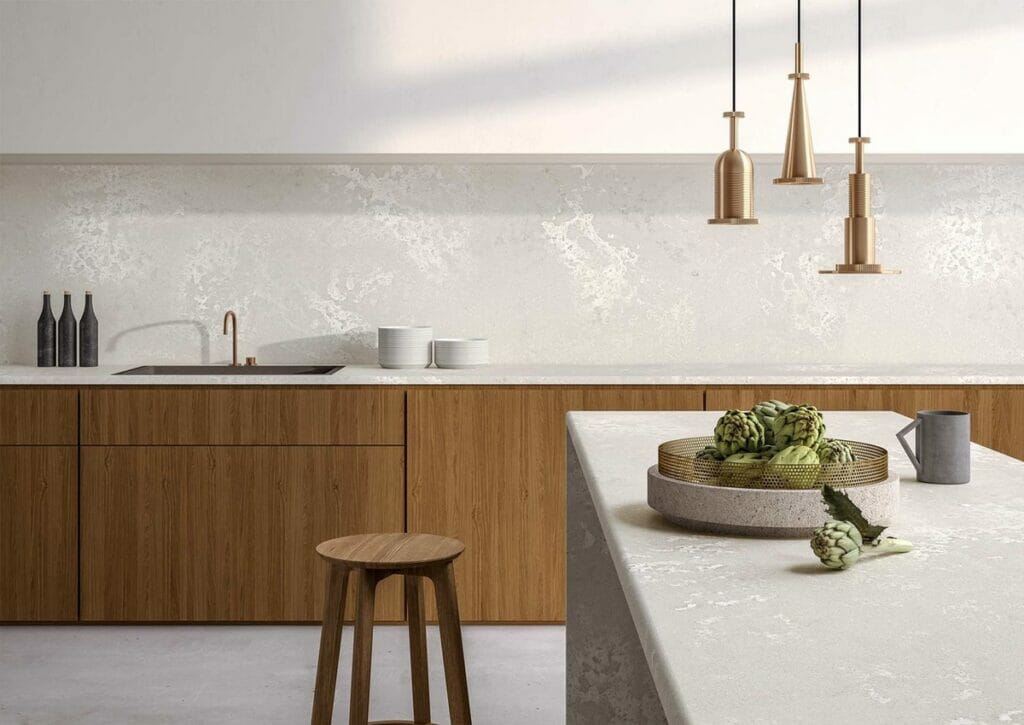 What are the benefits of quartz?
Quartz is an excellent choice in countertops for a multitude of reasons. 
For starters, high-quality quartz countertop materials are durable—quartz is tougher than steel and almost indestructible.
These are all the reasons homeowners should consider quartz countertops:
High-quality
Since quartz countertops are made of a high quartz blend and skilled engineering tactics, homeowners can use them to create a surface that lasts. In fact, Caesarstone is so sure of its quality that its team extends a lifetime warranty —a guarantee homeowners and business owners can trust.
Easy care and maintenance
To clean a quartz countertop, just grab a soft cloth and non-abrasive cleaner or soap. The surface doesn't require sealing, making maintenance that much easier.
Nonporous
Quartz's nonporous material means that it is resilient. Its tough exterior allows for a long-lasting product.
Hygienic
Quartz countertops are made of a material that is resistant to bacteria, mold, and mildew. For this reason, it is a great option for kitchens and bathrooms.
Stain-free
Breathe a sigh of relief knowing that a spill won't ruin a Caesarstone quartz countertop. With a surface that is nonporous and nonabsorbent, that's one less thing to add to the weekly cleaning list.
Heat-resistant
Quartz countertops are heat-resistant. However, it is recommended to use a trivet for higher temperatures to maintain quality.
Scratch-resistant
The quartz countertop composition is so tough that it is highly resistant to scratching. Note that it is still generally recommended to use cutting boards for an extra layer of protection.
Natural and classic
Quartz's luxurious white colors can be used for delicate and bold designs or as a neutral base to build upon other aesthetics, making it the perfect material for homeowners and businesses looking to mix it up.
Sustainable
Quartz is an environmentally sustainable choice due to its durability and low maintenance, making this surface one that supports better use of resources.
Disadvantages
There aren't many, but let's talk about any potential drawbacks of quartz countertops. Quartz may occasionally be more expensive than other options. The best course of action is to compare samples and offerings based on personal preferences. Quartz is a fantastic investment for a home or business because it also has a tendency to last longer.
Be aware that a professional installation is necessary for this kind of countertop.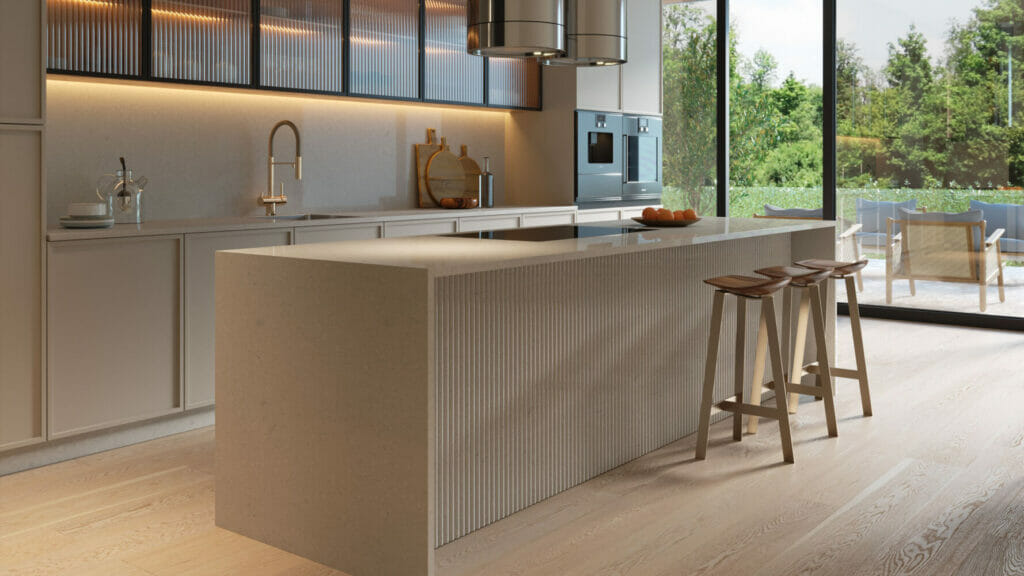 What are quartz countertops made of: All you need to know 一 Conclusion
Knowing how quartz countertops are made can help homeowners and business owners pick out the perfect product for their space.

Homeowners can also use the Caesarstone visualizer tool to get a better idea of how countertops influence a kitchen.
FAQ
Find out all the answers to some of the most commonly asked questions about quartz countertops:
Is quartz manufactured or raw?
Quartz is a raw material found in nature. Caesarstone uses patented techniques to manufacture a man-made material (engineered quartz) using 90% raw materials.
How many quartz designs are available?
Caesarstone offers a wide variety of designs that are expanding each year.
Honed vs. polished quartz — what's the difference?
Honed finishes provide a matte sheen and smooth texture, whereas polished finishes are shinier and more reflective.
Can quartz be used outside?
Yes, certain types of quartz, like products found in Caesarstone's Outdoor Collection are optimally suited for the outdoors, harsh weather and strong UV lights.
Where should quartz countertops be installed?
The kitchen and bathroom are two of the best locations for quartz countertops because the material is highly durable and hygienic.
Is quartz better than granite?
Each material has its own set of benefits; however, quartz is harder and thus more durable.