Anyone can transform a kitchen, bathroom, or office into a luxurious and inviting space with high-end quartz countertops.
Warm quartz offers a combination of minimal maintenance and unmatched durability that will leave any homeowner wishing they had installed these surfaces sooner. In fact, these types of countertops are virtually unbreakable and are built to withstand the test of time.
From cozy earth tones to rich amber hues, warm quartz countertops can elevate any space, while adding a touch of comfort. Whether the theme is farmhouse, modern, traditional, or contemporary, there is a quartz countertop to match.
Today's article will discuss the best warm countertops that can help home and business owners fall in love with their spaces again.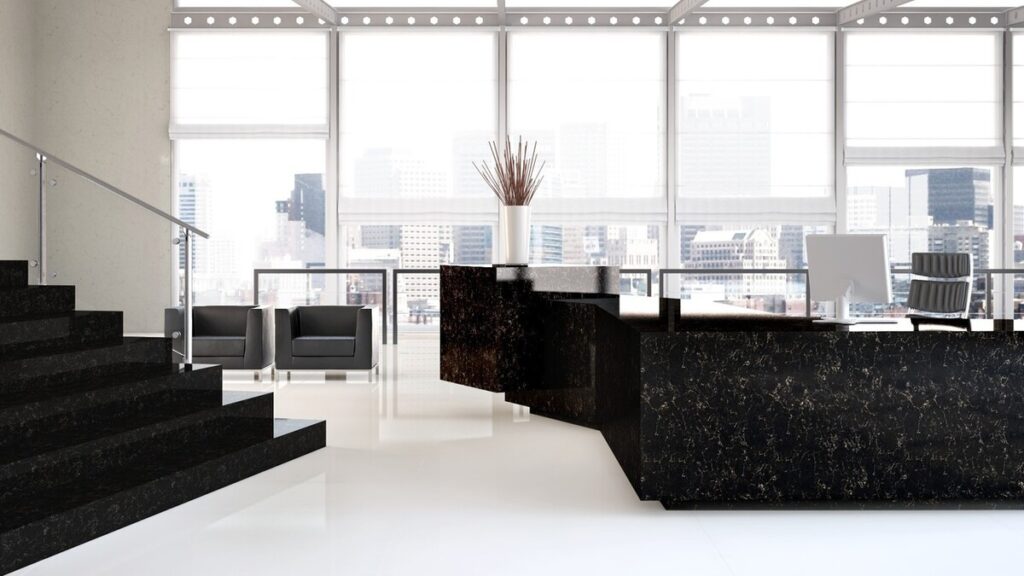 Benefits of warm countertops
There are several benefits that come with installing warm quartz countertops in a home or business. For starters, they create a cozy feeling that invites guests and clients to stay. Additionally, they are lovely to look at and come in a wide range of colors, boasting the ability to meet practically anyone's taste and style.
Quartz countertops are also durable. These high-end countertops are heat, stain, and scratch-resistant, which allows them to withstand everyday use and wear and tear with ease.
Lastly, quartz is a high-quality material that delivers every single time. It will help to add value to any space that it is installed in, which is beneficial for flippers, as well as homeowners who are placing their properties on the market. From dramatic brown hues to warm white quartz counters, there's a tasteful option that can fit any aesthetic.
Its versatility will also allow for seasonal style or decor changes, which makes it a great option for homeowners who like to switch up their decor throughout the year.
The best warm quartz countertops from Caesarstone
Here are some of the best warm-colored quartz countertops that Caesarstone has to offer:
1111 Vivid White
1111 Vivid White is a true testament to the warmth that can be created with earthy hues. This warm white quartz countertop interplays with tan tones that can support bold accents or stand out on their own.
The light colors make it easy for homeowners to use their counters as a centerpiece or as a part of a cohesive collection of airy and bright kitchen staples.
6338 Woodlands
The first word that comes to mind while observing 6338 Woodlands is fierce. But after a second glance, it's easy to see that the earthy veins soften the overall appearance.
For the best results, homeowners can experiment with light-colored fixtures, like white cabinets. This combination can help homeowners integrate a bold aesthetic into their existing space.
All in all, 6338 Woodlands is really the best of both worlds, offering endless versatility, and providing the ability to mix up styles to ensure a space never feels tired.
4023 Topus Concrete
Contemporary and industrial styles go best with 4023 Topus Concrete. The warm greige base gives the countertop a sleek appearance that makes it look like it belongs in an industrial big city loft, a luxurious office space, or a sleek home.
Homeowners who are looking for design inspiration should consider opting for a mono-colored room featuring gray-painted or exposed brick walls, with dark furnishings and decor to match.
5220 Dreamy Marfil
No rustic, farmhouse-inspired space is complete without a top-of-the-line countertop, like 5220 Dreamy Marfil. When paired with complimentary furnishings, its seamless blend of browns can create a warm and welcoming environment that will impress any guest.
Allow its rugged beauty to shine through by pairing this countertop with different textures and organic materials like wood or stone. Homeowners don't need to worry about creating the perfect space; the rustic design is all about letting the imperfect details stand out.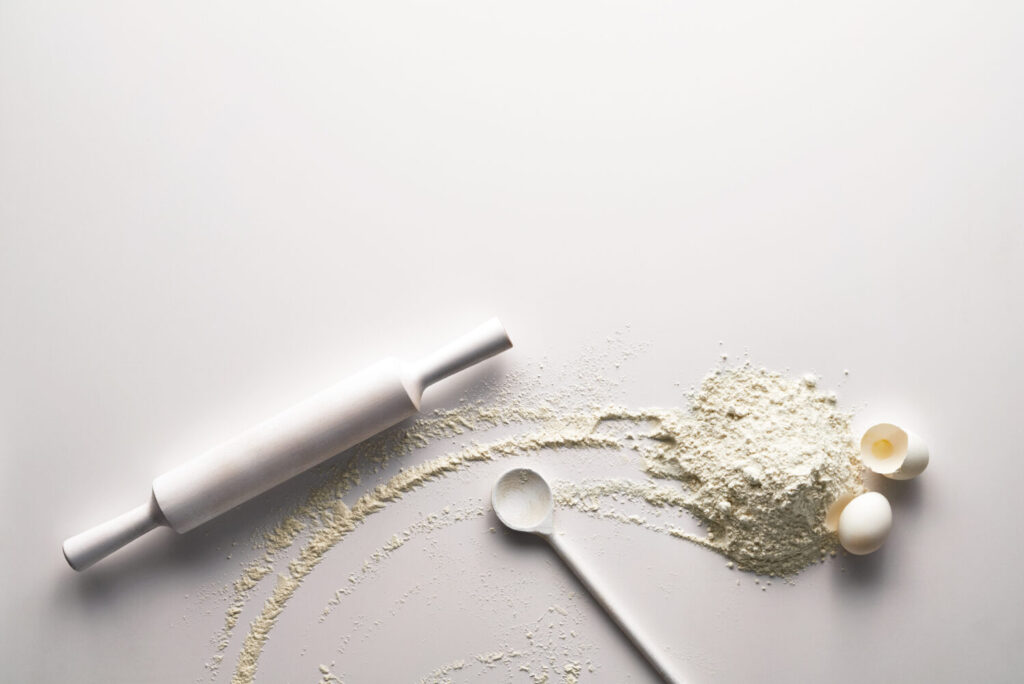 10 options for quartz countertop edge profiles
All four warm-toned quartz countertops can be produced with the following edge profiles. Pay attention, because design principles are important when choosing an edge that compliments, rather than contrasts, your design choices.
Bevel: A bevel edge is an edge that is slanted and polished. Typically, they have angles that are less than 90 degrees, which gives the countertop a softer appearance.
Double bevel: A double bevel edge is a versatile option that is popular thanks to its subtle aesthetic.
Full bullnose: This edge style is more round and is used in classic and traditional designs.
Double bullnose: Double bullnose edges are similar to full bullnose edges, as this type of edge profile has two rounded edges instead of one.
Triple laminated bullnose: This edge type involves layering multiple strips of material to create a thick, rounded edge. It is a great option for homeowners and business owners that prioritize durability.
Ogee: Featuring an s-shaped curve, this edge is typically integrated into formal interior design projects.
Miter: This edge joins two pieces of material to create a seamless appearance. This profile is commonly found in modern kitchens and bathrooms.
Double radius: This sleek and modern edge profile gives the bottom and top of the counter a smooth, curvy appearance.
Pencil: The pencil edges profile a slightly rounded edge. It is a safe option due to the lack of sharp corners.
Eased: This edge profile gives a countertop a softer look than many of the other edge profiles. For safety reasons, this type of edge profile is best for children because of its round characteristics.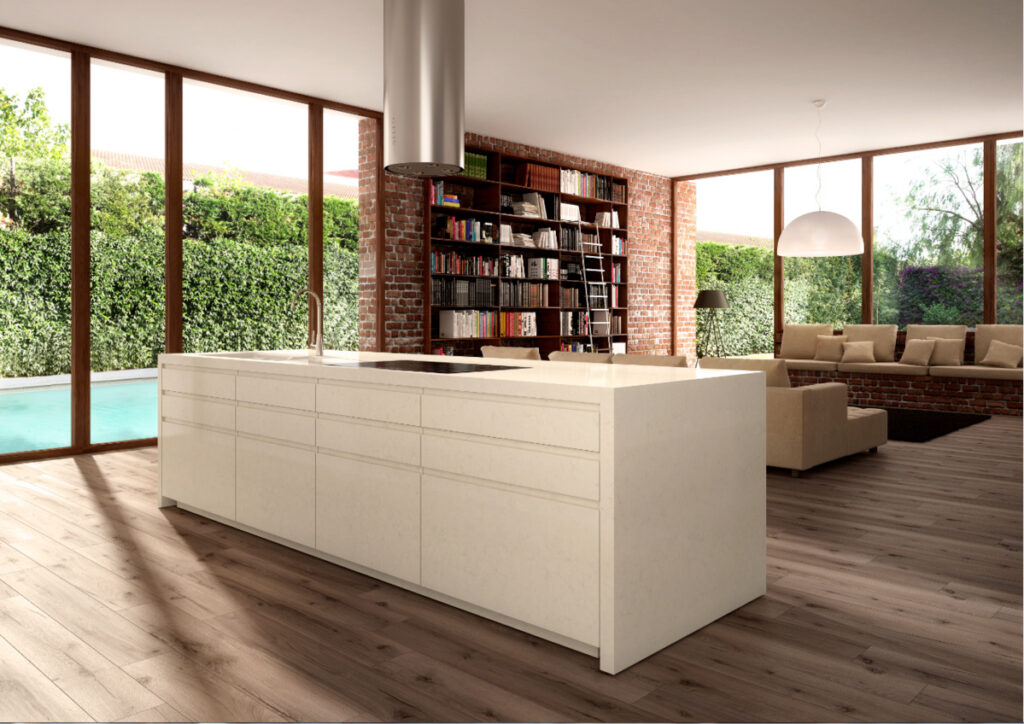 4 best warm quartz countertops for your home — Conclusion
In conclusion, home or business owners looking for a touch of warmth and an inviting atmosphere need not look any further. Not only do these four countertops add an element of coziness to any space, but they are also incredibly versatile, which is important when matching any style or design.
Transform a kitchen or bathroom into a stunning and welcoming area that everybody will love to spend time in. The earthy tones will provide a calming environment and the earthy characteristics of quartz will ensure that feeling of calm holds up for many years to come.
Check out Caesarstone's Virtual Kitchen Visualizer to explore how well potential design options can pair with different warm-toned quartz countertops.
Afterward, homeowners can visit the Where to Buy to locate nearby retailers and showrooms.