Quartz countertops are all the rage right now and for a good reason. Not only are they functional, but they are also versatile and long-lasting.
Another hot topic in the design world is cherry wood cabinets, a timeless choice that can bring warmth, comfort, and style to any kitchen. The deep, cherry tones pair perfectly with warm-colored quartz countertops, creating a stunning combination that will make the kitchen the centerpiece of any home. 
Today's article will discuss why quartz countertops pair well with light cherry cabinets and provide a number of great design suggestions.
Continue reading to get started.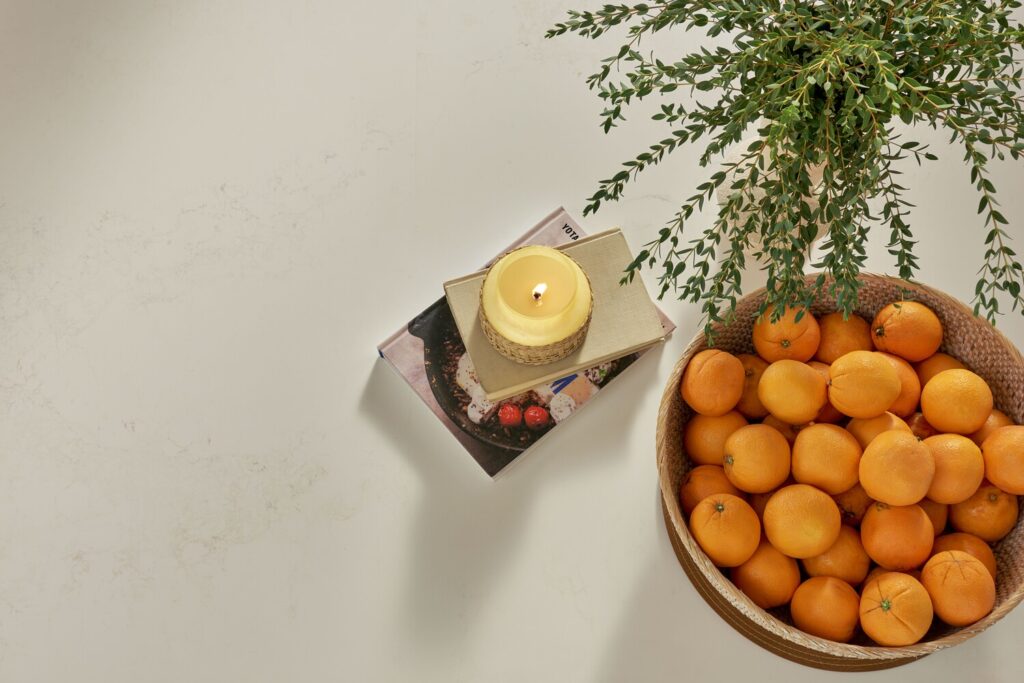 Quartz countertops for cherry cabinets — An expert guide for homeowners
Homeowners that want to pair their cherry cabinets with high-quality countertops should consider opting for quartz.
Quartz countertops and cherry cabinets make for an excellent kitchen combination for a number of reasons.
First, cherry cabinets have a rich, warm tone that pairs well with many of quartz's versatile colors and patterns, which gives home and business owners several options to choose from while designing a space.
Next, both quartz countertops and cherry cabinets are made of durable, natural materials that are made to last, especially with the proper upkeep. In fact, homeowners can easily clean both with a soft cloth, warm water, and a gentle soap. Keeping the countertops and cabinets clean and maintained will preserve a beautiful shine and help them stand the test of time.
Overall, cherry cabinets and quartz countertops work well together because they are both stylish, durable, and low maintenance — homeowners should keep this in mind while designing homes and kitchens if they're looking to find finishes that are equal parts beautiful and functional.
The perfect design: Quartz countertops with cherry cabinets
Homeowners should consider these style combinations while designing a space with cherry-colored cabinets and quartz countertops:
Creating a welcoming and warm space with 5121 Layalite
Homeowners that have been wondering, "What countertops go with light cherry cabinets?", should consider going with one of the shining stars in Caesarstone's line-up: 5121 Layalite. 5121 Layalite is a fresh white countertop with grays and ochers woven throughout.
Light easily reflects off of these countertops, highlighting a glamorous sparkle akin to freshly laid snow. In contrast, the warm and welcoming deep red undertones of the cherry wood cabinets create a rich and luxurious essence.
The result is a sleek and modern atmosphere that is inviting and elegant.
Homeowners can also add stainless steel appliances for a clean, minimal, and stylish kitchen. This design is sure to impress family members, friends, and neighbors alike.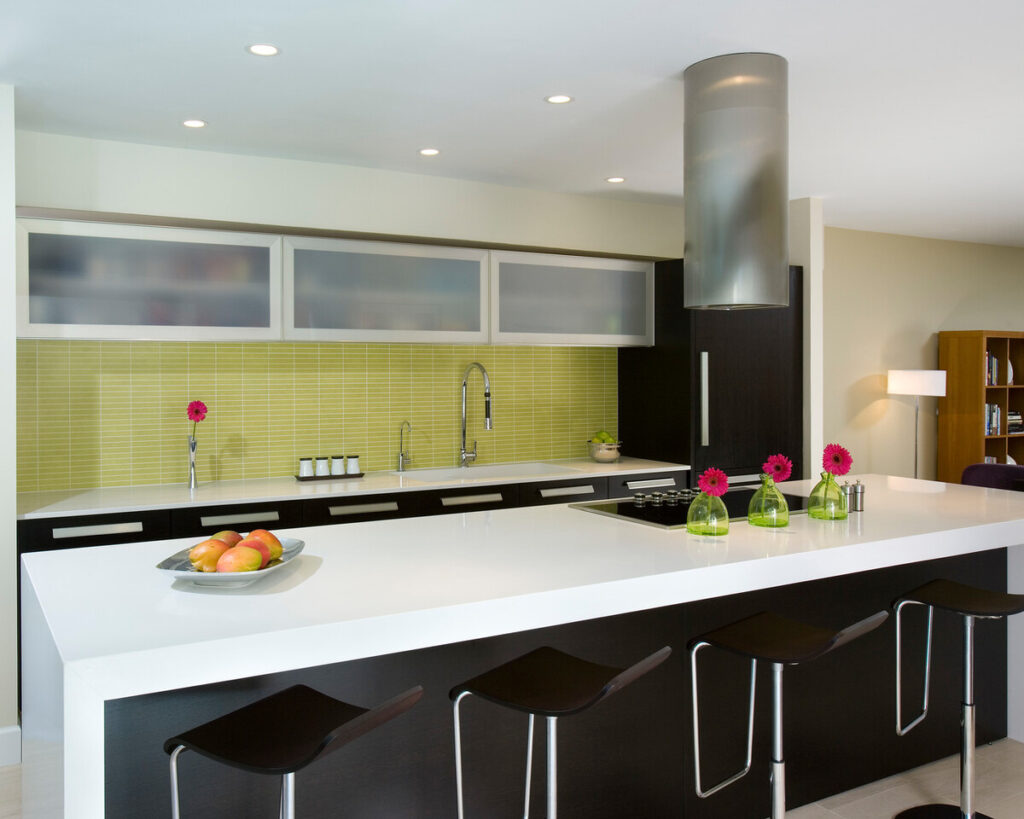 Designing a modern bathroom with 2141 Blizzard
For a modern twist, homeowners can use the best quartz countertops and cherry cabinets in their bathrooms. Indulge in a luxurious bathroom experience, similar to that of a spa, by surrounding yourself with pristine white quartz countertops like Caesarstone's 2141 Blizzard.
Pair the surface with trendy gray-stained, high-end cherry cabinets. The subtle grays in the countertop blend with the cabinets seamlessly, offering an original twist on the classic reddish brown hue. Homeowners can also pair striking black accents to light fixtures, taps, and decor to elevate the bathroom to a new level of sophistication and style.
The only other missing pieces are a clawfoot bathtub made of the finest porcelain and fresh white cotton towels that match the bold white hues from the countertops.
Homeowners don't need to settle for a dull and outdated bathroom—anyone can upgrade to a stylish design by utilizing white quartz countertops and gray-stained cherry cabinets.
Create a bold entertaining space with 3100 Jet Black
Prepare to blow any visitors away by creating a space for entertaining that is open, engaging, and exciting. Homeowners can start with an island centerpiece, made of a dark-colored quartz like Caesarstone's 3100 Jet Black.
For a greater impact, homeowners can pair quartz countertops with cherry cabinets that are color-stained. The striking contrast creates a unique design that is sure to draw guests into the space.
Where possible, this design combination pairs well with large windows and natural light, to add brightness without being too harsh.
Why stop there? Homeowners can add some dark barstools and furniture to pull the room together and create a cohesive look.
A word of caution though—guests may never want to leave once they take a step inside.
Design principles to keep in mind
Quartz countertops and cherry cabinets are foundational aspects of creating a space worth spending time in. Now that the fundamentals have been decided upon, it is important to continue following other design principles in order to tie the room together.
Functionality
Functionality is key to creating a usable space. Thanks to quartz's versatility, it's a fantastic option for surfaces of all shapes, sizes, and uses. Cherry cabinets are a timeless classic that resurfaced in popularity. Cherry wood can be manufactured into any style of cabinet to meet an individual or family's specific needs.
Durability
There is no question that both quartz countertops and cherry cabinets will withstand daily wear and tear and stand the test of time. It's not uncommon for a well-maintained quartz countertop to last for several decades.
Aesthetics
Functionality is important, but so is creating a space that people want to spend time in. Luckily, cherry cabinets and quartz countertops are both optimal options for curating a space that focuses on both function and fashion. Plus, both the countertops and cabinets come in a variety of colors and textures, which makes it easy for homeowners to incorporate them into practically any theme or style.
Start Designing
Time to start putting together a room with all the glitz and glamour. With so many options and styles of quartz countertops and cherry cabinets available, it's easy to find combinations that will combine to create a cohesive look.
Keep these design principles in mind now for an easy kitchen and bathroom build later.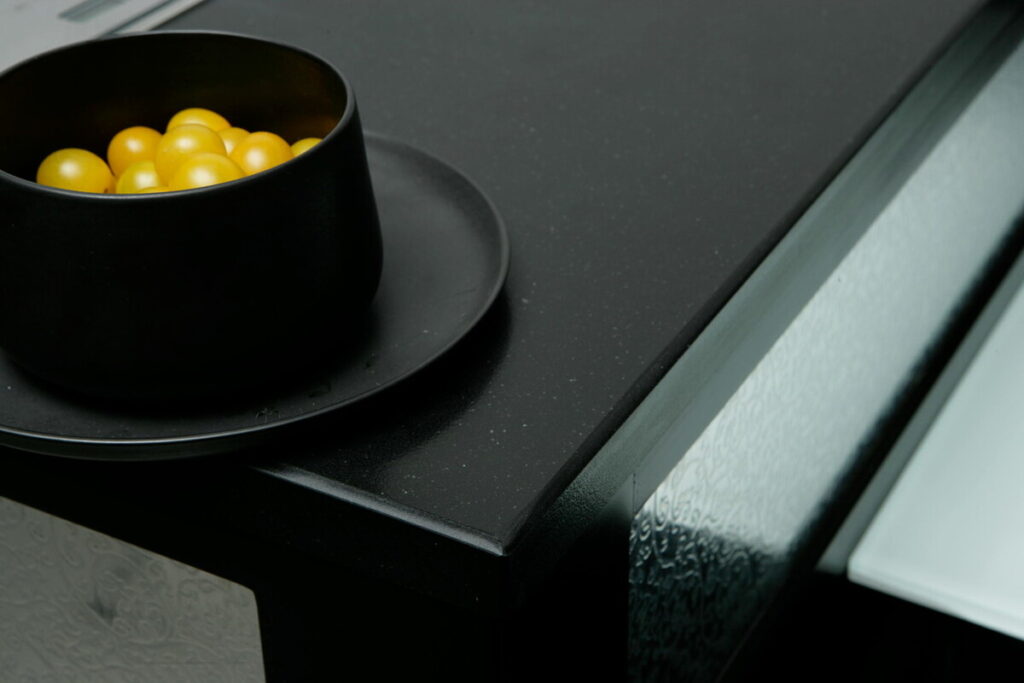 Pairing quartz countertops with cherry cabinets — Conclusion
Individually, both cherry cabinets and quartz countertops are highly sought-after features in modern kitchens and bathrooms. When these two features are incorporated into a space correctly, they are bound to bring a room together.
The timeless beauty of cherry cabinets paired with the durability and versatility of quartz countertops results in a space that is both functional and stylish.
As homeowners continue to seek the latest trends in kitchen design, they will find that this pairing is an investment worthy of their time.