Many modern bathrooms and kitchens have a streamlined and clean appearance that is quite eye-catching to business owners. Even spaces that are not so modern can benefit from some contemporary design. Contemporary design gives business owners the opportunity to provide an authentic, yet enhanced appearance to their kitchen and bathroom spaces.
One easy way to employ a contemporary design is to try out charcoal quartz countertops. They are one of the modernized ways of elevating interior designs. For instance, charcoal gray quartz countertops are a fantastic option when it comes to blending modern designs and timeless aesthetics. It creates a subtle backdrop that works with various colors.
Charcoal quartz countertops come in a wide array of styles and designs, which can make it difficult for business owners to choose the one that perfectly matches their needs. Business owners can continue reading for more information and design inspiration.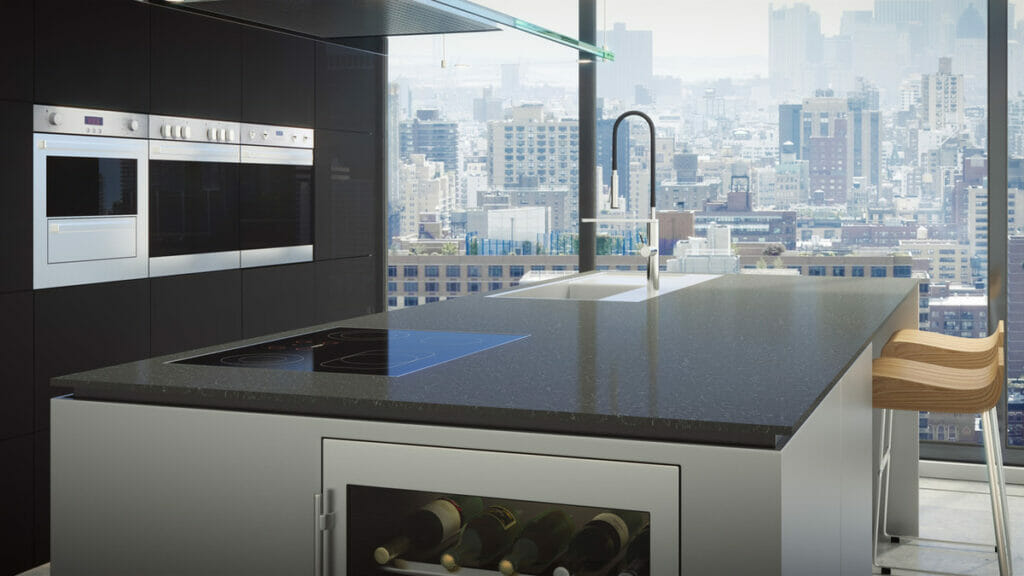 Why should business owners use charcoal quartz countertops in their businesses?
Quartz countertops are manufactured engineered stone surfaces composed of around 90% powdered quartz, a naturally hard material, plus 8–10% resins, polymers, and pigments. This leaves customers with a stylish, high-quality surface.
In addition, the way the quartz is processed affects the appearance; coarsely ground quartz has a flecked appearance, whereas finely ground quartz has a smooth appearance.
Furthermore, quartz countertop properties allow business owners to choose the exact colors and tones they want for their countertops. Careful consideration can easily give a modern and consistent look to practically any commercial space.
Charcoal quartz countertops design ideas
There are many ways business owners can try out charcoal quartz as their countertops. Let's look at the design ideas that can easily blend with charcoal quartz countertops:
1. Vintage-looking kitchen
Vintage kitchen design ideas are in high demand nowadays, and for a good reason. It is impossible to mimic the sense of uniqueness that vintage items bring to modern, appealing kitchen design ideas.
The elegance of the past and the usefulness of the present are combined in vintage kitchen design ideas. This effect may be achieved in a number of ways, from adding salvaged freestanding furniture next to built-in cabinetry to decorating classic kitchen ideas with open-shelving exhibiting flea market discoveries.
Give the kitchen a vintage look by blending dark grey charcoal quartz countertops with rustic and industrial elements. Adding a farmhouse sink, exposed brick wall, and bridge faucet to the kitchen will give the kitchen a more enhanced and rich vintage look.
2. Blending cool with warm accents
Business owners need to be really upbeat in their kitchen every single day. And colors impact the productivity, mood, and emotions of the kitchen. So in order to enhance productivity and inspire creativity, business owners should decorate their kitchen with uplifting colors.
Warm hues, such as blazing reds and oranges, cherry yellows, and toasty neutrals, help warm up a kitchen's polished surfaces and may be paired in various ways to fit any decorating theme.
Create a contemporary contrast by combining cool and warm colors. For example, combine Caesarstone's 6003 Coastal Grey with warm tones by adding light-colored wall color and cabinetry. The result is a cohesive design that has a restful feel and is aesthetically pleasing.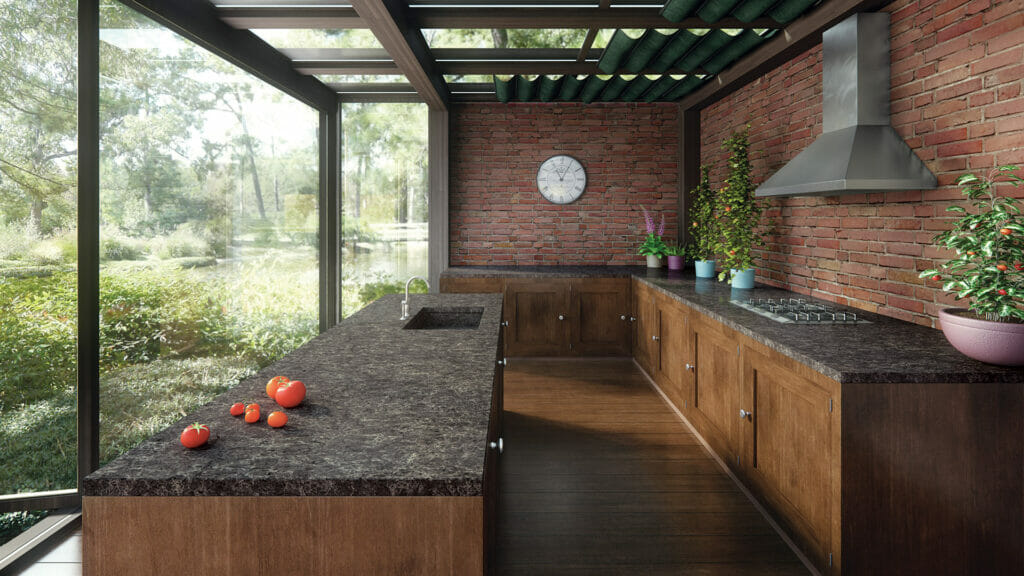 3. Grayish bathroom
For bathroom designs, gray is a fantastic hue. It has more character than plain white yet is cool enough to work nicely in small settings. For a unified and intriguing appearance, the bathroom can use several hues of gray in one space.
For instance, Caesarstone 5003 Piatra Grey is a perfect blend for bathrooms to give a grayish yet eye-catchy look. The counter's somewhat mottled finish picks up the warm tones from the shower, while the chilly tones go well with the glass vessel sinks.
4. Modern sleek design
The main benefit of using charcoal quartz countertops for kitchens and bathrooms is their versatility. It can easily be combined with a variety of hues and shades. Also, it can be polished and honed per the business owner's requirements.
It also can be used to create waterfall edges for cabinet runs and islands. Waterfall edges mean the countertop slants down to the edge of the cabinet. It establishes a continuous flow, connecting the cabinet smoothly and naturally. A more contemporary design is waterfall countertops.
Caesarstone 5161 Icellion perfectly blends with charcoal quartz countertops. It enhances the look of waterfall edge countertops.
5. Tone-on-tone design
Modern and sleek kitchens make use of different shades of charcoal quartz countertops to create a muted yet deep design. Create a tone-on-tone design by using the darkest shade of gray as a focal point of the kitchen and lighter shades nearby to highlight it. The result is a relatively subtle modification that keeps the kitchen from feeling boring.
6. Transitional bathroom
Showers with subway tile and marble flooring are common in many bathroom designs, but if they are used frequently enough, they risk becoming standard. By incorporating a charcoal quartz countertop into the design, the bathroom becomes more unique, attractive, and appealing.
In addition, the room can be more transitional and intriguing than it might otherwise be by the contrast between Caesarstone's 6313 Turbine Grey and light-colored flooring.
7. Surface contrast
By including warm hues in the kitchen design, a charcoal quartz countertop can also be used to introduce contrast to the space.
Create a surface contrast by using white cabinets with a brilliant, matte finish instead of a highly crowded cabinet design. Both of these sections will contrast with the honed quartz countertop.
A flat finish can add more depth than the outer cabinetry while preventing kitchen islands from appearing crowded.
8. Adding texture to kitchens
For a sleek appearance, many modern designs make extensive use of flat finishes. However, using too many flat hues and textures results in a dull and boring design.
This is why integrating something like a charcoal quartz countertop with several specks of different colors will add interest and depth to any space. The diversity in the quartz gives the area a little more depth and makes it seem more inviting.
Transform a room with charcoal gray quartz countertops
Create an eye-catchy and authentic style by blending charcoal quartz countertops with kitchen and bathroom designs. They fit perfectly with most modernized kitchens and bathrooms.