Many people prefer using gray colored countertops in their kitchen, while some prefer beige. However, there is a new color that is gaining popularity among homeowners: greige. Greige is neither gray nor beige, but looks like a combination of both. 
Greige is a great color for a quartz countertop, as it compliments most of the things homeowners have in their home. In addition, there are a variety of colors, from matte white to glossy black, that let homeowners consider greige as a coordinating hue.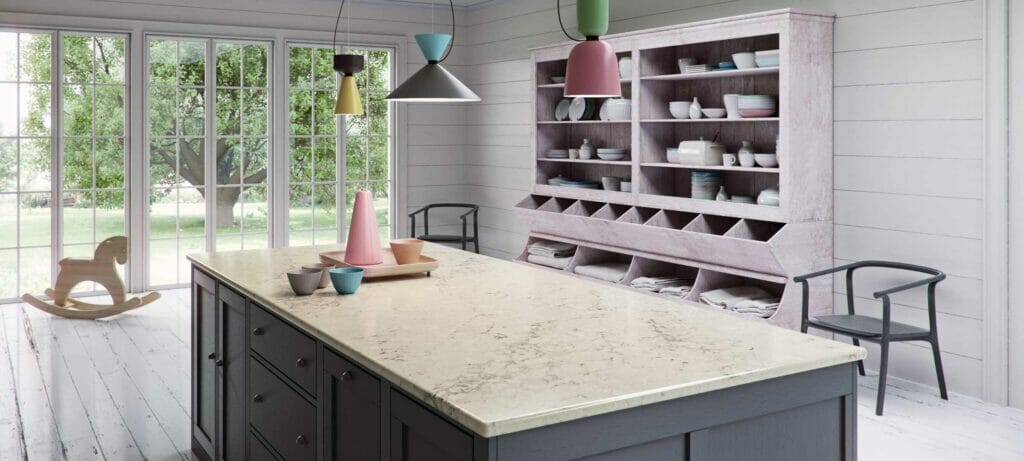 Greige Countertop Design Ideas for Homeowners
Greige quartz countertops have witnessed a surge in demand from customers worldwide, particularly in the US.
Quartz is a low maintenance and durable material for countertops that is known to last for decades. Let us explore some design ideas for greige color quartz countertops.
6134 Georgian Bluffs
With subtle and uniform speckles, Caesarstone's 6134 Georgian Bluffs works wonderfully in kitchens and bathroom spaces.
This quartz is easy to clean and maintain and suitable for residential and commercial settings. The color is appropriate for classic designs or as a counterpoint to bold patterns. The greige quartz countertops are available in prefab quartz designs that make the installation process quick and easy. 
4044 Airy Concrete
Caesarstone's 4044 Airy Concrete is ideal for a modern style with a textured cabinet. This greige quartz countertop fits the theme perfectly, and the deep hue and uniform finish create the perfect balance required to anchor the space.
Homeowners can utilize its mix of rich deep hue and eye-catching secondary hues to give any space a luxurious, multi-textured aesthetic. 
2030 Haze
Homeowners can use greige-colored tiles for the kitchen flooring to match the beauty of Caesarstone's 2030 Haze.
For the best results, homeowners can pair the rest of the space in the kitchen with the same (or similar) hues. Doing this allows the greige quartz countertops to pick up the light gray shades throughout this classy design.
The results achieved are monochromatic while remaining contemporary and interesting. Different tones of gray combine unified by the flooring. The solid greige countertop picks up the color well and creates a calm felling throughout any space. This calm scheme offers room for the busier countertop to shine through.
1002 Wyndigo
Homeowners can make the most out of their greige quartz countertops, like Caesarstone's 1002 Wyndigo, by incorporating décor with sleek, distinct lines. Additionally, because décor with clear and sleek lines doesn't take attention away from other kitchen elements, it will work well in kitchens that feature an island. The final kitchen result is stylish and minimalistic.
The medium greige countertop adds a perfect touch and blends well with the monochromatic scheme. The calm pattern and texture of quartz naturally matches the minimalist design. This countertop will create an oasis in the middle of the space and a place that garners a lot of attention.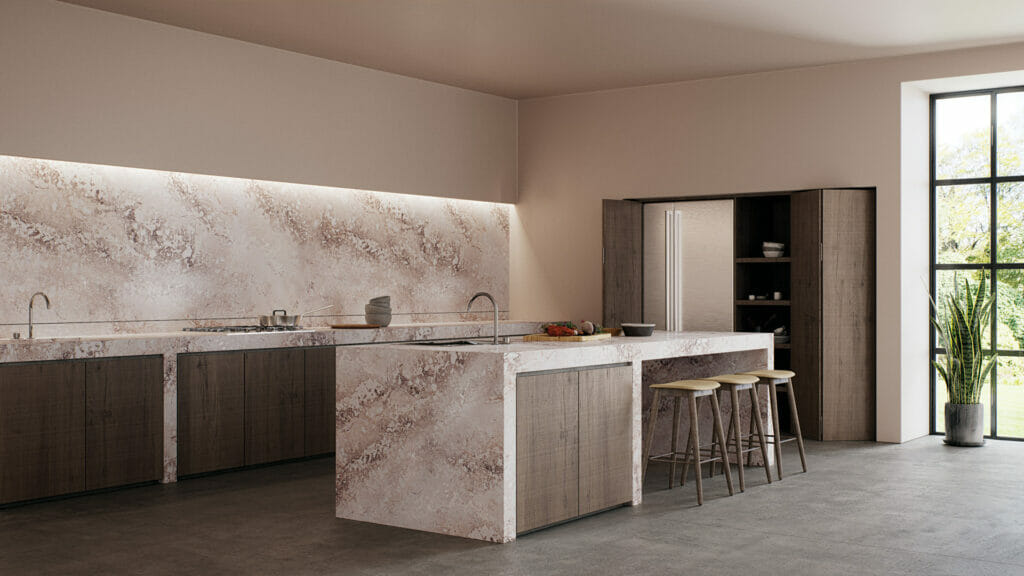 4046 Excava
The clean feeling of a polished surface creates visual interest in the interior of any space. Caesarstone's 4046 Excava is soft greige quartz peppered with warm and variegated undertones.
The embedded cross-cut crystals offer sophistication to a surface that blends well with a wide range of decorating styles. Caesarstone's 4046 Excava countertop can be used in a residential kitchen as well as the dining room.
4601 Frozen Terra
Greige is a popular color for property owners that want a warmer tone rather than standard gray hues.
Caesarstone's 4601 Frozen Terra is a fantastic product for homeowners that want to add some color contrast to the space without including additional patterns that might take away from the overall style and quality of the design.
1004 Stoneburst
One of the reasons for the growing popularity of greige color quartz countertops is that manufacturers offer them in a variety of different hues. Homeowners with a green or gray color in their kitchen can use a greige quartz countertop.
For example, Caesarstone's 1004 Stoneburst blends very well with the tones mentioned above, as the product creates a cohesive style. The greige countertops pick up and amplify the colors wonderfully. Although the color is greige (not gray), it takes on a gray hue and adds further depth to the space. 
Using greige kitchen cabinets
Kitchen cabinets are an important part of a beautiful kitchen. Homeowners can install greige cabinets with a greige quartz countertop to create a perfect theme for their kitchen.
In addition to kitchen cabinets, families can also have other things like induction cooktops and fixtures in a greige color. However, a lack of color variation amongst décor can produce a dull theme in the kitchen. So, it's best to explore a pop of color outside the kitchen cabinets and quartz countertop.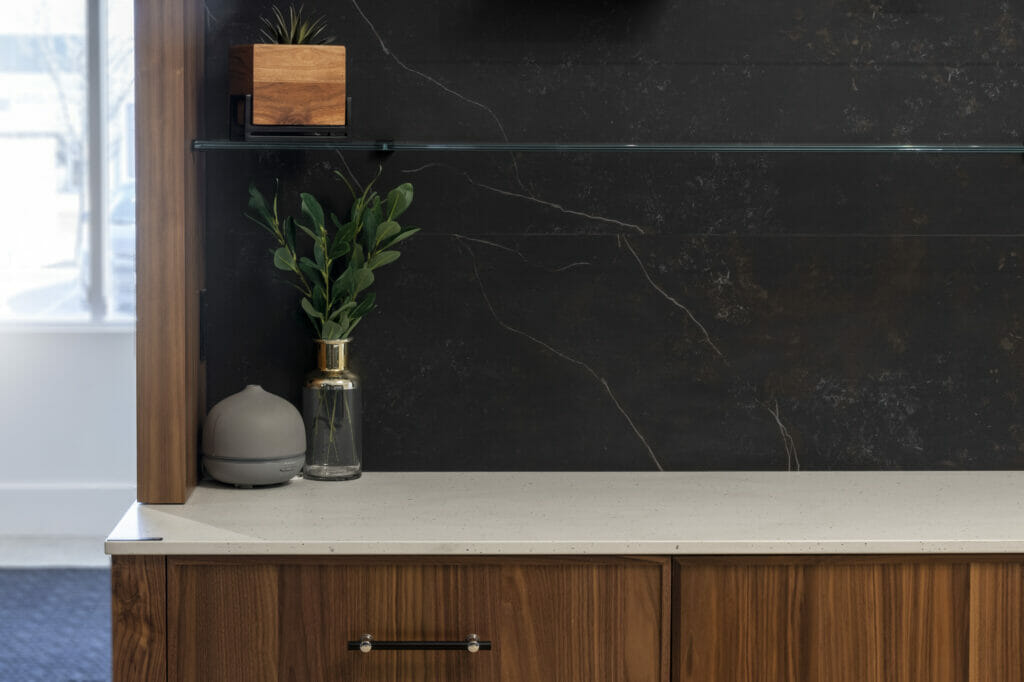 The flooring patterns
Flooring is the area where homeowners never lack the options. The reason for plenty of options is that there are a variety of patterns in any flooring material. Greige-colored flooring blends perfectly and complements the quartz countertops in the kitchen and other parts of the house.
When it comes to patterns, there is no limit to the flooring designs. Plenty of patterns are available in gray, white, and beige colors, and they blend well with kitchen greige quartz countertops. 
Try mixing and matching various colors with greige
Homeowners can mix and match greige tones with modern palettes of colors if they want to experiment with their kitchen's design possibilities. You can have white cabinets and pair them with soft greige gradients or consider adding finishing touches of warm gray or bronze to chairs with white seats. The fixtures and appliances also look great in a metallic or golden finish.
Pairing Caesarstone's 5211 Noble Grey and the above mentioned tones in a kitchen space can create a cohesive and sophisticated appeal. 
Transform any kitchen with greige quartz countertops from Caesarstone
Neutral tones, like greige, are timeless for interior décor. Greige is gaining popularity for a number of reasons, including its ability to add warmth to practically any kitchen.
Homeowners who want to add more inspiration and aesthetics to their kitchen can check out the top kitchen design layouts from Caesarstone.