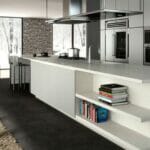 Hail, Caesarstone!
BY ELYSE GLICKMAN
Jewish Journal
December 20, 2012
As California's real estate market continues its recovery and spring remodeling season is poised to start, many homeowners are once again looking for enduring ways to rejuvenate their living spaces and add value to their homes. Not surprisingly, the rooms that get the most use — kitchens and bathrooms — are often the first to command attention.
More unexpected is where the materials come from that many are choosing for their stone countertops and vanities: Israel.
Since 1987, an Israeli company called Caesarstone has been a pioneer of the natural quartz surfaces market, producing countertops that forge function and fashion. The firm is owned by Kibbutz Sdot Yam on the Mediterranean Sea, just south of the ancient city of Caesarea, but its U.S. operations are based closer to home, in Van Nuys.
"It's not just the stone itself that consumers respond to," said Sagi Cohen, CEO of Caesarstone U.S., who was born in Israel. "People also appreciate the fact that it is a totally Israeli product, from development of the technology that makes the countertops worth the investment to the state-of-the-art production line, to the fact that it is an Israeli company Americans can get behind in their overall support of Israel."
In the quarter-century since its inception, the company has come a long way. In the early days, according to a report in the Israeli newspaper Haaretz, Caesarstone nearly drowned in production problems. Now its products are sold in more than 40 countries, including most of Europe and Australia. Nine months ago, Caesarstone experienced a financial milestone by becoming the first stone company to be publicly traded on the NASDAQ.
Don't think of its products as simple pieces of rock. Moshe Narkis, of Technion-Israel Institute of Technology, is credited with developing a proprietary formula and process for treating these quartz slabs, paving the way for a new generation of harder, impermeable, stain-resistant counters.
One result is that Caesarstone became one of the first stone companies to certify its countertop materials as kosher. This is possible because the manufacturing process eliminates natural stone imperfections while preventing chipping, cracking and discoloration from heavy use. The quartz is combined with high-quality polymer resins and pigments and compacted under intense vibration, vacuum and pressure. The final product is a surface that resists damage from heat, cold, food, acids, caustic wine spills and knife scratches, which could store bacteria and compromise the preparation and purity of kosher food, Cohen said.
Today, the company boasts more than 50 colors of slabs from which to choose, along with a variety of unusual textures and patterns. Some of the most cutting-edge textures include crocodile and lace-embossed designs, while some of the most striking hues in the collection (Ruby Reflections, Chocolate Truffle and Starry Night) are fashioned from recycled stone.
Maggie Amir, Caesarstone's brand manager, is also the company's arbiter of style in guiding consumers and designers in how to achieve looks for kitchens and vanities that are at once trendsetting and timeless. She leans toward bright, vibrant décor schemes incorporating surfaces that enliven and enlarge a room's visual scope.
"A lot of families spend a good amount of time in the kitchen, and cooking itself is an uplifting activity," Amir said. "Therefore, you want to surround yourself in an environment that is uplifting and encourages conversation. … From my perspective, the countertop colors we offer have a lot to do with creating the illusion of space. To open out the kitchen's look, look to lighter colors to make the impression the room is bigger than it actually is."
Dan Brunn, a Los Angeles-based architect and Caesarstone customer, said the company's product allows him to express himself freely in form, color and texture.
"Every one of my projects has elements born from Caesarstone, from my first restaurant, Yojisan Sushi, to high-end private beach homes," he said. "I can call upon Caesarstone to help in trying out new applications or techniques."
In terms of its environmental commitment, Caesarstone was the first stone company to receive ISO 14001 certification, a global standard specifically for environmental protection. From recycling 97 percent of the water used in manufacturing to collecting dust from shipping, handling, production and processing, Caesarstone has earned high marks.
Cohen, the CEO of Caesarstone U.S., said the company contributes to other causes, too.
"We are fortunate to have been involved in both Jewish organizations and general causes the public can relate to," he said.
One philanthropic effort in which the company is participating is Coasters for the Cause, set up to raise money for the American Red Cross to aid those affected by Hurricane Sandy. One-of-a-kind artist-designed coasters retailing for $10 are being sold online at caesarstoneus.com, and the company has announced it will match sales up to $10,000.
Cohen said that the company is a supporter of Larger Than Life, raising money for children with cancer as well as funding trips enabling Israeli children with cancer to visit the United States. Caesarstone also is an active member of the Israeli Leadership Council.
"Jewish consumers look for good products with proven benefits, value proposition and getting what you pay for," Cohen said. "Even in advertisements for rentals and home sales, a lot of the real estate people drop the Caesarstone name in the advertising to the point where the name is becoming a generic term synonymous for quality. We also want this important value attached to our name to carry over into our philanthropic efforts."
A version of this article appeared in print.
Online version available here: http://www.jewishjournal.com/business/article/hail_caesarstone!