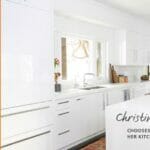 Christina Applegate is no stranger to the glitz and glam of Hollywood – but when it came to her circa-1985 kitchen, she thought it was the "ugliest" one she'd ever seen. The actress had a vision for an updated kitchen design, but shied away from tackling the daunting project until a fortuitously timed flood forced her to reconsider.
"Luckily we had a flood… and it ruined all the floors in the house… so we thought while we're going to have to rip up every single bit of flooring in the whole house, we might as well do the kitchen," explains Applegate.
The family turned to the online interior design firm, Laurel & Wolf, who simplified the process and delivered Applegate's dream kitchen.
Laurel & Wolf designer Jessica Today chose our Caesarstone Pure White counters to brighten the space, increase functionality and make the kitchen family.
They also used our Raven surface for the laundry room – creating a perfect space for storage, sorting and folding.
"I love cooking here now! That's been the best," Applegate says. "It's just so easy. And the kitchen is so bright and open, and the use of space that Jessica came up with is just amazing to me."​