The dining room is the part of the house that brings every family member together. From enjoying home-cooked meals with each other to having serious discussions, dining rooms have seen it all. So, why keep this space restricted to just a few outdated styles?
Many new styles have recently started gaining popularity in the kitchen decor world. But is there a need for totally revamping the look of the kitchen? Why not bring home a beautiful quartz top dining table that will capture everybody's attention?
There are multiple types of materials that homeowners can look for in their dining tables; one such material is quartz. Quartz has the potential to change the ambiance of one's kitchen. Continue reading to learn more about quartz and why homeowners consider using it as a dining table top:
Why choose quartz countertops?
Quartz is an engineered stone made by using 93% natural quartz. However, it is not entirely natural, due to the presence of resins.
There are various benefits of introducing quartz products that are manufactured by a reputable company, like Caesarstone, into the kitchen:
In terms of appearance, quartz countertops look amazing. They come in various designs and colors, so matching them up with the freshly painted kitchen walls is not much of a task.
Some homeowners have no idea, but quartz is a non-porous material. It does not allow water or any other liquid to pass through the surface. This makes it last for a lengthy period of time.
There isn't much trouble that anyone has to face for taking care of a quartz top dining table. Still, there are several effective tips for maintaining Caesarstone countertops that homeowners can try out.
Because of the quartz counter composition, there are few chances that a dining table with a quartz top will scratch. Even though quartz is fairly scratch-resistant, Caesarstone always recommends using a chopping board.
So, these are some of the various reasons why using a quartz top dining table in a home is beneficial. Now, let's see how can one incorporate this beautiful material into their dining spaces elegantly: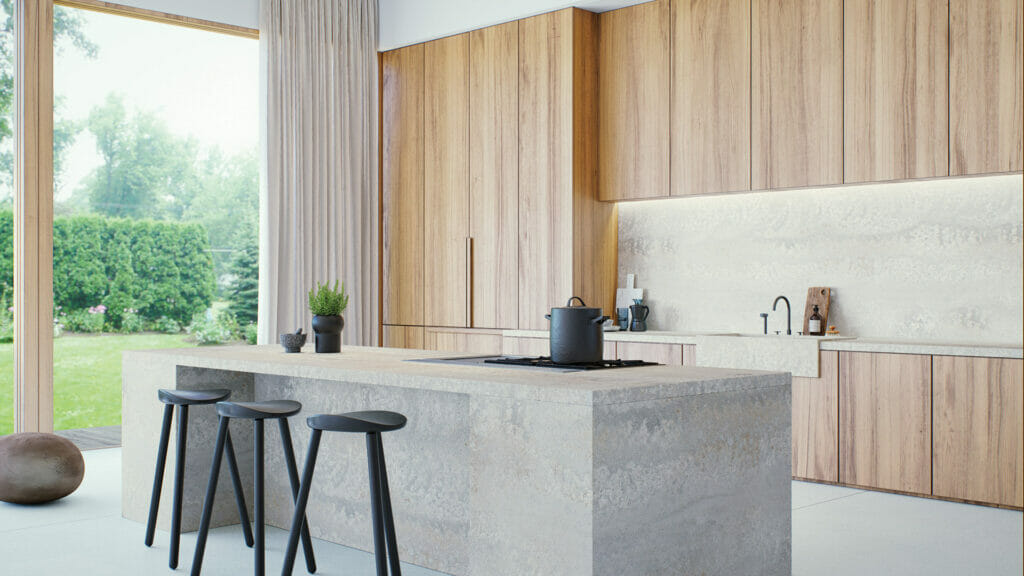 Seven dining table with quartz top design ideas for residential spaces
1. A little dining corner:
For those who are not enthusiasts of dedicating a huge space for dining areas, a side dining table quartz top is a practical option. It will not cover much space as huge dining tables do.
Additionally, one only requires a side table and four chairs to create a cozy dining nook. Homeowners who like to experiment with colors can include chairs with different colored covers.
2. White quartz island with extended dining table:
Instead of purchasing a different quartz top dining table, why not go for an island with an extended dining table?
Doing this provides the space with a contemporary look and eliminates the need for a separate table. Put in some beautiful rustic chairs, and the dining area is ready. This way, homeowners can directly provide freshly prepared food to their friends, family members or guests.
3. Quartz dining table top with solid metal legs:
Tired of seeing those dining tables with huge structures? Then it might be time to try some sleekier ones.
Recently, homeowners have started inclining towards sleek-looking countertops and feature solid metal legs. These dining tables look extremely beautiful, especially when topped with high-quality quartz.
4. Dining table top with wooden extension:
The top can have a wooden extension attached for a slight shift to the plain quartz top dining table. Doing this looks great and gives the space a distinctive feel. As soon as this dining table is installed, it will become the highlight of the kitchen. Place a few chairs with the same colored covers as the dining table top and the dining room is ready.
5. A small table attached to the island:
A different take for installing a quartz dining top is adding a small table to the kitchen island. Doing this provides the homeowners with more working space and also fits perfectly as a dining table for the family. Add some beautiful aesthetic lighting to the kitchen, and it is all set to capture the eyes of whoever visits the kitchen.
6. White quartz paradise:
Why not turn a simple dining area into a snow-white wonderland? For those who like to get a little extravagant with the interior decor in their home, a white dining table with quartz top works wonders. Caesarstone's 9141 Ice Snow is a fantastic product that perfectly fits this theme.
For the best results, homeowners can include beautiful glass chandeliers and a crystal vase on the top of the quartz dining table. Doing this adds even more elegance to the space.
7. Quartz dining table with wooden support:
Wood is a traditional material that works well with practically every type of decor. Therefore, one can achieve aesthetic results by using wood as a supporting element for the quartz top dining table. It looks exceptionally good, and by adding a few wooden chairs, the whole ambiance of the dining area will give a country-like feel.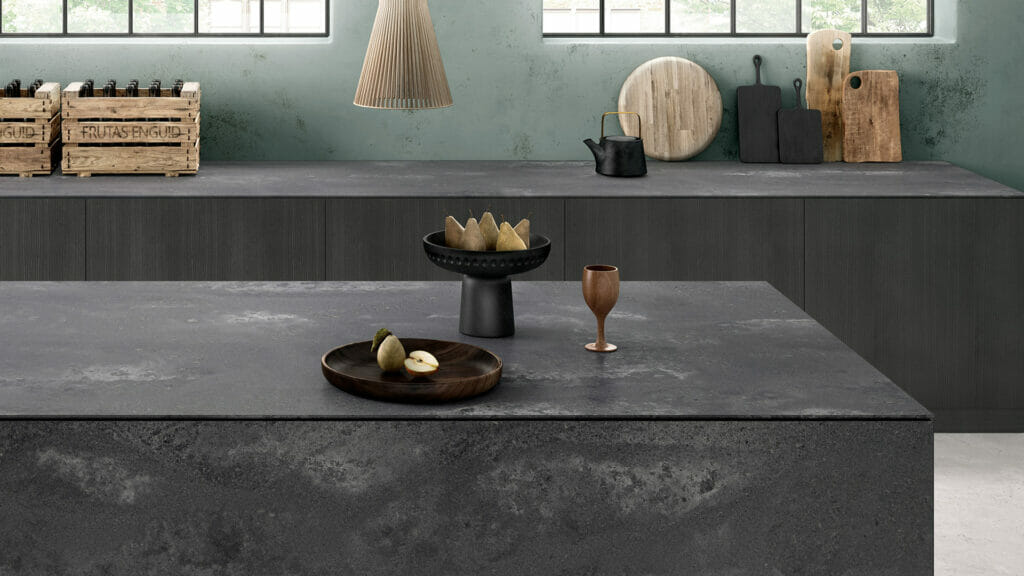 Tips to avoid damaging a quartz top dining table
Although quartz has anti-scratch, stain and heat-resistant properties, one should always be cautious while working on it. Here are some points on how to safeguard quartz surfaces and keep them in good condition:
Quartz has several benefits, like water resistance and heat resistance, but that does not mean it should be left as it is after completing household chores. Instead, one should clean it up properly after the food is prepared; for this, one can use a dry cloth and clean the surface by wiping off all the residue.
Apart from cleaning the countertop daily, one must give it a special cleaning treatment to remove huge messes properly. For this, apply mild liquid soap and remove the dirt properly. If there is a stubborn mark on the dining table, use a damp cloth to soften it up and remove it. Do not scratch it, no matter what.
7 Ideas for a Dining Table with a Quartz Top – Conclusion:
These were some ideas for homeowners who want a dining table top made of quartz. With the help of these designs, one can build a beautiful dining space according to their vision. Those who want to get their hands on good-quality quartz can check out the Caesarstone website and scroll through our catalog section to get a better look at various products.
*Please note that the Caesarstone warranty does not cover usage as dining tables. Homeowners should keep this in mind before making a final decision.*