Elegant kitchen countertops add a sense of beauty to the kitchen. In the past, kitchens were simply considered a place used to prepare the meals and were made in a way that was just functional enough for the average homeowner.
However, with time, the kitchen became a part of the house which was not just utilized to prepare meals, but also became a symbol of a perfect house. Often, a beautiful kitchen leaves an impression on house guests.
A beautiful kitchen is a must, that is understood. But in order to build such a kitchen, one must pay attention to the few major parts of the kitchen like the sink, the cabinets, the sealing, and most importantly, the countertops.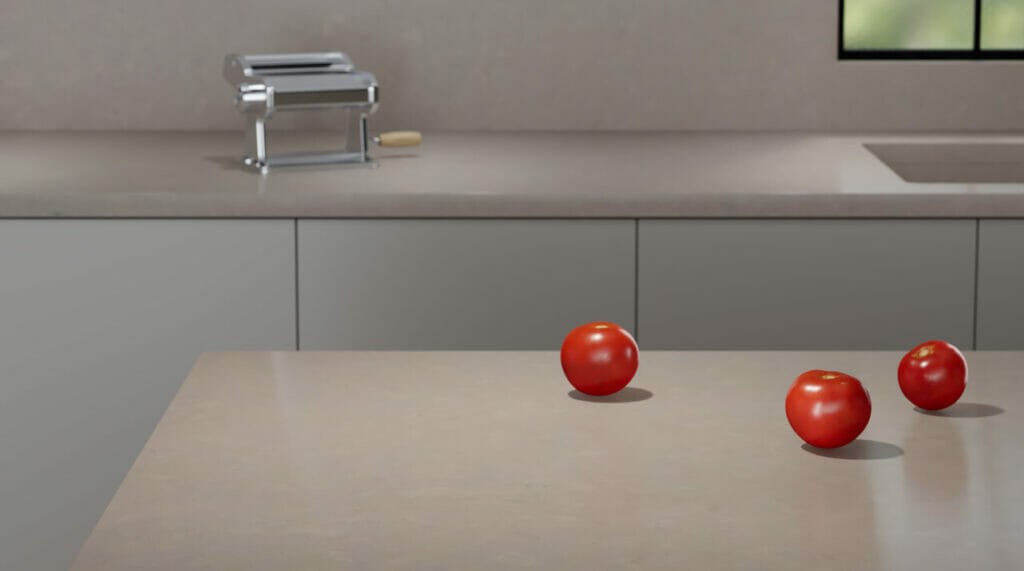 Unfortunately, if an individual lives in a major city like Madison, it becomes difficult to choose the right countertop because there are simply too many choices. "Which material is perfect for a kitchen countertop?", is the question that troubles everyday homeowners on a regular basis.
However, this question has a simple answer — engineered quartz! Why? Well, quartz is incredibly durable and is one of the most stain-resistant materials used to build countertops.
But, this is just the tip of the "countertop iceberg". So, let's dive deeper into what is so special about quartz countertops Madison, WI.
This blog will help homeowners understand why quartz is the best material for the kitchen countertop. Additionally, homeowners can learn all about where to buy quartz countertops in Madison, WI.
Quartz countertops in Madison, WI: why should homeowners choose quartz?
Quartz is considered one of the best materials for kitchen counters, and there are quite a number of reasons for that.
Before hunting for quartz countertops Madison, WI homeowners should know the key features of this material:
Durability
As mentioned earlier, quartz is one of the most durable materials available in the market; with the right care and maintenance, quartz can last as long as the house. In addition, quartz ranks a seven (out of ten) on the Mohs Hardness Scale, which means that it's an extremely strong material.
Easy to repair
Although quartz is a tough material, it can get damaged; it's not invincible after all! It may face some chips, but that does not mean that a homeowner will have a tough time repairing that piece.
Repairing quartz is extremely easy because of its uniform appearance. At the same time, natural materials may give an individual a tough time, due to the fact that they tend not to be as uniform as quartz.
Requires less maintenance
Yes, with the right maintenance, the Madison, quartz countertops will last for a very long time, but that does not mean that quartz countertops are high maintenance. While some other materials require resealing on an annual basis, quartz does not require any sealing at all.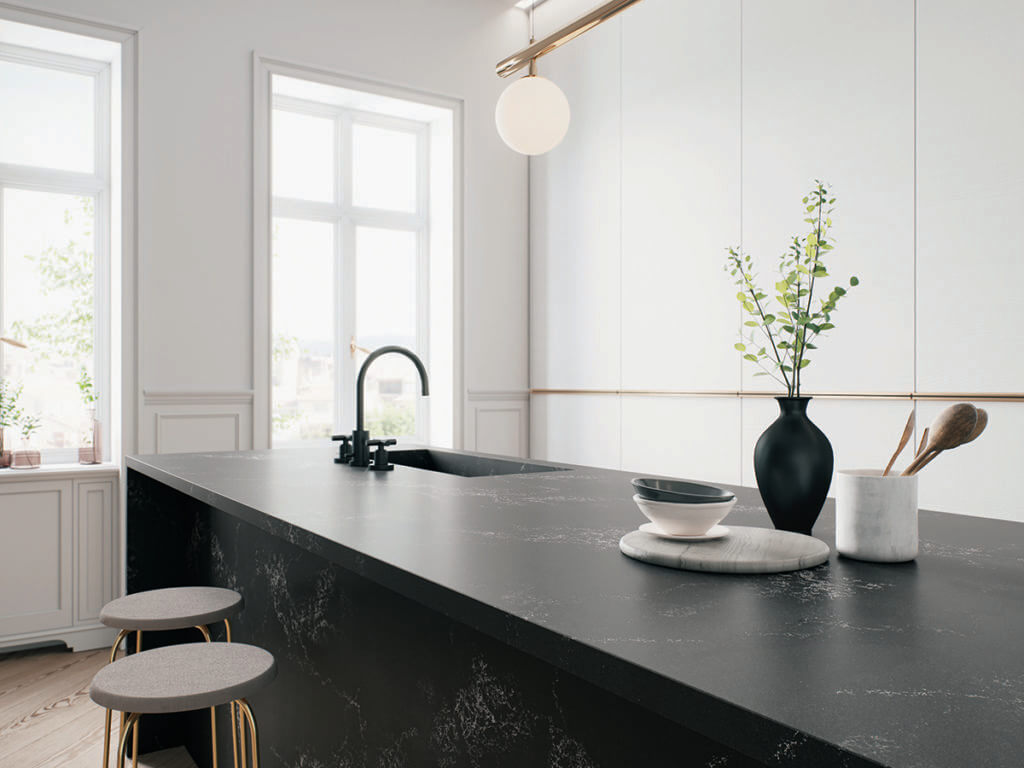 Environment friendly
Naturally occurring countertop materials are mined from the ground and transported across the globe before getting installed in a home. But quartz is a material that is manufactured locally with recycled minerals; hence it is more environmentally friendly than some other materials.
Antibacterial nature
Quartz is a non-porous material, which gives it the invaluable ability to resist bacteria. Other naturally occurring materials are porous in nature, providing space for the bacteria to breed.
Affordable
Despite its growing popularity, engineered quartz countertops are still very affordable for most house owners.
Stain resistant
Because of their non-porous nature, quartz does not get stained easily; because of this, homeowners don't need to worry about unsightly stains forming on their counters.
The color and pattern variety
Quartz is an engineered material and is available in many colors and patterns; let's take a look at some of those colors and patterns an individual can consider for their kitchen countertops.
Some popular options for quartz countertops in Madison, WI include:
The most popular colors for the quartz kitchen countertop provide a classic and vintage look to the kitchen. If a homeowner has blonde maple kitchen storage cabinets, high-quality gray quartz countertops, like 1006 Agger Grey and 6313 Turbine Grey from Caesarstone, pair naturally with the kitchen cabinets.
Color options to add warmth to the kitchen with maple
Anyone who wants to add a warm look to the kitchen should consider going for maple kitchen cabinets and kitchen countertops in shades of orange or red.
Keep it classic with black
Black is a color that can give a classic look to anything. Be it a bathroom or a kitchen countertop, black tones can go with any kind of cabinet, but it is best recommended with light-colored cabinets. High-quality quartz countertops, like Caesarstone's 5101 Empira Black go perfectly with maple or white kitchen cabinets.
White is one of the most popular quartz countertop colors with homeowners. White has always been a popular shade among homeowners thanks to its vibrance and clean aesthetic. The best part is that bright white countertops go well with a variety of cabinets and kitchen floor colors.
There are several high-quality white quartz countertops available through reputable manufacturers, like Caesarstone. Some examples include: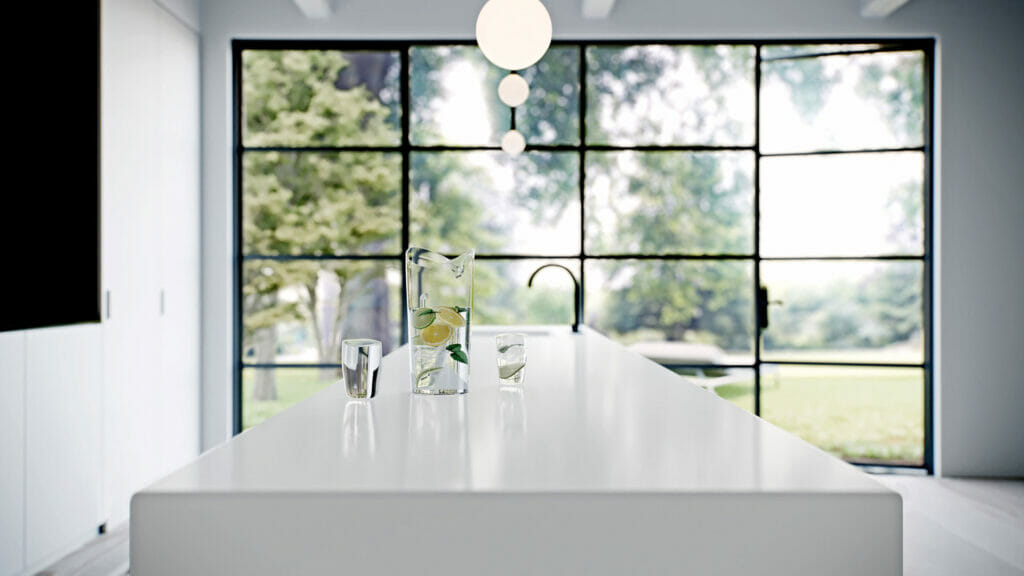 Where to buy quartz countertops in Madison, WI and surrounding areas?
Madison homeowners can buy the best quartz countertops from reputable manufacturers like Caesarstone. Caesarstone is known for being one of the best quartz countertop manufacturers for commercial and residential spaces.
At Caesarstone, we manufacture top-quality quartz countertops with a variety of colors and pattern options to choose from. Caesarstone's state-of-the-art engineering process helps produce the best quality quartz countertop with 90% pure quartz minerals.
Quartz countertops in Madison, WI – Conclusion
A few decades ago, there were only a few options for kitchen countertop materials available on the market. Still, with time, the number of materials have drastically increased. But, before making any final decision, a homeowner must ensure that their countertops align perfectly with their needs and wants.
Quartz is one of the most trusted materials for kitchen countertops because of its durability, affordability, and variety.
If homeowners are still unsure of where to buy quartz countertops Madison, WI, they can visit the Caesarstone Where To Buy page for further clarity.