White countertops are the ideal choice among homeowners, especially for kitchens and bathrooms. White has always been a popular choice for countertops since it is a timeless color with an abundance of visual appeal.
After black countertops, there is a definite trend towards various types of white countertops for kitchens.
Even if homeowners experiment with other colors, white kitchen countertops are still adaptable. For example, darker cupboards are used with pale counters to create a clean, airy style reminiscent of Parisian cafes.
In kitchen prep areas, white counters offer a pleasing feeling of cleanliness and brightness. White counters are available in a wide range of materials, each having its texture and style as well as advantages and disadvantages, despite the criticism that they are "boring" and "simple." Here are some of the best materials, styles, and designs for various types of white countertops.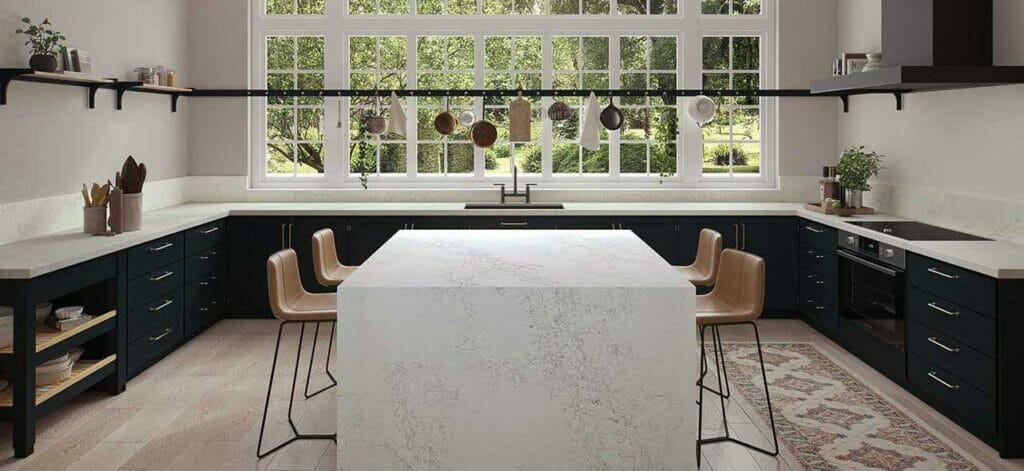 1. White quartz countertops
Different types of white quartz countertops experienced tremendous growth in popularity over the past few years, overtaking other common materials as one of the most preferred products for kitchen countertops.
White quartz countertops with light colors are popular among homeowners in the United States.
Unlike other countertop materials, all types of white quartz countertops are typically made with a state-of-the-art engineering process. Because of this, quartz counters are more likely to look and feel amazing for years or even decades.
White quartz countertops are non-porous, making them resistant to bacteria, stains, and unwanted scratches. Unlike other countertop materials, it does not require periodic resealing.
Homeowners have more color options with quartz because it is manufactured, but they can almost never go wrong with a crisp white product, like 5121 Layalite from Caesarstone's Pebbles Collection.
2. White granite
Since granite is a natural substance, each piece is lovely and comes from the earth. It is strong and heat-resistant. White granite countertops are relatively poreless. The kitchen is thus kept clean and prevents microorganisms from festering on the surface of the countertop. For both conventional and modern kitchens, white granite countertops can be a show-stopper.
Being the one of the most popular types of white countertops, granite is normally more expensive than quartz. Additionally, some of the whiter slabs are frequently regarded as high-end stones, which can influence the overall price.
Only a few other countertop materials can compare to the rich beauty of granite. It is a pure natural product with enduring allure. A high-quality kitchen is elevated visually by white granite countertops, which frequently take on the role as the room's focal point.
3. White marble countertops
White marble is a stone with extraordinary beauty and is valued as a luxury. Additionally, it is quite expensive and requires a lot more upkeep than other countertop materials.
Even with sealing, it easily scratches and stains. Nevertheless, marble has one of the most sought-after appearances, even though it may not be for everyone. It is a precious stone that has amazing beauty and is highly prized. Because of this, marble is a terrific choice for homeowners who want their kitchen space to look even more stunning.
The most widely used and most reasonably priced marble is Carrara. No two are alike with a white/light gray backdrop and veining. It is the Calacatta marble from Italy. It is an expensive stone that is of outstanding quality. Compared to Carrara, Calacatta has brighter white tones and more pronounced gray veins.
4. White kitchen countertop laminate
The most economical option to take into consideration is white laminate kitchen countertops. Families who want to require bright, light worktops but are working with a tight budget should consider laminate white kitchen countertop options.
Although laminate will never have a luxurious appearance, that doesn't imply it isn't visually appealing. White kitchen countertops made of laminate can imitate costly natural stone countertops.
However, adding laminate countertops to the kitchen will give it a polished appearance, which is generally all homeowners want.
There are numerous white finishes to choose from. It is a great alternative for homeowners on a budget because it generally comes at a lower price point than the materials listed above.
Laminate surfaces are simple to clean with water, soap and a towel or rag. It generally takes little time or effort to clean laminate countertops.
5. White corian surfaces
Corian is considered the best "solid surface" countertop material. Plus, it is available in a wide range of hues, including solid white. It is the only material on our list not created from natural stone.
Countertops made of corian are seamless, durable, and stain-proof. In addition, corian resists color fading caused by sunshine. High temperatures occasionally scrape or scar corian, but it can be repaired more easily than solid stone. Generally speaking, corian is less costly than traditional countertop materials.
6. White porcelain countertops in the kitchen
Countertops made of porcelain are becoming more popular among types of white stone countertops. They look excellent and are non-porous and generally stain-proof. Additionally, liquids and bacteria cannot permeate the surface. They are known as being strong and resistant to chipping.
White kitchen counters made of porcelain look great and are extremely eye-catching, making them a great conversation piece. Homeowners can choose from a wide array of styles because they are available in printed tops.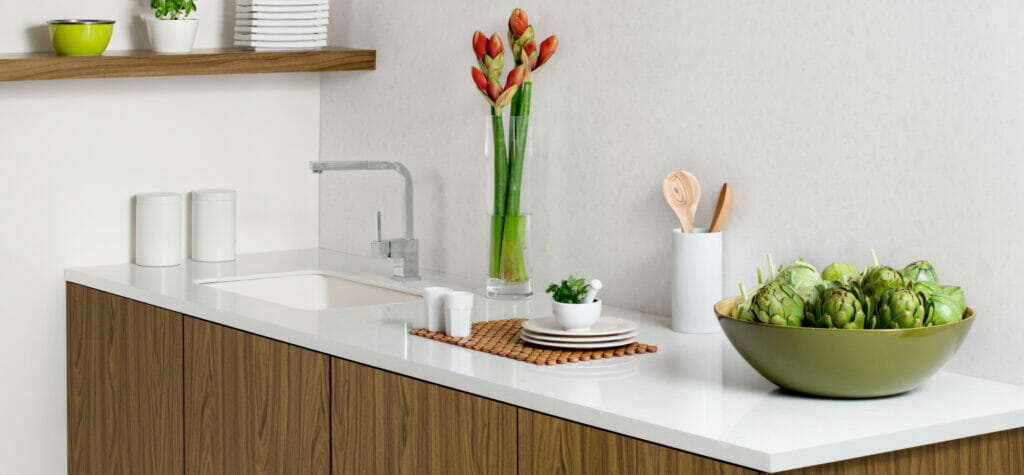 7. White kitchen countertops made of recycled glass
White recycled glass can be used as a substitute while building modern, elegant surfaces. There will be neutral-toned or neutral-colored dots or specks of color on white glass countertops. Despite what the name might imply, this white countertop material is tough. Although they tend to scrape slightly, no sealer is needed.
White recycled glass worktop prices vary, although they are typically less expensive.
7 Types of white countertops – Conclusion
What makes white countertops best for any kitchen is that they are available in a variety of designs and hues. To create an aesthetic appeal in the kitchen, homeowners can combine different types of white countertops with dark cabinets or neutral colors.
Caesarstone offers a wide range of quartz countertops in the United States. No matter what design or color they choose for their home, they can find the best countertops for their home by visiting a Caesarstone showroom or retailer.