When remodeling a bathroom, there are many important decisions that homeowners need to make. From selecting the right wall paint color to the ideal countertop material for their bathroom sink, there is an endless array of items to choose from and implement into an ideal bathroom design.
Choosing the correct type of countertops for a bathroom can be particularly daunting, as many different materials are available. Porcelain countertops are becoming increasingly popular for interior design projects and are an excellent choice for a bathroom vanity.
Homeowners can continue reading to learn why porcelain is a fantastic choice for a high-quality countertop material and examine a few different design ideas for porcelain bathroom countertops.
For more design choices, keep reading.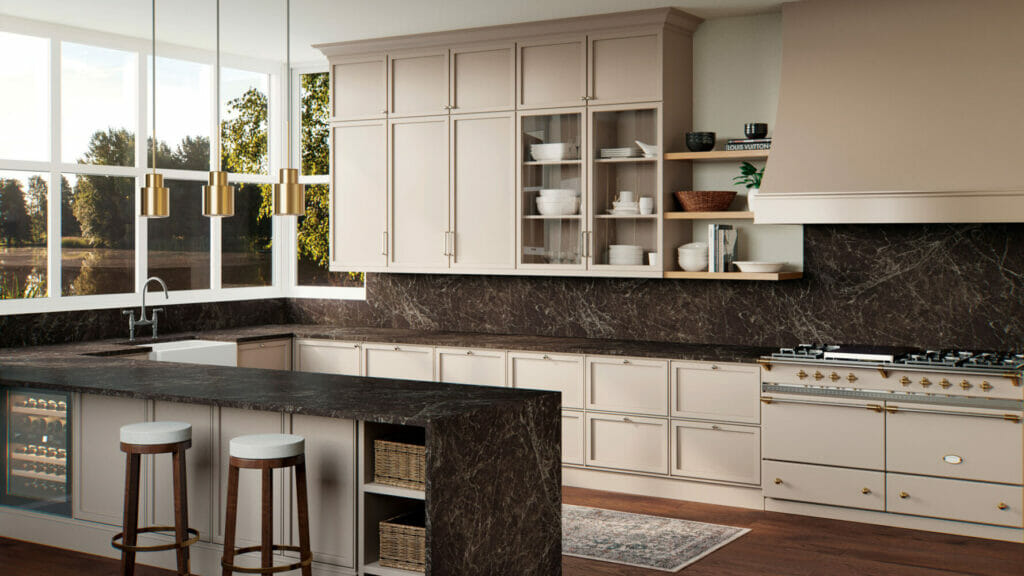 What are porcelain bathroom countertops?
Porcelain is a material made from clay that contains several minerals including quartz and feldspar. 
Porcelain is considered a part of the ceramics family and is often thought to be the same as ceramic tile. However, these materials have significant differences that separate them, such as their water absorption rates.
In recent years, porcelain has become a popular countertop material, often found in tile form or as a solid slab. Firing porcelain at a very high temperature results in a compact, highly resistant material with low porosity, which is appealing to many people.
Additionally, this type of countertop can fit into a number of different styles and aesthetics. For example, homeowners can give their bathrooms a unique aesthetic by installing porcelain vanity tops.
Why is porcelain a good choice for bathroom countertops?
Porcelain is an excellent countertop material, particularly for spaces like bathrooms where heat and moisture are significant factors to consider when choosing a material.
When it comes to durability, porcelain ranks high in the main categories that determine whether a material will last; heat resistance, scratch resistance/hardness, porosity, stain resistance, crack resistance, and maintenance.
Porcelain is one of the most durable countertop materials available on the market. It is not susceptible to scratches, ensuring the surface maintains its sleek, silky texture over the years.
While porcelain is incredibly durable, it's not chip resistant. That being said, if a homeowner's countertops become chipped, it will not alter the color or appearance of the rest of the installation, making it easy to fix.
Furthermore, porcelain countertops are heat- and warp-resistant, making them ideal for a bathroom where hot water and moisture are prevalent. Homeowners should note that despite porcelain's heat resistance, it's always recommended that devices emitting constant heat be placed on a countertop mat or trivet, not directly on the porcelain countertops.
When it comes to maintenance, porcelain countertops are very easy to care for. To clean porcelain countertops, homeowners can simply use a wet cloth, warm water, and a light all-purpose cleaner. Unlike other countertop materials, porcelain doesn't need to be re-sealed to maintain its beauty. 
In addition to being durable and easy to maintain, porcelain countertops are available in many different colors, allowing homeowners to choose countertops that will fit their bathroom designs and personal styles.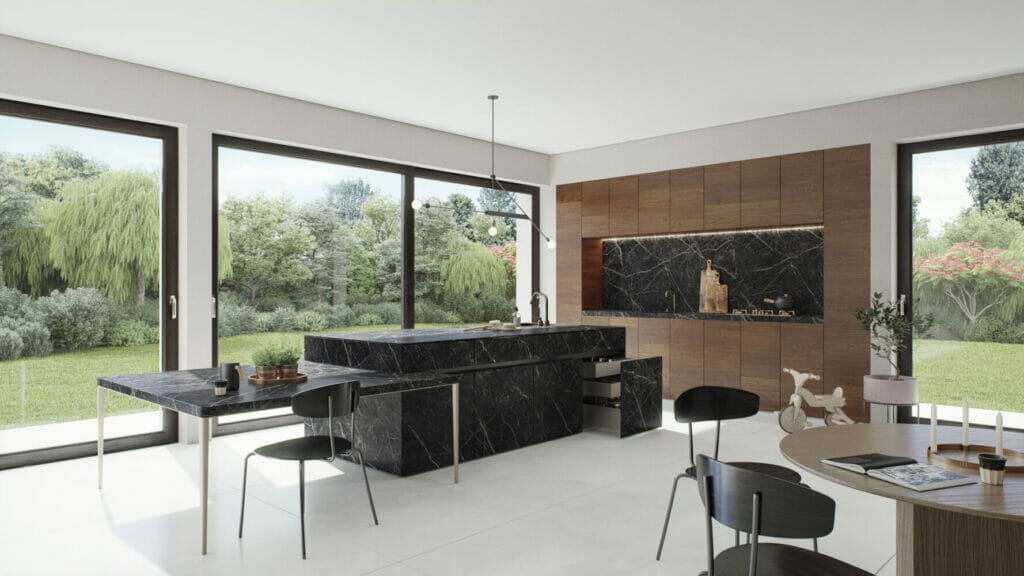 Porcelain countertops: Bathroom design ideas
When deciding which countertops to include in their bathroom designs, homeowners should select a product that fits their personal taste and the desired look of their bathroom's interior.
Below, Caesarstone has gathered a few porcelain countertop design ideas that can be used to give bathrooms an extra sense of flair and personality.
Embrace a dark color palette
Dark porcelain vanity tops are a great choice for homeowners who like a clean, sleek look but prefer a more subdued, moody color palette. Dark porcelain surfaces pair well with several different design styles but mesh particularly well with minimalist interior design ideas.
For instance, Caesarstone's 511 Smokestone is a stylish choice for a modern bathroom due to its marble-like appearance. 511 Smokestone works well in spaces with black bathroom cabinets, gray walls, and metallic accents, such as brass or gold hardware.
Opt for a minimalist look
A minimalist design is an excellent choice for a bathroom, as this style promotes calmness and serenity, ideal for homeowners who want to relax in the hot tub after a long day.
The minimalist style usually favors a more muted color palette, utilizing colors such as white, beige, gray, and black. For those who prefer lighter colors, Caesarstone's 504 Lumena is an excellent choice for a porcelain bathroom sink top.
Caesarstone's 504 Lumena also pairs well with spaces that feature white bathroom cabinets and gray walls. For homeowners worried about including too many muted tones, adding pops of color with simple decor pieces can enhance the atmosphere and overall appearance of the room.
Add a vintage flair with warmer colors
For homeowners who enjoy a rustic, farmhouse aesthetic, choosing warmer, vintage-inspired color palettes is an excellent way to embrace this country-chic style.
Shades such as cream, brown, yellow, and warm gray can give a room an 'aged' look, complementing antique and vintage-style decor pieces.
If homeowners prefer a softer look, 580 Fume from Caesarstone features a beige base with cream-colored veining that is ideal for a more feminine country-style bathroom often found in farmhouse or cottage-core homes.
However, for those who prefer a slightly deeper shade, Caesaerstone's 514 Emprada is ideal for a bathroom that features dark or distressed wood cabinets.
The brown base and cream veining mimic the appearance of natural stone, which is a fantastic feature for a rustic bathroom thanks to the accentuated natural elements.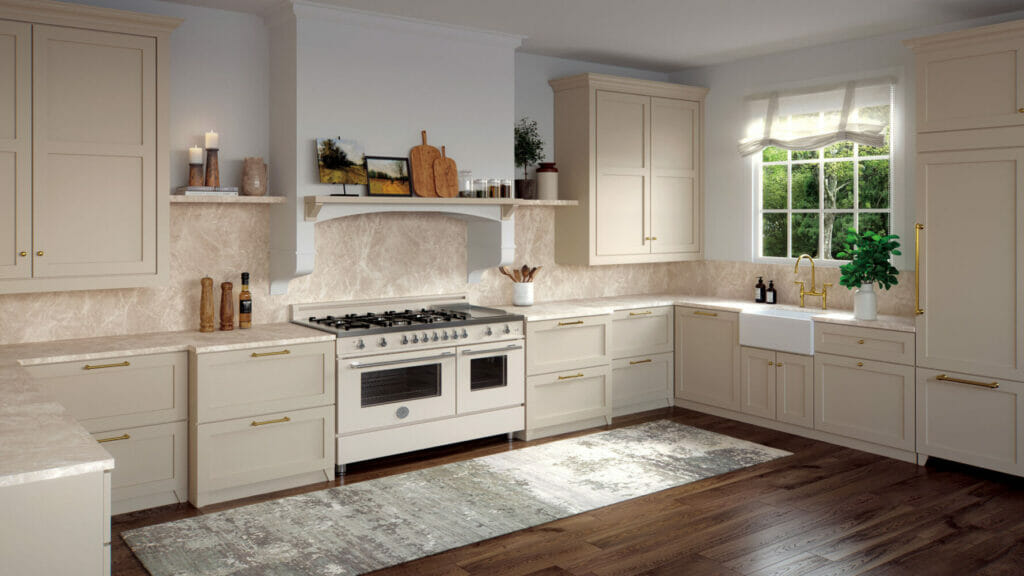 Porcelain bathroom countertops: Design ideas — Conclusion
Porcelain countertops are an outstanding choice for homeowners looking to design or improve their bathroom's look, layout, and functionality. Not only are porcelain countertops stylish and available in a variety of colors, but they're also a practical choice, as they're easy to clean and maintain long-term.
For homeowners interested in fashionable, high-quality porcelain countertops, Caesarstone has a wide range of options available that suit various aesthetics and personal tastes. Those who would like to compare and contrast their desired Caesarstone countertop materials against their bathroom's interior can order a sample here.