Homeowners have many options when selecting countertops for their homes. Quartz has been a popular choice amongst homeowners for decades due to the fact that it works in both kitchens and bathrooms. That being said, porcelain countertops are also starting to grow in popularity.
Porcelain countertops are stylish, durable, easy to maintain, and an excellent choice for homeowners who want to install countertops that will last years. However, before selecting porcelain countertops for their kitchen or bathroom, homeowners may want a better idea of the price of this type of installation. 
So, how much do porcelain countertops cost?
Homeowners can continue reading to learn all the main factors that affect the price of porcelain counters, from the size of the material to the labor required.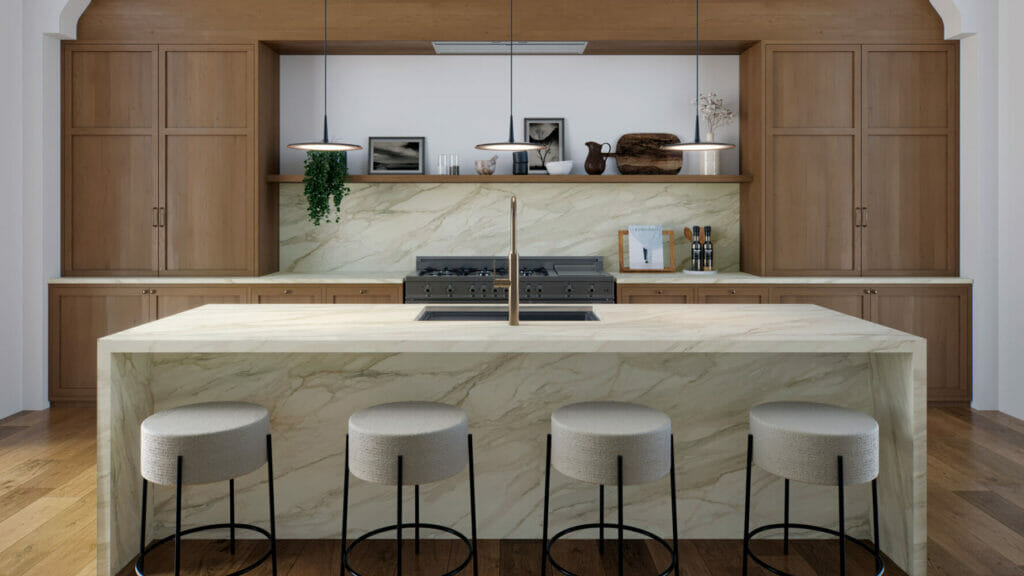 Factors that influence the price of porcelain countertops
On average, porcelain countertops' price per square foot ranges from $50 to $150. But how are these prices determined?
There are several factors that should be taken into consideration while shopping for porcelain countertops.
Size is one of the main factors that influence a porcelain countertop's cost. However, other factors, including labor and the finish, can also affect the overall price of the product. Homeowners can examine these factors in more detail below:
Size
Size is the first thing to consider while shopping for new porcelain countertops. The more surface area that needs to be covered in a kitchen or bathroom, the more a homeowner can expect to pay for their new porcelain counters.
The cost is based on the square footage of countertop materials and is determined by the individual showrooms from which homeowners purchase their countertops.
So, how much are porcelain countertops? The average cost of porcelain is between $50 and $70 per square foot, but it can cost up to $150, depending on the prices determined by the manufacturer and store where it's sold.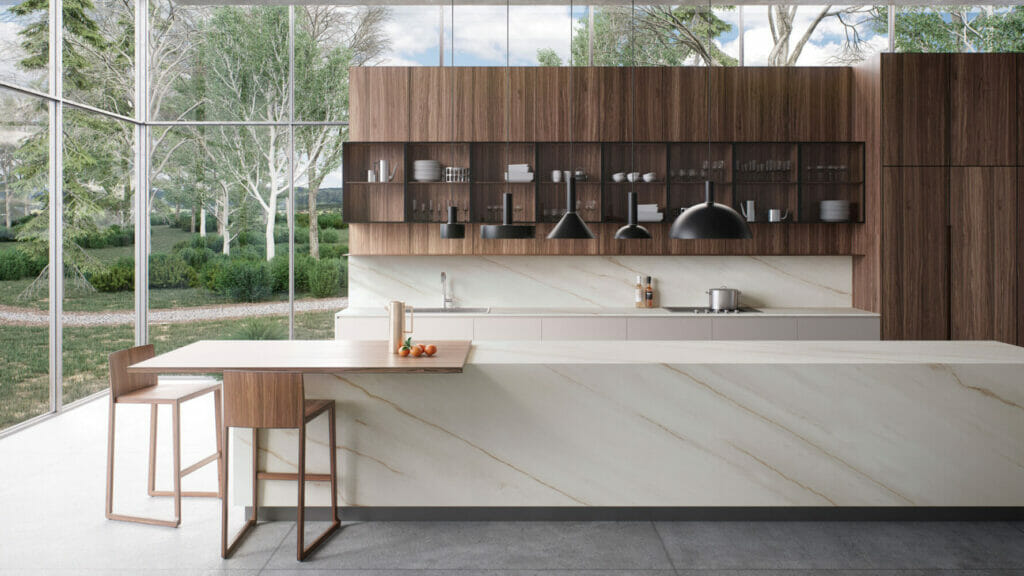 Edge type
Homeowners are responsible for picking out the edge types for their porcelain countertops before fabrication.
So, how exactly do the various edge types affect the cost of the finished product? For starters, basic square edges and eased edges won't add additional cost for the buyer, as these types of edges are generally sold as-is and don't require further grinding.
However, more intricate design choices like a bullnose or beveled edge require additional craftwork and cost. In general, this type of customization will cost around $10-$12 per square foot. Other more advanced edge types, like a miter edge, can cost anywhere from $15-$25 per square foot.
Therefore, when choosing how they'd like their countertop edges to look, homeowners should remember that certain design options will increase the overall cost of their porcelain countertops.
Type of finish
Homeowners can purchase porcelain with a polished or honed finish, with each choice differing slightly in price.
For those who prefer the shiny, sleek, polished finish, costs between $8-$11 per square foot.
Honed porcelain countertops are slightly more expensive, costing around $9-$12 per square foot. Homeowners who would prefer a non-reflective matte surface may want to opt for this type of finish for their countertops.
Labor
Finally, one of the most significant costs for homeowners when installing porcelain countertops is how much it will cost for professionals to complete the installation.
In general, porcelain countertops cost $30-$60 per square foot to install. For homeowners installing a 30-square-foot countertop, the total installation cost should average out to approximately $900-$1,800, plus the cost of materials.
Overall, the cost to purchase and install porcelain countertops varies drastically depending on the abovementioned factors.
Homeowners looking to install porcelain countertops can benefit from examining the price of the material they've selected (per square foot) and including all the costs mentioned above while calculating their project budget.
Is porcelain a good choice for countertops?
As touched on above, porcelain is a high-quality material and an excellent choice for homeowners who wish to install stylish and sturdy countertops in their kitchen or bathroom.
In addition to having a sleek, smooth appearance and feel, porcelain countertops are scratch-resistant, heat-resistant (though devices that produce high levels of heat should be placed on an insulated countertop mat), non-porous, and easy to clean and maintain.
Due to their durability, porcelain countertops have a long lifespan and, if properly looked after, can be the center of attention in a kitchen or bathroom for years.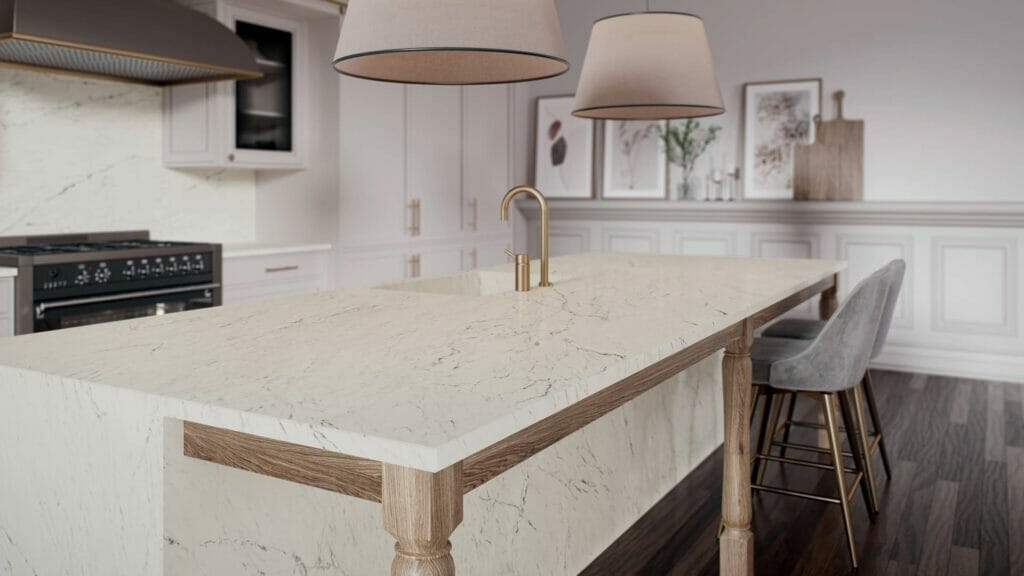 Porcelain countertops cost guide — Conclusion
As many homeowners will attest, porcelain countertops are well worth the cost, as these products are durable, heat-resistant, and look beautiful in both kitchens and bathrooms.
When determining the cost of porcelain countertops, many factors should be taken into consideration. In addition to the cost of the material size per square foot, homeowners must also factor in the cost of the edge type, finish, and labor.
Caesarstone's porcelain countertops are available in an extensive range of colors and styles, making them an excellent choice for anyone looking to install high-quality countertops in their home. Homeowners who would like to view the Caesarstone Color Catalog and order sample slabs can click here for more information.