Stone kitchen countertops have been popular for decades due to their beauty and inherent luxury. With so many different types of stone countertops on the market, though, it can be tough to choose the right one.
Choosing the wrong surface means risking damage to your countertop. At Caesarstone, we aim to help you avoid such costly mistakes. That's why, in this post, we'll take a close look at the various types of kitchen stone countertops on the market and the lifestyles they are best suited for.
Types of Stone Countertops for Kitchens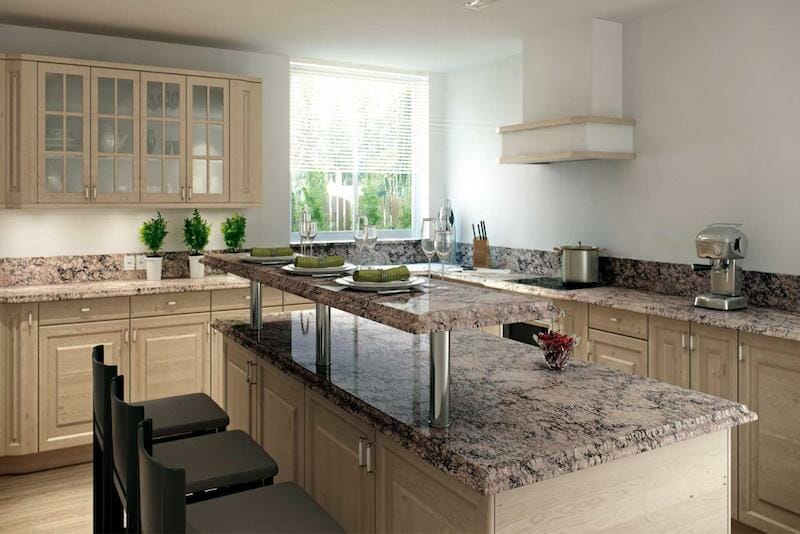 Quartzite
Quartzite is a metamorphic rock that forms when sandstone rich in quartz gets subjected to a process known as metamorphism. If you're interested in the more granular geological details of this process, check out this article.
For the purposes of this piece, however, the important thing to note is that quartzite and quartz as they relate to countertops are two different things. Read our head-to-head comparison here.
Quartzite is a very hard substance, which makes it resistant to scratches. While looks are subjective, quartzite is also generally considered aesthetically pleasing.
However, quartzite is also porous. As a result, you need to seal it as often as twice yearly, which is a costly inconvenience. If you don't reseal the surface, it will collect stains. This is a common thread among natural stone kitchen countertops (as opposed to engineered stone, which we'll explore shortly).
Marble
Marble is another metamorphic rock. Its stellar good looks have made it a popular luxury building material for centuries. It comes with some significant downsides, though, which we explored in great detail in our marble countertop pros and cons piece.
To summarize, marble is expensive both upfront and in the long run. Cheaper variants may contain imperfections such as veining that doesn't line up. As with most types of natural stone, you also need to reseal marble regularly to prevent stains.
Regardless of how well you care for a marble countertop, it will develop a patina over time. Marble is highly absorbent, with one common discoloring factor being the oils on your skin. Depending on how the surface ages, this patina may be uneven.
Because of this, if you want a countertop that will look as good as new for the long haul, marble is likely not for you.
Granite
Granite countertops were all the rage not that long ago. They were the go-to surfaces for people designing luxury kitchens. This is no longer the case, for many reasons that we explore in detail here.
Here's a quick summary. Because granite was so desirable over a period of several decades, it became commonplace. The stone's limited aesthetic options caused it to eventually fall out of favor with designers and homeowners looking to create unique kitchens.
When you combine this with granite's need for frequent resealing, it's not hard to see why consumers have moved on.
Onyx
Onyx is an exotic countertop material. It is a "banded" rock, meaning it contains strips of varying colors and textures that are produced by different mineral concentrations.
The result is a countertop that looks very unique with an avant-garde pattern.
The catch? Onyx surfaces are even more difficult to take care of than other types of natural stone kitchen countertops. The material can be very soft and often requires reinforcing materials to make it feasible as a countertop material.
When you combine this need for increased care with onyx's rarity, you end up with a very expensive countertop.
Soapstone
Soapstone is yet another type of metamorphic rock, this time composed primarily of talc. It sets itself apart from other types of natural stone in a few ways, one of which is its nonporous nature. This makes it less likely to stain. You also don't need to seal soapstone regularly but rather just apply oil to it.
Soapstone is very soft, however. This makes it more susceptible to scratches, dents, and chips. You also don't have a whole lot of options when it comes to colors and patterns. With soapstone, you're limited to shades of white and black.
The Best Stone for Kitchen Countertops: Quartz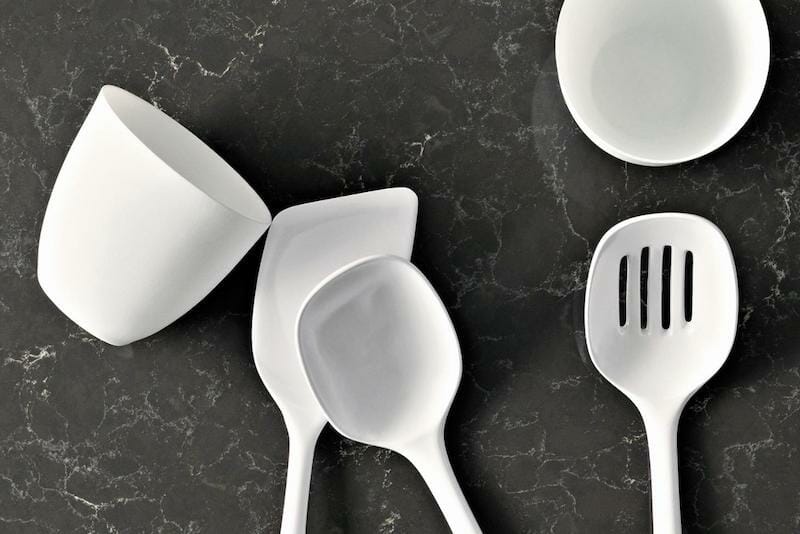 Now that we've explored the various natural types of stone countertops and their downsides (namely their susceptibility to staining), let's look at why quartz, also known as engineered stone, is the best option.
Why is Quartz Good for Kitchen Countertops?
Natural stone kitchen countertops cost you both upfront and over the long haul due to their high maintenance requirements. Engineered stone kitchen countertops, on the other hand, require minimal maintenance. The surface is nonporous, which means that quartz countertops never need sealing and can easily last a lifetime with normal cleaning.
Quartz vs. Natural Stone: Aesthetics
What really seals the deal for quartz is the wide range of aesthetic options that it offers. Caesarstone surfaces are made using a combination of loose quartz, resins, and pigments. Our designers are able to formulate these elements to produce surfaces that resemble a variety of materials, including natural stones like marble.
This is a key consideration to keep in mind when choosing between quartz and natural stone. With quartz, you get a surface that looks very similar to natural stone but is more durable and cost-effective in the long run.
Engineered Stone Kitchen Countertops by Caesarstone
We invite you to check out our kitchen visualizer to begin experimenting with the different quartz surfaces that we offer. Then, head to one of our many Caesarstone locations in the United States to begin bringing your dream kitchen to life.
At Caesarstone, we adhere to very high standards of quality (read more here) that have allowed us to become the world's leading quartz countertop manufacturer.
Frequently Asked Questions
What is the best stone for kitchen countertops?
Engineered stone is the best all-around surface for kitchen countertops. It is more durable than all natural stone countertop options, which saves you money in the long run. Quartz also comes in a much wider array of styles than natural stone, making it more versatile.
How do you clean kitchen stone countertops?
Natural stone kitchen countertops require careful cleaning and maintenance. You need to avoid spills at all costs and reseal the surfaces regularly.
With engineered stone kitchen countertops, cleaning is still required but is quite simple. Click here for more details.
What natural stone is best for kitchen countertops?
From a maintenance perspective, soapstone generally produces fewer headaches than other types of natural stone. All types of natural stone have significant downsides, however, that should prompt you to seriously consider quartz instead.