Oak cabinets have always been a classic kitchen staple. From their durable nature to their pleasing neutral shade, a space featuring oak cabinets is timeless. However, homeowners are often torn when it comes to what color countertops go best with oak cabinets.
Oak is available in a range of hues, from a light oatmeal beige to a warm coffee brown. Since homeowners have various preferences, there is no one-size-fits-all countertop color to pair with these cabinets.
Hence, the search for the perfect countertop color to complement oak can be tasking. Looking for kitchen countertop ideas with oak cabinets? Here is a comprehensive guide.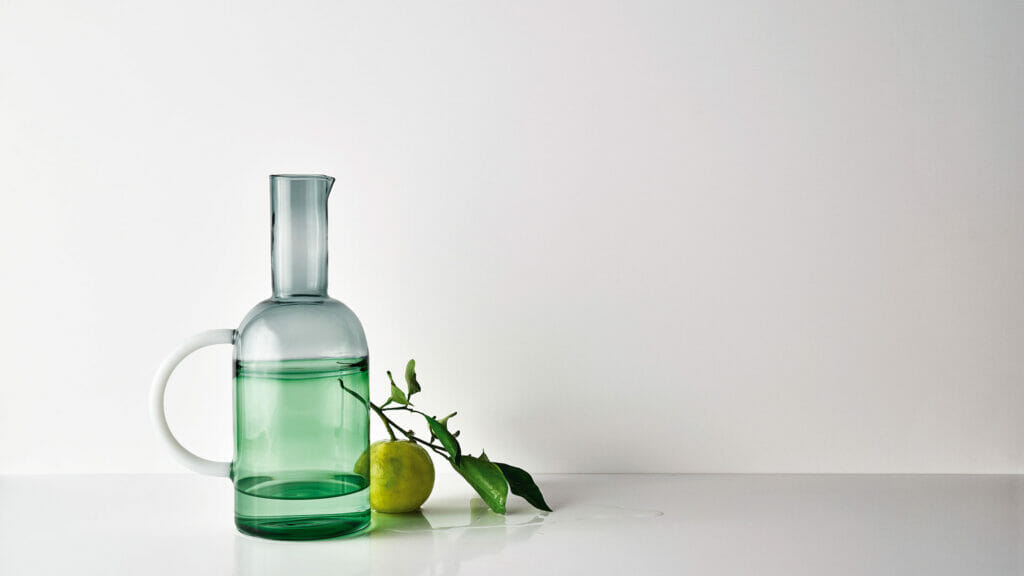 What countertops go with oak cabinets?
Plain white
White countertops with oak cabinets create a stunning combination. Oak has a unique wood grain that provides a conventional look, and when paired with white countertops, homeowners can create the perfect minimalist kitchen.
Solid white countertops, such as those offered by Caesarstone, bring a touch of simplistic beauty when coupled with oak cabinets. When working with small spaces, white makes the room appear larger, which is another key benefit to consider.
Homeowners can choose from stunning colors like 1141 Pure White or 1111 Vivid White to achieve this look.
Veined white
Veined white countertop colors, such as 5114 Calacatta Maximus or 5131 Calacatta Nuvo, give an opulent vibe to any space. And since they're comprised of neutral colors, these surfaces can be paired with almost any cabinet shade, including oak.
The result? A fresh and contemporary space that brings a sense of brightness to the kitchen with subtle character and sophistication.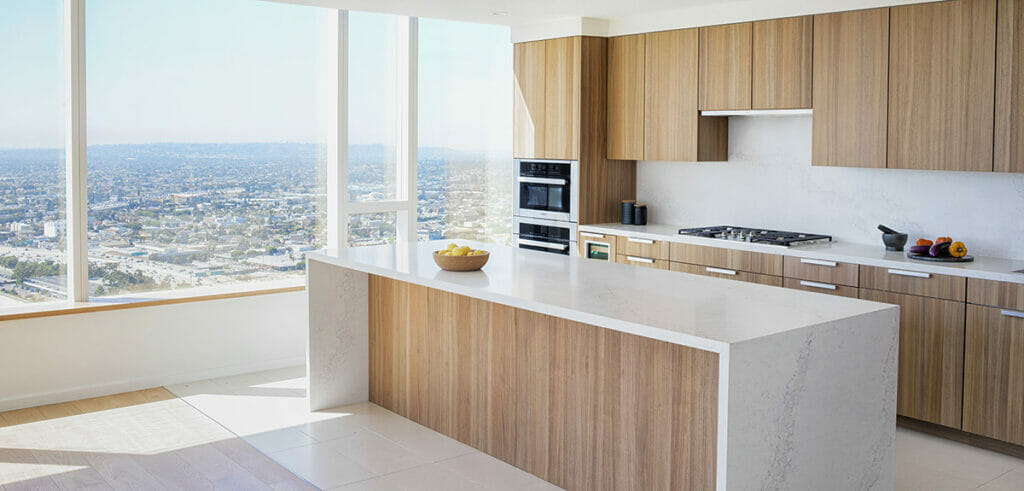 Black
Black countertops are a perfect way to add a bold and dramatic element to your kitchen space. Since it is a dark color, it is the go-to choice for large and well-lit spaces. A homeowner who wants to pair black-colored quartz countertops with oak cabinets but does not have sufficient natural light can also use artificial lighting to brighten the space. A sleek and sophisticated surface like 3100 Jet Black would pair beautifully with oak cabinets.
Gray
While it is a darker color, gray softens a space and is ideal for homeowners who are looking for a mellow, yet contemporary look. For example, gray colors such as 6134 Georgian Bluffs help to bring out the character of subtle oak while also providing an edgy vibe.
Beige
Beige is a highly overlooked mid-tone countertop shade that pairs perfectly with oak cabinets. The result? A peaceful and harmonious look. Beige gives a clean feel without overcrowding the room while also complementing the shade of the beautiful oak cabinets. A color like 5212 Taj Royale is a perfect example of this pairing.
6 key factors to consider when selecting kitchen countertop ideas to pair with oak cabinets
Other than color, there are a variety of factors to consider when choosing the perfect countertop and oak cabinet combination. Before taking the plunge, here are some details that homeowners often overlook in their quest for the ideal kitchen space:
Black countertops and oak cabinets may be a trend, but is it a personal preference? While most homeowners want to keep up with design trends, a personal touch makes a home feel complete. As such, we advise homeowners to go with their preference as opposed to home style and décor trends.
Do not ignore other elements in the room
While the focus is on the cabinets and countertops, ignoring other elements in the room such as the appliances may ruin the look of the entire kitchen. For instance, stainless-steel appliances pair well with oak cabinets and grey-colored countertops, creating a polished, sleek look.
Consider painting the oak cabinets
A simple paint job could do wonders in terms of elevating the kitchen space. Colours such as white, cream, grey, dark blue, and black are popular options, and can match with a wide variety of kitchen countertop shades.
While homeowners look to save money when making a large purchase, investing in quality countertops from reputable manufacturers such as Caesarstone is always the best move. The benefits surpass low quality and cheaply made countertop materials.
Lighting can change the way colors look. While one color may be bright under natural light, it can give off an entirely different appearance when artificial lights are switched on. Spaces that receive lots of natural light do well with dark countertop colors, while those that do not get sufficient natural light do well with lighter colors.