When designing your kitchen space, you will be faced with many different choices for your countertop. Of the many types of countertops on the market, premium engineered surfaces have become increasingly popular in modern kitchens.
In addition to quartz, solid surface countertops are among the most sought-after choices, thanks to their top-notch design, eye-catching appeal, durability, and low cost of maintenance.  
This article will discuss all you need to know about solid surface countertops.
What is a Solid Surface Countertop Made of?
Solid surface materials are composed of mineral dust combined with acrylic, resins, and pigments. The mineral dust used to create solid surface countertops is typically derived from marble. This mixture melts upon heating and is then put into a mold to define its shape.
Solid surface countertops are also known for their versatility, as they come in a wide range of colors and patterns. This range is obtained by mixing various ratios of pigments and mineral dust to create unique, one-of-a-kind surfaces.
Uses for Solid Surface Countertops
Solid surface materials can be used for commercial or residential kitchen or bathroom countertops, as well as for desks, tables, workspaces, or bars. Their durable and versatile nature makes them a popular choice for budget-friendly surfaces on the market today.
Maintenance
Solid countertop materials are non-porous and do not require sealing. With minimal effort, you can easily maintain a hygienic surface in your home. For regular, everyday cleaning, homeowners can wipe down these surfaces with a soft cloth, dish soap, and water to keep them looking good as new.
That said, homeowners who decide on solid surface countertops should steer clear from using any harsh chemicals that may damage the surface's exterior. These include products like abrasive cleaners, drain cleaners, paint removers, and more, which can damage solid surfaces or dull their shine.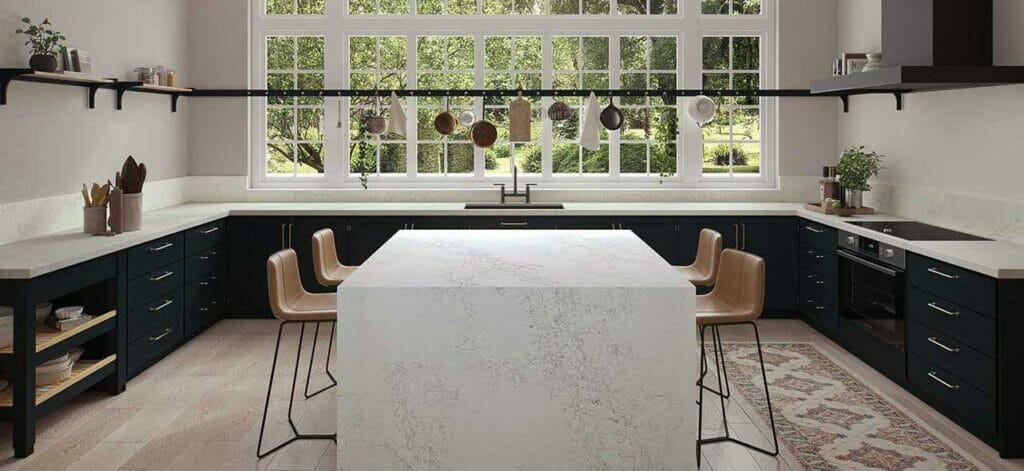 Is a Solid Surface Countertop Durable?
Solid surface countertops are known to be hard and durable, making them suitable for everyday use. However, they are not indestructible. This means that cutting directly on the surface of the countertops (or direct contact with any sharp object) may lead to damage like scratches, chips or cracks.
As well, though solid surface countertops are heat resistant, it is advised that these countertops do not come into direct contact with hot cookware or kitchen appliances. To ensure these surfaces do not get damaged, homeowners can purchase trivets or heat pads to place their hot objects on.
Solid Surface: Convenient to install
Solid surface countertop materials can be cut by ordinary power saws. There are no visible seams since the material is soft and melted to combine each piece together. The seaming kits needed to join these pieces together are easy to use, making it possible for self-installation. This is very convenient, and a cost effective option for budget conscious homeowners.
Aesthetics
Solid surface countertops are durable and offer a consistent appearance. The material can be curved using a thermoforming process, enabling it to be customized to your unique specifications. The seams, if any, are almost invisible to the naked eye. Solid surface countertops are also available in a wide variety of colors and styles.
Solid Surface Countertop Colors and Patterns
Because solid surface countertops are engineered, they are available in endless colors and patterns to suit any homeowner's preferred aesthetic. Homeowners can choose between solid, speckled, sparkling, and veined solid countertop options, among others.
While solid surface countertops do not offer the depth of a stone countertop, these surfaces are great for homeowners who are on a budget and desire a color and pattern combination that mimics stone.
Cost
Solid surface countertops are relatively cheaper when compared to other common countertops like granite, marble, and quartz. This option is worth considering for those on a strict budget. The average cost of a solid surface countertop is about $30 to $60 per square foot.
Hygiene For Food Safety
Solid surface countertops are non-porous, making them a great option for food prep. This is because their non-porous nature means that the counter is stain-resistant and will not easily host bacteria, dirt, or debris. Homeowners and restaurant owners alike can be rest assured that these are safe and easy-to-clean surfaces.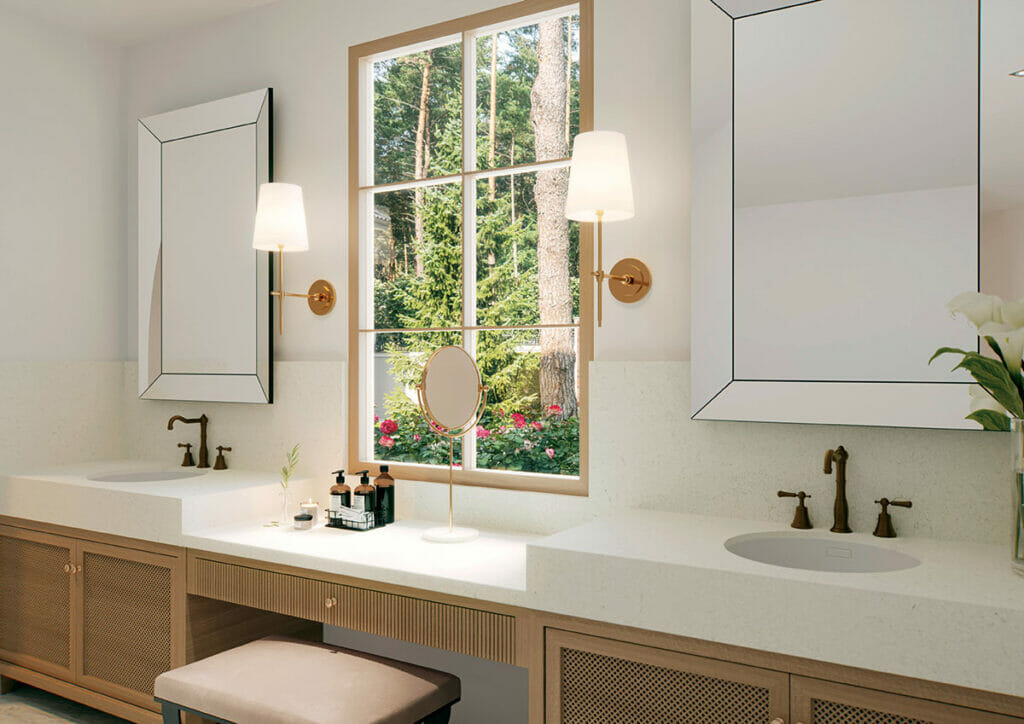 Conclusion
Solid surface countertops will look beautiful in your kitchen or bathroom and offer a number of benefits, including color and pattern choices, durability, and hygiene. However, if you are looking for a versatile, durable, and hygienic stone option instead, quartz may be the right choice for you.
Quartz countertops are not only stunning but also offer a variety of styles. Homeowners who enjoy a striking kitchen countertop may opt for a color like 5161 Icellion, while those who want something soft, yet emotive may choose an option like 5121 Layalite. In addition to their beauty, these surfaces are also hard and non-porous, as well as heat-, chip-, and stain-resistant.
At Caesarstone, we use up to 90% natural quartz minerals in our quartz countertops. We combine our passion for design with expert craftsmanship and high-quality stone engineering. Explore our catalog and find your perfect Caesarstone countertop today.
FAQs
What is the average cost of solid surface countertops?
The average cost of a solid surface countertop is typically between $30 to $60 per square foot. This will depend on the brand as well as the quality of the materials used to create the solid surface countertops.
Is solid surface more expensive than granite?
Solid surface countertops are less expensive than natural stone slabs like granite.
Which type of countertop is best?
The best countertop for a homeowner will depend on their own needs, budget, and preference. While solid surface is a great option for those who want a durable counter on a budget, those who want a premium stone may instead opt for a material like Caesarstone quartz.
Is solid surface the same as Corian?
Corian is one of many brands of solid surface countertop material.