Today, cabinets and countertops are not only functional but also add to the style of the kitchen. Luckily, the color combinations a homeowner can choose from are endless, making this a pleasurable challenge for those looking to create a unique space in their home.
Black countertops are an unforgettable yet practical option for homeowners. Since they are a neutral color, they can match with almost all kitchen cabinet options.
However, one of the most common questions that homeowners ask when purchasing a black countertop is: What color cabinets go with my black countertops?
Let's dive in and discuss the best cabinet colors for black countertops.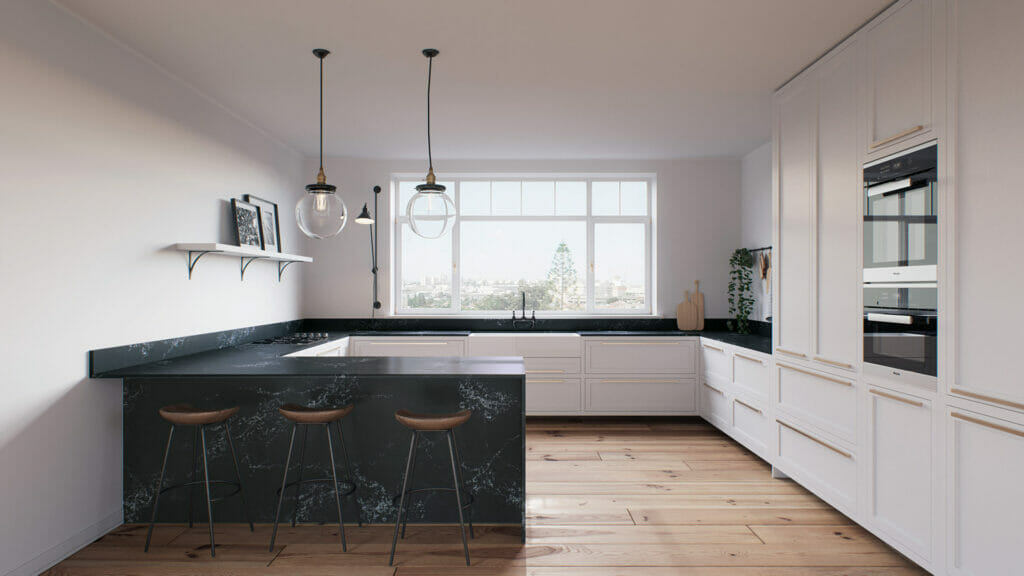 White
White cabinets and black countertops are a timeless and elegant combination that oozes sophistication. The resulting contrast is among the most elegant modern designs commonly seen today.
The combination of white cabinets and black countertops, such as 5101 Empira Black, creates a striking effect regardless of the kitchen style. A homeowner who installs black countertops from a reputable manufacturer like Caesarstone gets to enjoy a kitchen design that is not only classically beautiful but will also stand the test of time.
For a more cohesive feel, homeowners can match kitchen decor to their dark countertops. For those who want to add more color to their space, bright accents can create an even bolder contrast, maximizing the appeal of their kitchen space.
Black
A black-on-black theme is perfect for a minimalist style. Pairing black cabinets with dark countertops like 3100 Jet Black can add depth and character to your kitchen, making this space a focal point of the home.
A darker-colored, yet patterned countertop is also a clever way to create intrigue in your kitchen design. For instance, the speckled 4120 Raven or the veined 5100 Vanilla Noir pair well in a space with plain black cabinets.
To make the space feel brighter, add in high-quality overhead pendants or under-cabinet lighting. Homeowners can also opt for lighter-colored walls, flooring, and other kitchen décor or appliances to soften the effect of this black-on-black theme.
Gray
Being a neutral color, gray cabinets are a great match for black countertops. This color combination works especially well in large, modern kitchens since the space will not feel closed in or as cramped.
A homeowner who wants a gray cabinet and black countertop combo can add stainless-steel appliances to complete the look. Adding a white or cream backsplash is another tip to enhance a gray cabinet and black countertop look since this color of backsplash will reflect light and add a certain degree of airiness to the kitchen space.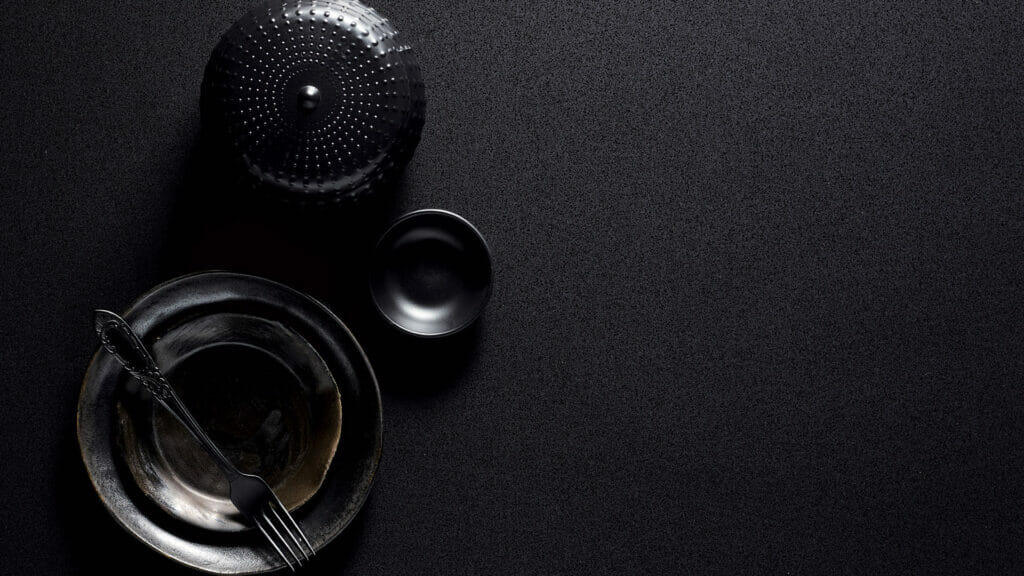 Light blue
Black countertops can match with almost any color cabinet, including light blue. This color combination is perfect for homeowners who want to create a light and airy feel in their kitchen. Blue cabinets pair perfectly with black countertops, creating a stunning contrast that will certainly be the center of attention.
Dark brown
Back to the neutrals, dark brown cabinets paired with black countertops such as 4735 Oxidian result in a traditional feel. Adding bright colored aspects will make such a space feel airier. For instance, white or light-colored décor or appliances, when strategically placed, can transform the look of the entire space.
Green
Homeowners who want an earthy, modern kitchen can't go wrong with green cabinets and black countertops. While the contrast may be too bold for some, the green shade can make the kitchen feel grounded. Green cabinets go perfectly with hues of black, whether solid, veined, industrial or speckled.
Cream
To create a beautiful contrast, pair cream cabinets with black countertops. This combination is perfect for a contemporary style and is a great alternative for homeowners who are looking to shake things up in their kitchen design.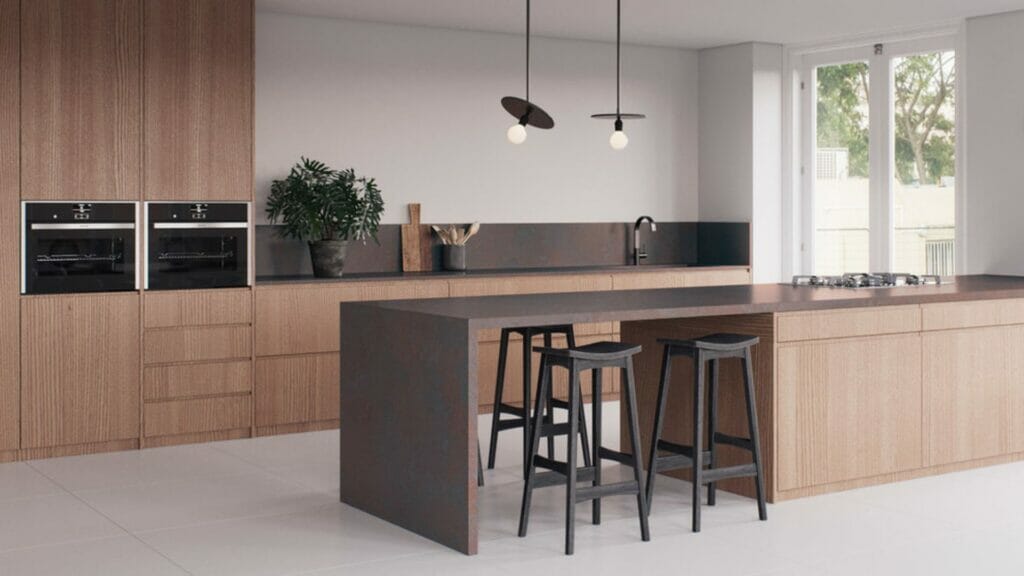 Key factors to consider when looking for cabinet colors for dark countertops
While there are a wide variety of options to choose from, when looking for cabinet colors to match black countertops, a wrong choice can ruin the theme of the entire space. As such, homeowners need to consider various factors before making a choice, including:
Lighting
Lighting is a major factor to consider, as many homeowners look to create a well-lit and airy kitchen space. While some have the good fortune of natural sunlight and lots of windows, others (sadly) do not. Darker cabinets are best paired with black counter surfaces in spaces that are well lit.
For poorly lit areas, selecting a brighter cabinet color is advisable. However, for homeowners who are looking for black cabinet colors with dark countertops, using bright-colored accents or adding good-quality light fixtures is a clever way to improve the breathability of the space.
Foot traffic
While white cabinets are appealing to the eye, they may not be ideal in kitchens that have high foot traffic. Staining and discoloration is easily visible with this color, which means more time cleaning, maintaining and repainting these cabinets. Still, they are a great option for homeowners who want the contrast and do not mind the regular cost of upkeep.
Kitchen design
You must ask yourself: what is my kitchen aesthetic? Whether it is contemporary, modern, colonial, farmhouse, or anything in between, choosing a color combination that goes well with the style of your kitchen space is key. Once you define your aesthetic, choosing colors that complement and elevate the look of your home becomes a much easier task.