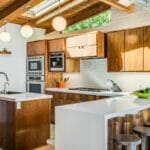 While experienced homebuyers are focusing more and more on aging in place when it comes to home design, first-time homebuyers are putting more emphasis on having a home with larger and more open interior features that are ideal for socializing.
Keep in mind the following trends when creating kitchen and home designs for new buyers.
Open Floor Plans
First-time homebuyers generally prefer homes with an open floor plan rather than clearly defined spaces or separate living rooms, dining rooms and kitchens. Since these younger homebuyers tend to spend more time socializing, an open floor plan provides a more suitable environment than a floor plan with separate rooms.
In fact, Professional Builder's Design Innovation survey found that open floor plans were among the most sought-after features in younger homebuyers.
These open floor plans also appeal to first-time homebuyers due to their multi-functional potential, which is particularly important in homes that have less square footage overall. Open floor plans offer more versatility that allows homebuyers to set up areas as needed, such as placing a desk and chair in one corner as a temporary home office.
Large Kitchens
Buyers who are purchasing their first home also typically prefer to have a spacious kitchen that offers plenty of room for preparing meals and taking care of other household tasks. Some of the most common features that these homebuyers want in this part of their home include a kitchen island, a breakfast bar or breakfast nook and a pantry, though not necessarily a walk-in pantry that takes up more kitchen space.
Larger kitchens that are part of an open floor plan provide first-time homebuyers with the ideal setting whether they are hosting formal dinners or having a few friends over for a more casual gathering. This design allows them to continue interacting with guests while preparing meals.
Natural Materials
Those who are in the market for their first home are usually looking for natural materials for countertops and floors rather than vinyl, laminate and other synthetic materials. These homebuyers have a strong preference for granite and quartz countertops in kitchens, since these types of stone countertops combine an elegant appearance with a considerable amount of durability. Caesarstone quartz is the material of choice for many architects and designers as it is as beautiful as it is functional. See all of Caesarstone's benefits here.
First-time homebuyers also prefer hardwood floors in their new homes rather than opting for carpeted floors or floors made from synthetic materials.
Energy-Efficient Features
First-time homebuyers show a strong interest in having a home design that is as energy-efficient as possible. This includes having energy-efficient appliances installed, as well as eco-friendly technological features.
Architectural designs that improve energy efficiency are also in growing demand among first-time homebuyers, such as passive solar home design that helps homes stay cooler in summer and warmer in winter based on the amount of sunlight available. These homebuyers also prefer their home to have materials that are energy-efficient, such as low VOC paint on walls and ceilings.