The kitchen is the heart of every family's home. It's the place where families spend most of their time; cooking meals with friends, family, and guests. So, homeowners should do their best to make this space look elegant and inviting in order to catch everyone's attention.
Elevate the kitchen interiors with quartz countertops and add style that makes it stand out from others in the neighborhood.
Quartz is an engineered stone that is ideal for busy kitchens since it is heat and stain-resistant. One of the world's hardest minerals, powdered quartz, comprises about 95% of the product's manufacturing process, together with a variety of polymer resins.
When it comes to appearance, quartz countertops are hard to compete with. These quality products come in a variety of colors and designs that genuinely resemble natural stone. Check out our picks for the best quartz kitchen countertops ideas for homeowners: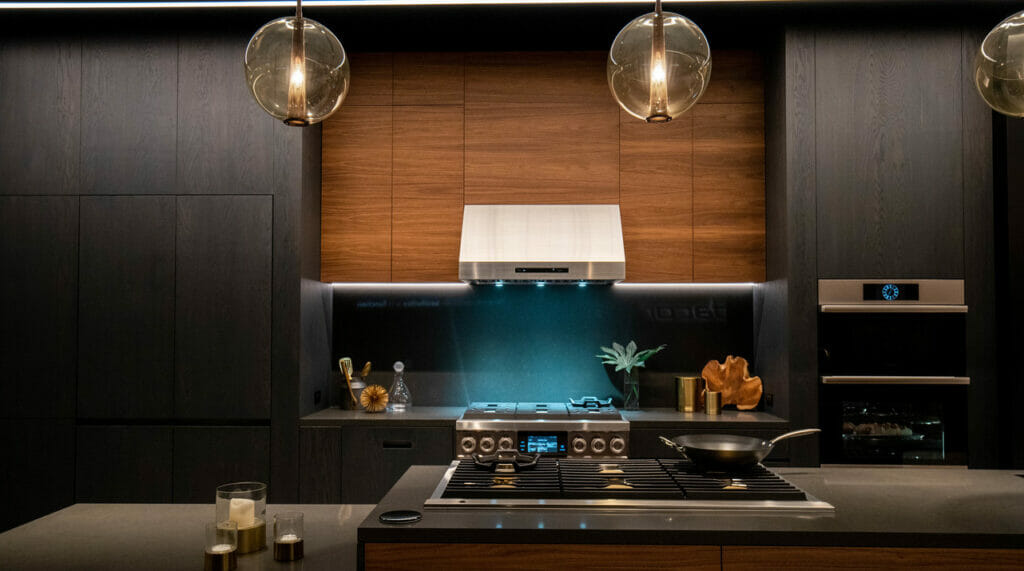 1. Go bold with eye-catching colors
Since engineered quartz is a man-made product, it is available in a variety of colors and design options. So whether homeowners are looking for something black, white or beige, there are endless possibilities for giving a dramatic color to the kitchen.
Get creative by using Caesarstone's 4003 Sleek Concrete countertop and white cabinets. Or, one can also go with a two-tone look by blending their cabinets and countertops with various colors. Whatever quartz kitchen countertops ideas one chooses will surely give the cooking space a unique look.
2. Never go wrong with white
Homeowners that want to give their kitchen a sleek and timeless appearance can choose to go for the latest white quartz countertops kitchen ideas. This design is becoming quite popular, as all-white brings out the crispness of the kitchen space.
With an all-white countertop like Caesarstone's 1111 Vivid White or 1141 Pure White, homeowners can give their kitchen a bright and clean appearance that introduces an inviting ambiance to the space. Give it a more luxurious look by adding white cabinets and white backsplash.
3. Blend countertops with an eye-catching backsplash
Blending quartz countertops with a backsplash provides a seamless, cohesive aesthetic. It is one of the many fantastic design ideas for a kitchen backsplash with quartz countertops. Not to mention, it will protect the kitchen walls while giving the kitchen a consistent appearance. While tile backsplashes look authentic, a solid piece of quartz will be easier to clean and maintain in the long run.
Homeowners that want to go bold with their design can try opting for quartz up to the ceiling. Instead of using matching colors, try to easily mix and match it by combining a light-colored countertop with dark-colored quartz such as 5100 Vanilla Noir for the backsplash and vice-versa.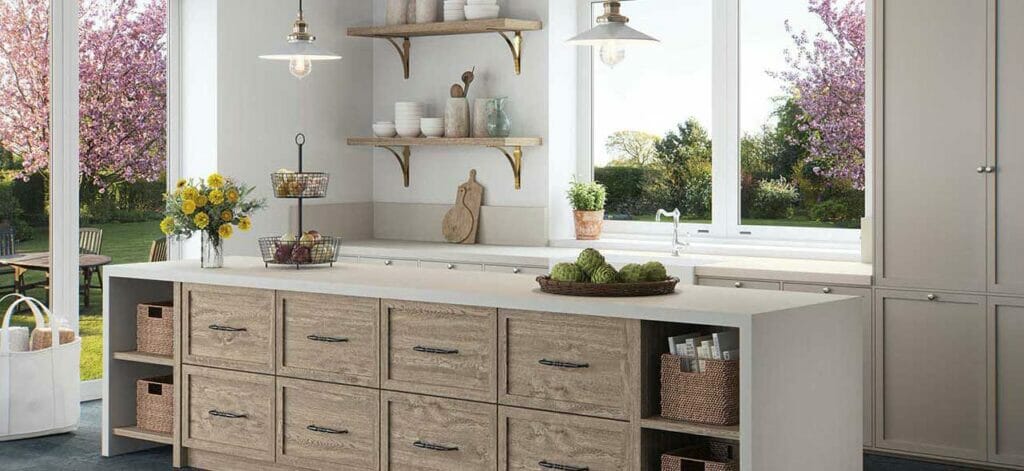 4. Bring drama to the kitchen with marble-looking quartz countertops
Homeowners who prefer the look natural stone provides can go with quartz countertops that feature a marble-like look, like Caesarstone's 5121 Layalite. [VK1]
This is among the best quartz kitchen countertops ideas for residential spaces, as homeowners do not have to worry about re-sealing it once installed. This material offers the same look as high-end stone without worrying about its maintenance.
5. Mix quartz with other materials
Thanks to its adaptability and versatility, quartz countertops can be combined with a wide range of design components. Homeowners can consider a wood backsplash paired with quartz countertops and stainless steel cabinets for a rustic kitchen.
But, this is just the tip of the iceberg; this is one of the many elegant kitchen with quartz countertops and wood backsplash ideas homeowners can opt for.
Homeowners can also utilize beveled glass subway tiles to create a textured backsplash with quartz counters. When it comes to new kitchen design, the possibilities are truly endless.
6. Make a waterfall
Homeowners can make their kitchen island look like a sleek waterfall instead of a conventional kitchen surface. To achieve this, quartz counters are installed on top of the island, and then the same material is carried down the sides.
Islands that descend to the ground have a sleek, contemporary, and seamless appearance. Create a casual bar design by extending the edge outward to create extra surface area. Homeowners looking for kitchen backsplash ideas with white quartz countertops can contrast white quartz countertops with the black kitchen backsplash. It will give off a mesmerizing look that guests and family members will admire.
7. Consider textured countertops
Quartz countertops were initially only offered in a limited number of finishes. New textures made by today's designers provide the modern homeowner with a wide range of creative alternatives.
Consider honed counters, which have a matte finish and little sheen. These choices are perfect for homeowners who want something more subdued and a little less high-glam. For instance, Caesarstone's 5143 White Attica looks fantastic in any kitchen space.
If homeowners are still hesitant about quartz countertops, here are some good reasons why one should go with quartz countertops when it comes to kitchen redesign: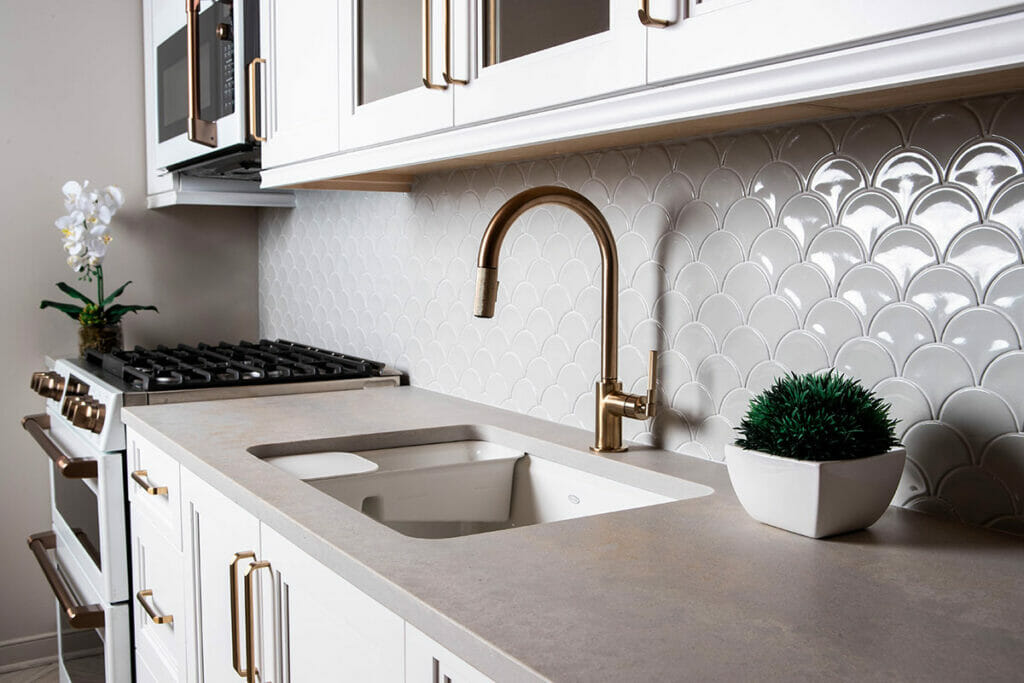 Benefits of choosing quartz countertops
Here are some of the benefits of choosing quartz countertops:
Durability
Due to their hardness and lack of pores, quartz countertops are stain and scratch-resistant. They make for useful worktops and allow even busy homeowners to prioritize cleanliness. Antimicrobial compounds have been added to some quartz kitchen surfaces. They are also heat resistant, and unlike natural stone, they don't need to be sealed annually, making maintenance simple.
Uniformity
Since quartz countertops are engineered slabs, flaws are incredibly rare. The slabs' consistency is ensured via a controlled engineering process.
Quartz countertops are environmentally friendly
Quartz countertops are a "greener" material than several other options. The majority of the materials used to make the quartz countertop foundation are leftovers from prior quarrying or manufacturing operations,and quartz is known for its natural longevity.
Homeowners can check out the Caesarstone catalog to find trendy quartz countertops kitchen ideas and to learn more about the benefits of quartz countertops.
Top 7 Quartz Kitchen Countertops Ideas — Conclusion
Give the kitchen a "wow" factor without breaking the bank with quartz countertops. Versatile and durable, this material can take the cooking space to another level. Choose a bold hue, combine different colors, or select marble-look-alike countertops to get the kitchen space's creative and unique design.