Many questions arise in a homeowner's mind when redesigning their kitchen.
One such question is, "how to choose a backsplash that works well with the new decor?". Modern kitchens are often considered to be incomplete without a backsplash. But despite its importance, people often tend to completely overlook them, as there are already so many factors to be considered.
Although the main purpose of a backsplash is to prevent kitchen walls from getting dirty, they have much more to offer. A kitchen backsplash can also serve as an aesthetic backdrop and a point of focus in the kitchen.
This article will cover every aspect that a homeowner should take into consideration while shopping for backsplashes and answer the question, "How to choose the right backsplash for your kitchen?"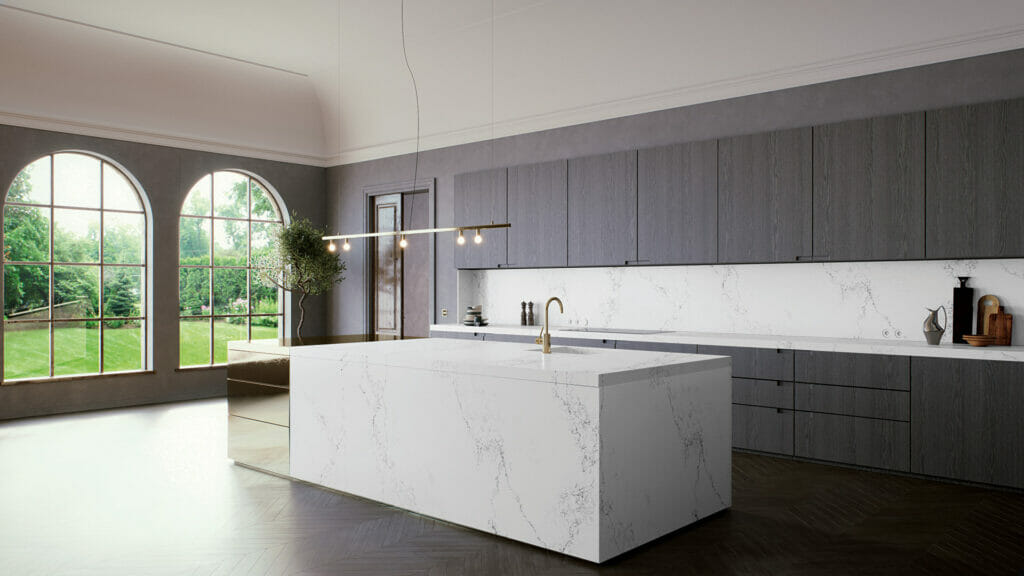 What are the types of kitchen backsplashes?
While choosing backsplash pieces, one of the first materials that comes to mind is tiles. However, backsplash materials are not just limited to tiles. There are many materials to choose from.
Subway tiles
Without any doubt, this is probably the most popular backsplash material a homeowner can come across. Their simplicity is what makes them the most desirable material.
Traditionally, these tiles are laid in a horizontal brick-like fashion. However, some homeowners like to add them horizontally or diagonally to add an aesthetic look.
Stone slab
A stone slab could be the answer for homeowners who are not huge tile fans. If a kitchen consists of a quartz countertop that mimics the natural solid stone, like Caesarstone's 5100 Vanilla Noir, it would be best to extend the stone upward from its meeting point with the wall.
Stone backsplashes can also add distinctive veining and offer a grand focal point to any kitchen space.
Glass tile
Homeowners might think that this material is not appropriate for kitchen backsplashes, but glass is actually 100% impervious to water. Hence, it is a great option for homeowners who are looking for simple wall protection. Additionally, it is not as delicate of a material as an individual might think it is.
The natural transparency of the glass tile creates a dazzling effect that no other materials can provide. Hence this material perfectly fits with glossy countertops like Caesarstone's 9141 Ice Snow.
Stainless steel
These types of backsplashes are generally part of restaurant kitchens but are becoming increasingly popular in residential kitchens.
Stainless steel comes in a huge variety of shapes and sizes, and homeowners could also consider getting sheets of steel, embossed with intricate designs too.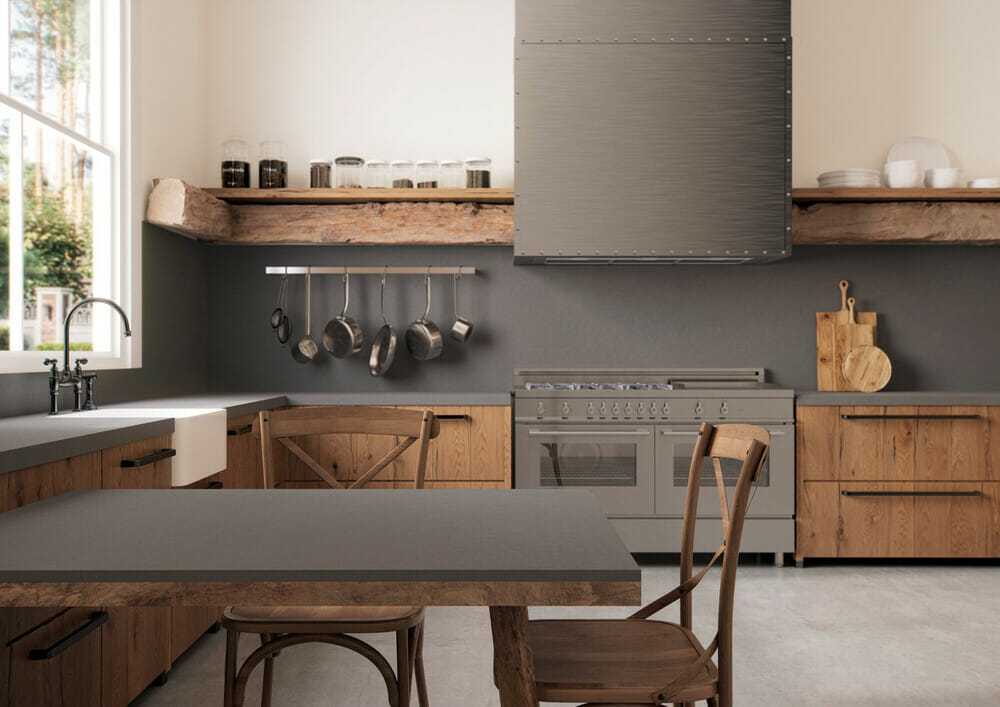 How to choose a kitchen backsplash for residential spaces
Every kitchen design is unique, and this sense of individuality must be kept in mind when it comes to learning how to choose a backsplash. In addition, if a homeowner has plans to sell the home in the future, they should consider choosing a timeless material for their backsplash.
Let's look at some of the factors that should be kept in mind while choosing the right backsplash:
Height
Generally, a kitchen backsplash is no higher than four inches. However, many homeowners consider that to be a little bit too low, as four inches of backsplash still exposes a lot of the unprotected wall surface. Sometimes owners like to slightly increase the height of their kitchen backsplash, ensuring no wall is exposed above the countertop.
Homeowners can also install backsplashes that go all the way up to the ceiling, making the space look more seamless.
Countertops
Homeowners must ensure that their kitchen countertop and backsplash perfectly complement each other and work harmoniously. If there is a clash between the countertop and the backsplash, it could spoil the kitchen's design.
Hence, always look for backsplash material that completes the countertop design. For example, a darker shade countertop like Caesarstone's 3100 Jet Black would perfectly contrast with a stone slab backsplash. A glass tile or a tile material would simply with this countertop might leave a kitchen looking incomplete.
Budget
One of the most critical backsplash rules that homeowners should remember is picking a product that works with their budget. Generally, backsplashes cost around $8 to $20 per square foot. However, this price increases according to the material a person is thinking about purchasing.
Therefore, if a homeowner's budget is tight, they should consider purchasing a more affordable peel-and-stick backsplash design like "fake tile," which can easily be replaced.
On the other hand, if budget isn't the issue, then the owner can go with scratch resistant options like glass-style tile backsplash and provide the kitchen with an undeniably pleasing appearance.
Practicality
Although various backsplash materials have their own prices and aesthetics, a person must consider their kitchen's needs.
Homeowners that rarely use their kitchens for cooking can opt for something more glamorous, whereas homeowners that cook on a daily basis may want to consider getting something more functional.
Most popular kitchen backsplash options for homeowners
Before considering any backsplash, a person must also look at which material is trending if they want their kitchen to match the latest trend. In recent years, white subway tile backsplashes have been one of the top choices for most homeowners.
These backsplashes come in a staggered brick-like joint pattern, making them a fantastic addition to a kitchen.
When we take the future into consideration, these backsplashes are expected to be a trend for several years. This makes white subway tile backsplashes a safe choice for homeowners that don't want to have to remodel their kitchens for several years.
How to Choose The Perfect Kitchen Backsplash — Conclusion
Whether homeowners go for a kitchen backsplash made out of subway-style tile, one stone slab, or a glass tile backsplash, the goal is to find the perfect kitchen backsplash design for their kitchen needs. The perfect backsplash stylishly complements the kitchen's aesthetic and prevents the kitchen walls from getting damaged by food or splattering oil.
Kitchen backsplashes should be both resistant and aesthetically pleasing. Hence, homeowners should make sure that they select a backsplash style that is pleasant to look at, prevents the walls from damage, and is easy to clean.