High-quality quartz countertops have gained a lot of popularity in recent years. Homeowners in Utah are coming to realize that quartz is the go-to choice when it comes to kitchen countertop materials. This is because quartz is undeniably durable and has an eye-catching appeal.
Companies like Caesarstone manufacture premium quality quartz countertops that are strong while looking luxurious. Thanks to modern manufacturing procedures, quartz countertops offer higher durability, along with heat, and stain resistance at a lower cost.
Want to learn more about Utah quartz countertops and what they have to offer?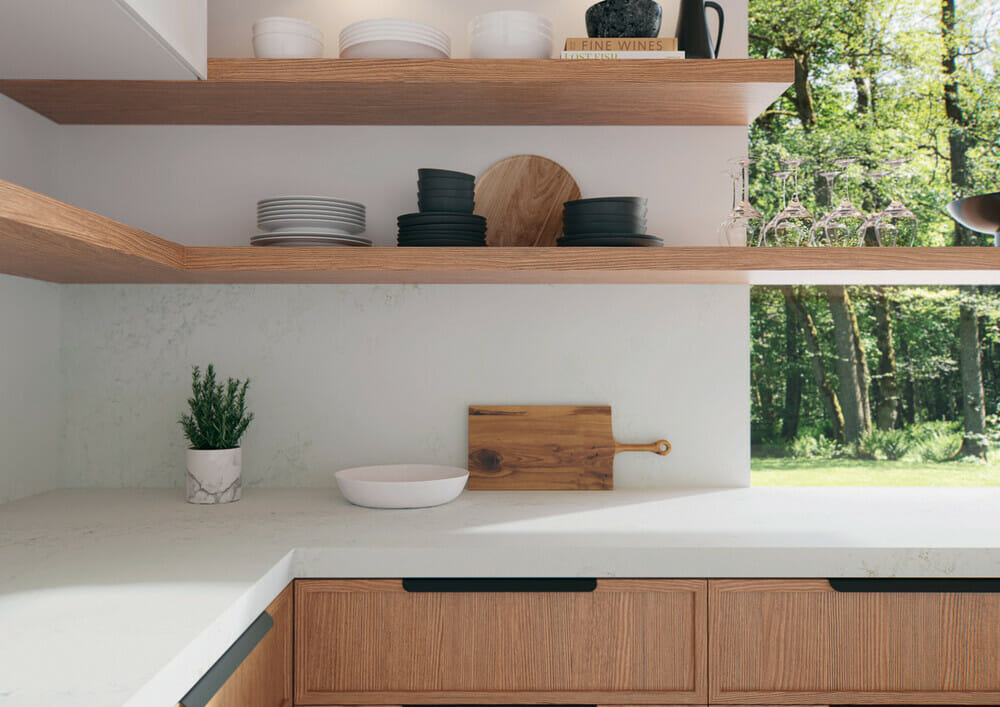 What are quartz countertops and why are they becoming popular in Utah?
Quartz is one of the most versatile countertop materials for residential and commercial areas, particularly kitchens and bathrooms.
The substance possesses a number of desirable characteristics, making it a great option for any countertop one could wish to purchase. The qualities of a quartz countertop include the following:
It is non-porous and is hygienic by nature
Routine cleaning and maintenance is relatively easy. Homeowners can simply use soap, warm water, and a soft cloth to clean their quartz surfaces
Quartz countertops don't need to be sealed
Its impermeable surface gives it the stain-resistance quality
Utah quartz countertops are available in a variety of patterns and colors
One of the main reasons why quartz is gaining popularity is that this product comes in an extensive range of colors and patterns options. Getting access to a wide variety of countertop styles enables homeowners to find a product that suits their needs.
Here are some of the trendy design options:
Light quartz
Homeowners who prefer light-shade tones in their kitchen can go for light-colored Utah quartz countertops such as Caesarstone's 5141 Frosty Carrina or 3141 EggShell.
Adding light-colored quartz in kitchen spaces brings out a clean and crisp aesthetic. To enhance the look further, homeowners can pair their countertops with metallic details such as silver door handles. Plus, it will balance the bright colors and lend personality to the kitchen.
Dark quartz
Homeowners who prefer darker tones in their kitchen space can go for dark-colored quartz countertops such as Caesarstone's 3100 Jet Black. Dark-colored quartz adds vibrance to the kitchen space and stands out from common light-colored decor.
Quartz with a pattern
Homeowners who want a blend of colors can consider quartz countertops in Utah county with a stunning pattern; for instance, Caesarstone's 6046 Moorland Fog.
What to consider when selecting the best quartz countertops Utah has in store
Here are some things that homeowners should consider while buying Utah quartz countertops:
Appearance and consistency of the surface
Natural quartz stone and other minerals and colors are used to make man-made surfaces known as quartz countertops. The materials are kept together with resin. As a result, each component looks exactly alike. So when people pick a quartz countertop, they can be sure that it will look just like the countertop in the showroom in any kitchen or bathroom.
Visit a local showroom or retailer to choose a specific countertop that is on exhibit to get the exact aesthetic that homeowners are going for. If not, the final result can be very different.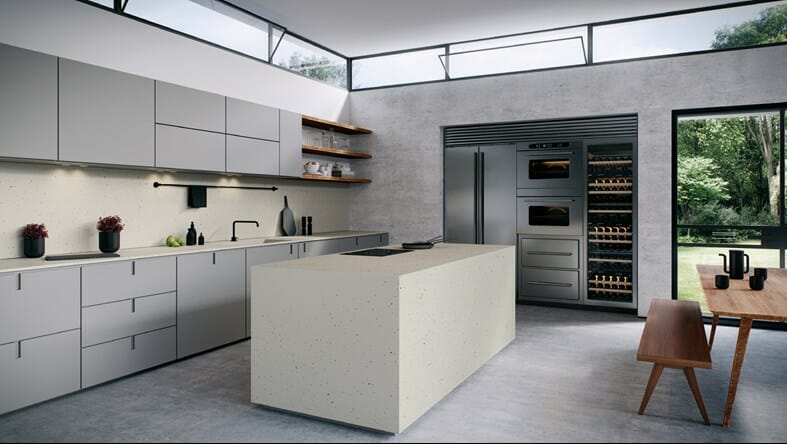 Longevity of the product
Homeowners anticipate receiving a highly resilient, long-lasting surface when a contractor installs the quartz countertop. It is resistant to stains, scratches, cracks, and chips.
Homeowners should still use cutting boards, clean up spills right away, and use trivets to shield hot cookware and dishes, even though some claim that high-quality quartz surfaces are nearly impenetrable.
Easy to maintain
One of the most important questions to ask is how much care a countertop will need. Natural stone countertops might be challenging to keep looking their best, but they all need regular sealing. If not sealed, stone surfaces are porous and prone to stains and water damage.
Quartz doesn't have a problem with this. Since it is always leak-proof and non-absorbent, sealing it is not necessary. It is also necessary to use particular pH-neutral cleaners for natural stone countertops. On quartz countertops, any gentle cleanser will work.
Modern aesthetic
Quartz countertops look elegant with any kitchen decor as they are modern, manufactured surfaces. They're an ideal fit as they can be manufactured in any hue a homeowner desires. For instance, homeowners who want to go with something subtle and consistent can buy Caesarstone's 5100 Vanilla Noir. It is an ideal countertop that brings out a rustic vibe around the space.
The movement, coloring, and veining of the quartz stone are what attract the homeowners. Quartz countertops are manufactured in such a way that they look like natural surfaces. This feature gives homeowners the best of both worlds: easy maintenance and elegant looks.
Heat resistance
Mistakes like dropping a hot pot or skillet directly on the countertop surface can happen in a busy kitchen. For some counters, like laminate, that might be disastrous. Quartz countertops can withstand heat; however, the resins holding the quartz crystals together at very high temperatures may become discolored.
If heat resistance is a key concern for the homeowner, a natural stone countertop might be a preferable option, albeit very high heat can damage stone surfaces. No matter what brand of quartz countertop the homeowner has, hot pads and trivets must be used.
Weight of the product
Another thing that homeowners should think about is the weight of quartz countertops, which may be between 20 and 25 pounds per square foot.
The installation procedure cannot be completed on your own. Generally, leaving the installation to the experts is a good idea. Cabinets and even flooring may require additional support and reinforcement to withstand the weight of the quartz slab.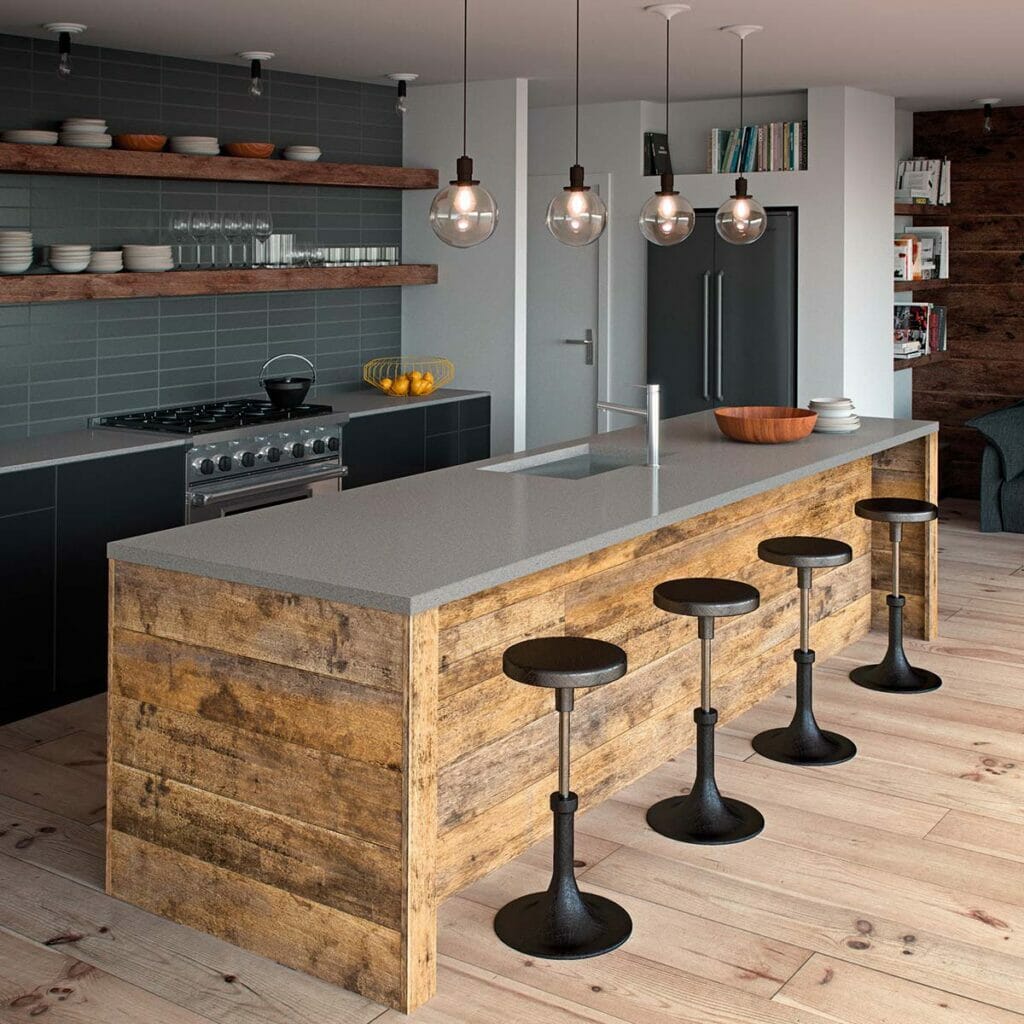 Quartz Countertops in Utah — Conclusion
It is clear that quartz countertops have so much to offer, but quartz countertops Utah cost can be expensive. Homeowners need to buy quartz from high-quality manufacturers such as Caesarstone. They craft countertops by combining elegant designs and material durability.
Check out Caesarstone's color catalog to choose quartz countertops that perfectly match with any kitchen.