The kitchen is the most used space at home, and it's not just for those who cook. These days, families are integrating dining spaces in the kitchen so that members can cook, interact and eat together at the same time. All in all, it's become that perfect space where people can enjoy a lovely time.
So, why not try to make it look glamorous?
Apart from keeping all fully functioning appliances and a few decor items here and there, it's time that homeowners start glamming up their cooking area. From a casual country kitchen to a modern and contemporary cooking space, here are some amazing glam kitchen ideas that homeowners could consider.
The following ideas are sure to make any guest's jaw drop the minute they set their eyes on such a beautiful remodeled kitchen space.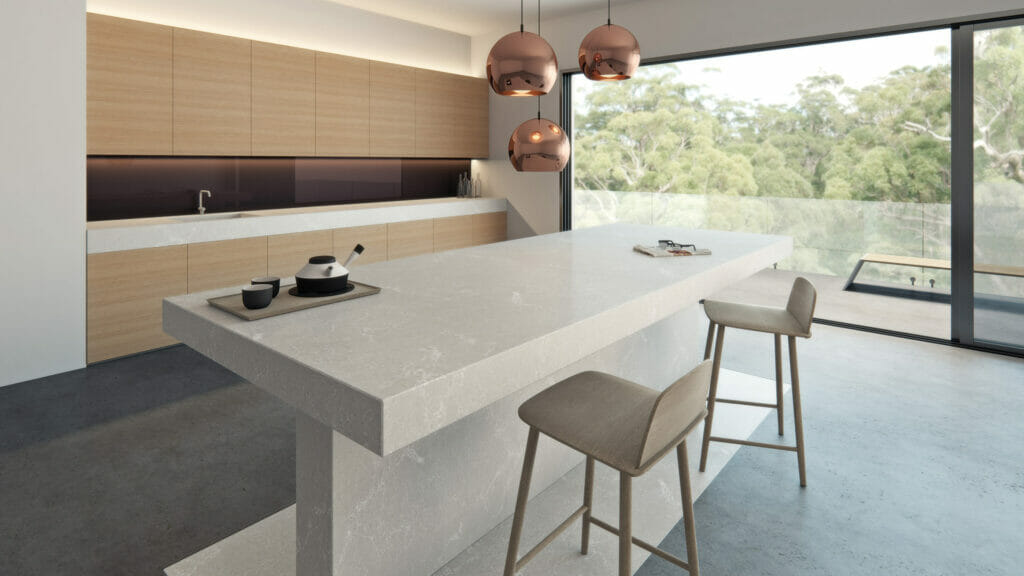 Glam kitchen decor ideas for residential spaces:
Here are some glamorous kitchen design ideas for homeowners:
1. Play with colors
The overall appearance of the kitchen immediately becomes more polished by adding a fresh coat of paint to the walls. But before taking out the paint and a paintbrush, it's important to take time and determine the greater style of the kitchen remodel.
Homeowners can use a variety of colors within the cooking area to give the space a luxurious look. Going with a contrasting color palette in the kitchen is an exceptional way to boost modern glam. With that being said, and regardless of color choice, adding dynamic patterns can easily make any kitchen go from drab to fab.
2. Make use of statement fabrics
People usually do not put too much time into picking out fabrics for kitchen curtains or furniture. But a textured, bright-colored fabric can quickly shift a shabby kitchen into a glam kitchen. Single-toned kitchens will benefit floral or printed fabric accents. In the same way, a simple two-toned colored fabric can also enhance the overall look of the kitchen and dining space. Going with vintage-styled stools will give that perfect modern farmhouse-style look.
3. Elegant quartz countertops
Neglecting to mention countertops when talking about glam kitchen remodels is unheard of. But, countertops can be a tricky feature to design. There are many aspects to take into consideration before deciding on an appropriate piece.
The first decision is to choose the material for the countertop. These days the material that homeowners are inclining towards is engineered quartz. Engineered quartz countertops give an ultra-glam finish and make any kitchen look stunning.
Quartz is a one-of-a-kind material, packed with a lengthy list of advantages. Its nonporous, durable, stain and heat resistant qualities make it the perfect kitchen material. Not to mention, engineered quartz comes in a variety of colors, patterns and finishes. For homeowners who are looking for a modern-styled kitchen, 5121 Layalite is a great countertop option.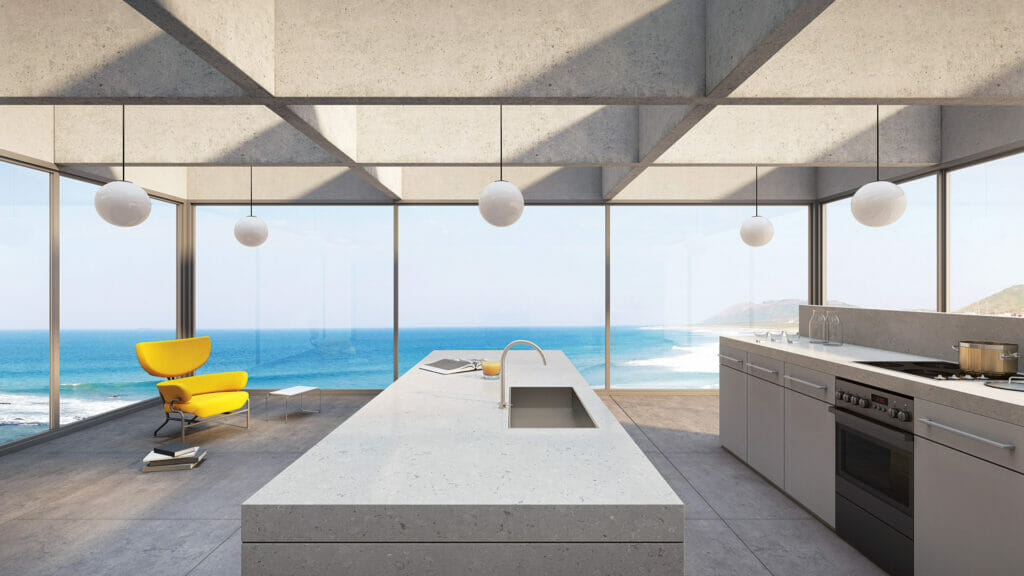 4. Stunning cabinetry
Who doesn't want to have spacious cabinets to keep all their kitchen must-haves in one place? Unfortunately, homeowners have previously neglected this space when it comes to renovation projects. But nowadays, there are plenty of luxurious options available that homeowners can use for beautifying their kitchens that also upgrade functionality.
Sleek and minimal-looking cabinets are in demand these days. Achieving this look is simple by using materials that naturally offer a shiny high-gloss finish. Atop high gloss cabinets, lay a beautiful countertop similar in color to the cabinets. For more ideas on upcoming kitchen remodeling projects, homeowners can visit Caesarstone's design inspiration gallery.
Additionally, brass or gold accents in the kitchen maintains a sleek setting. Upgrade the inside of cabinetry by installing transparent bins for organizing snacks, rice, pasta, cereal, etc. These will make the storage space look clean, organized and glamourous.
5. Bold backsplash
Try getting creative with the backsplash area. It is the simplest space to design and has numerous options to try on. To complement a boldly colored backsplash, use a light-colored countertop underneath.
With this, a great mix of dark and light shades can be created. For homeowners more inclined towards something out of the box, try out a patterned backsplash. It is up to the homeowners which pattern they want to go with. From floral to blocks and lines, there are plenty of options to watch out for. Just make sure to pick something that will pop out from the rest of the features.
6. Beautiful lighting
Any glam kitchen ideas are incomplete without talking about beautiful lighting pieces. The right lighting adds a flare that was once missing and makes the kitchen look stunning. There are so many places where one can add the unique touches of lights, like the stovetop, kitchen island, etc.
Make sure to use some stylish chandeliers or any vintage-styled lighting fixtures. If a sleek and modern interior is something that homeowners want to go for, then nothing is better than matte black or gold linear lights. For a traditional kitchen, a vintage chandelier will work wonders.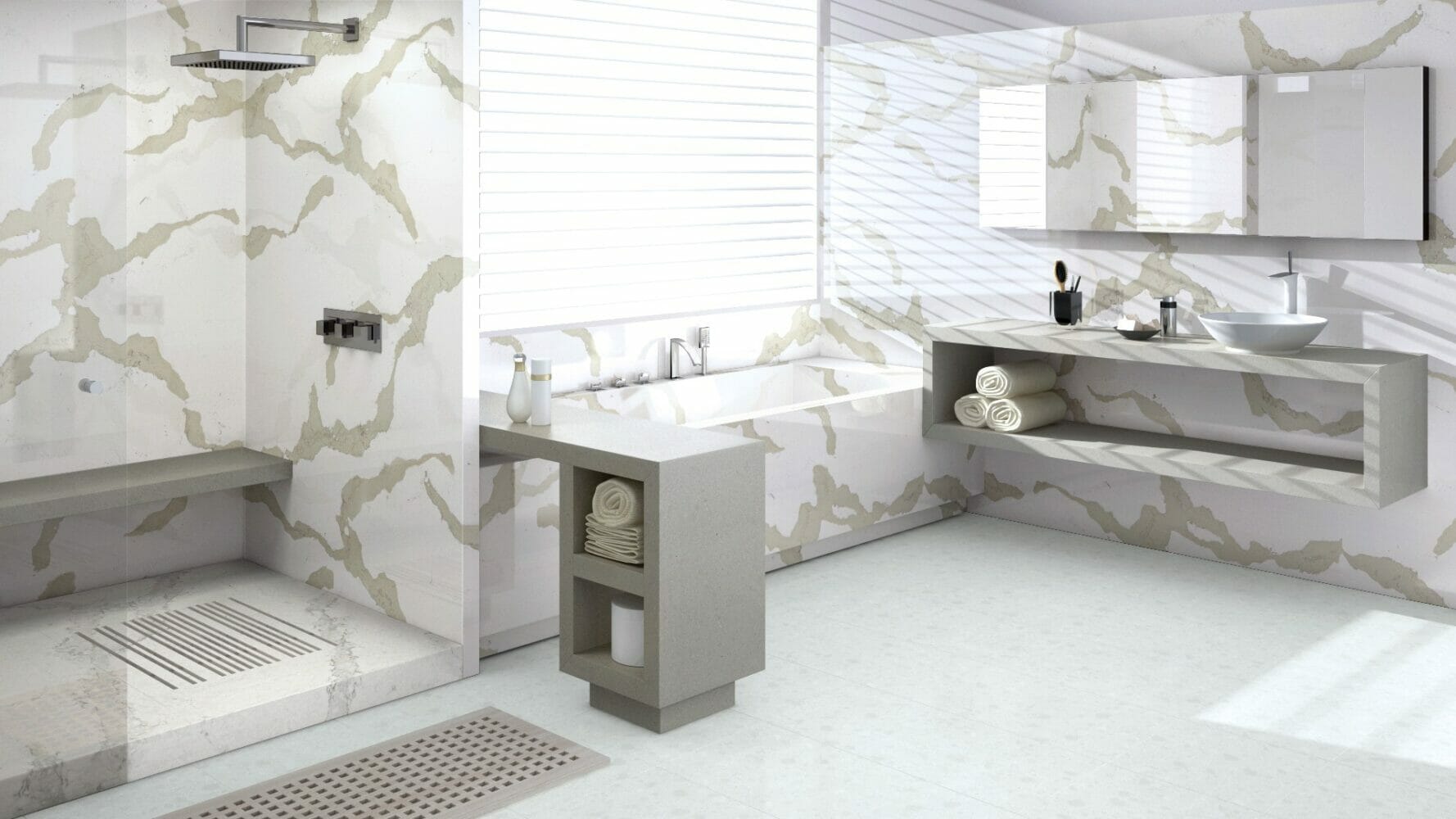 7. Make use of mirrors
Mirrors are a perfect accessory for a glam kitchen. These shiny metallic surfaces instantly make the kitchen appear elegant and spacious. In addition, one can install a mirror cabinet with a quartz countertop to make the kitchen even better. Caesarstone's catalog is full of amazing quartz countertops that homeowners can use during their remodeling endeavors.
Homeowners can also use mirrors in different spaces like the ceiling area, backsplash, or on the walls. It is such a versatile material that one can easily find a space to use.
8. Hang artsy picture frames
A beautiful and colorful painting on top of a freshly painted kitchen wall can make the space look incredibly luxurious. To keep the kitchen space looking dynamic, homeowners can try hanging an art piece filled with eye-catching colors like red, orange, or blue.
8 Glam Kitchen Ideas for Your Next Remodel — Conclusion
Designing and remodeling a glam kitchen is a tough task. To lighten the load, homeowners should always be prepared with a plan to tackle each aspect in the kitchen. The above-mentioned kitchen design ideas are filled with different design options.
From the ceiling and cabinets to countertops, these ideas have covered all aspects of the kitchen that can be remodeled without increasing the budget. Ultimately, it's all up to the homeowner how they want their kitchen to look.