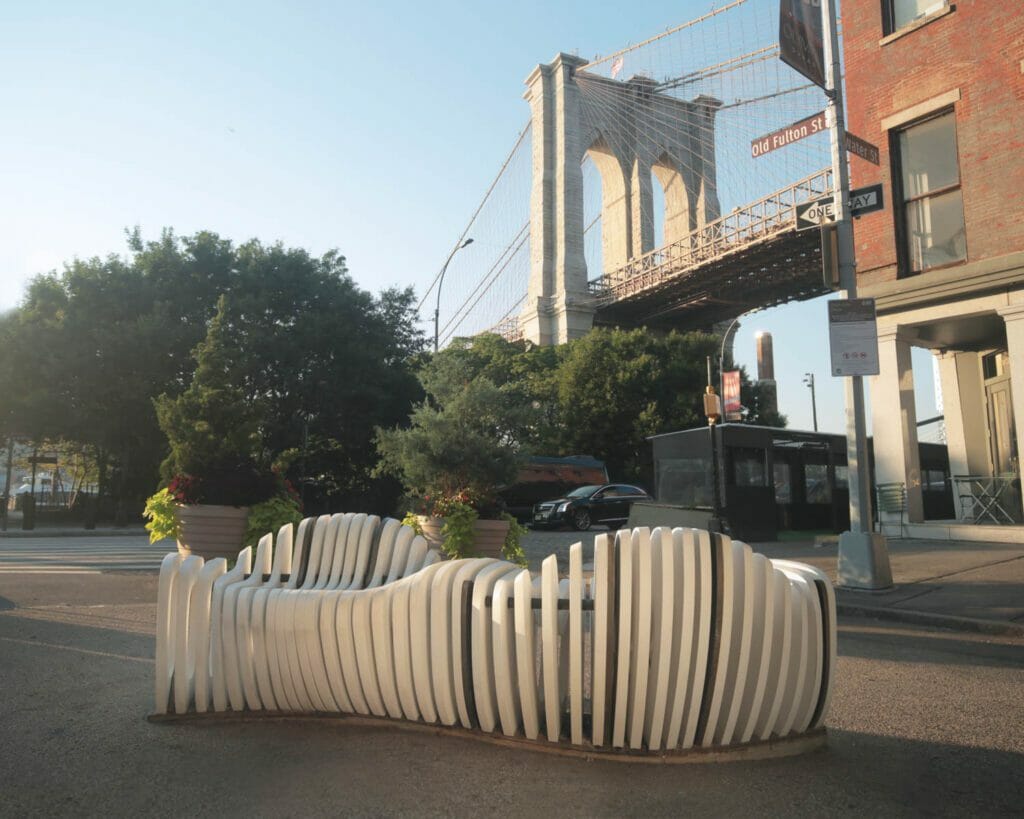 In collaboration with NYCxDesign, Caesarstone has brought an artist's inspiration to reality. The Spiral of Life design by Kickie Chudikova was celebrated on September 15 with the New York design community, NYC's Department of Transportation's Art Program, Dumbo Improvement District, and Design Trust for Public Space. Gail Conroy, VP of Marketing, US, attended the event to represent Caesarstone for this exciting unveiling.
Kickie Chudikova's Spiral of Life installation drew inspiration from the waves of the Hudson River and the sculptures of Isamu Noguchi. Kickie's inspiration was brought to life with the Outdoor Collection. The Outdoor Collection gave Kickie the chance to create an installation that will stand the test of time and weather.
This modular bench consists of waterjet-cut quartz pieces connected by a metal structure forming an organic shape that gives city-goers a place to pause and enjoy the world around them. NYCxDesign supports, empowers, and helps grow New York's design community. As a non-profit, they also run a year-round program increasing diversity, equitable opportunity, and inclusion within the city's design professions. Thanks to partnerships with NYCxDesign, Caesarstone can aid in its mission to drive innovation, creativity, culture, and sustainability.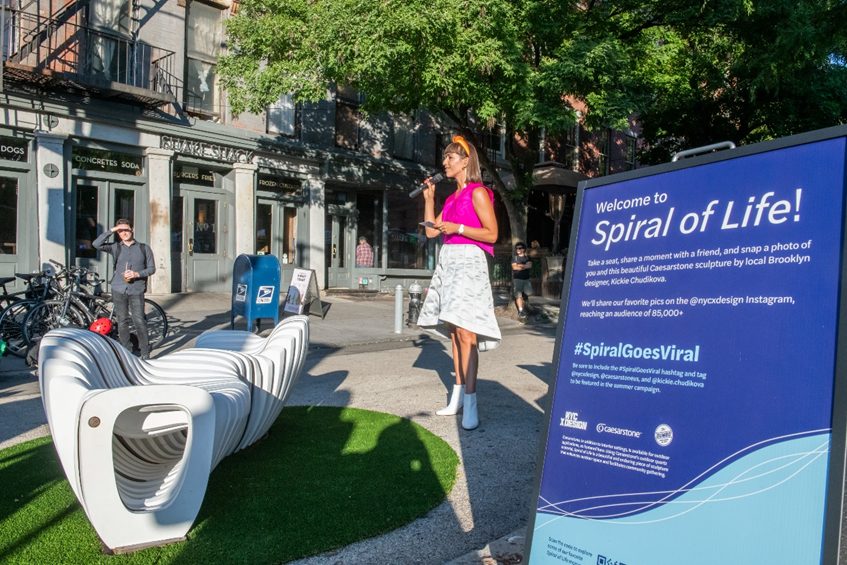 Caesarstone's Vision
By working with local organizations that promote artists and designers we have the chance to participate in opportunities that foster innovation and celebrate our communities. With this partnership, we have had a chance to reflect on two of our core values that guide us through each partnership: Innovation and People First
Innovation: We are committed to fresh thinking and breakthrough ideas that create value for our customers, our communities, and our organization.
People First: We provide opportunities for personal growth and development while putting our employees, suppliers, partners, and communities first.
Q&A
In the heart of Brooklyn, Caesarstone's Vice President of Marketing, Gail Conroy, dives into Kickie Chudikova's inspiration and design process in the Q&A.
As one of the winners of the IMPACTxDESIGN competition, Chudikova took the challenge to use Caesarstone's Outdoor product in an unexpected way and succeeded. This installation pushes the boundaries of what is possible with quartz and shows us that inspiration can come from anywhere.
---