There is a solid reason – several good ones, really – why white kitchens with speckled quartz countertops have remained consistently popular over the past several decades. First and foremost, they provide a sense of class and luxuriousness to practically any space.
Additionally, speckled white kitchen designs create the impression of additional space and airiness. And last, but not least, white is a color that has stood the test of time and will never become outdated or unpopular with interior designers. When it comes to making such a significant financial commitment, this information is obviously quite important and should be taken into consideration.
One more point to note about white interior decor is that there is more than one method to incorporate it into the design concept of any home. For instance, the speckled white quartz countertops offered by Caesarstone take the color white to an entirely new level by adding shine and sparkle that can't be found elsewhere.
Quartz countertops are a product of human ingenuity; they are produced by mixing crystal quartz minerals with colors and flecks of other materials throughout the manufacturing process. This gives the speckled quartz countertops the cheery shine that many homeowners adore.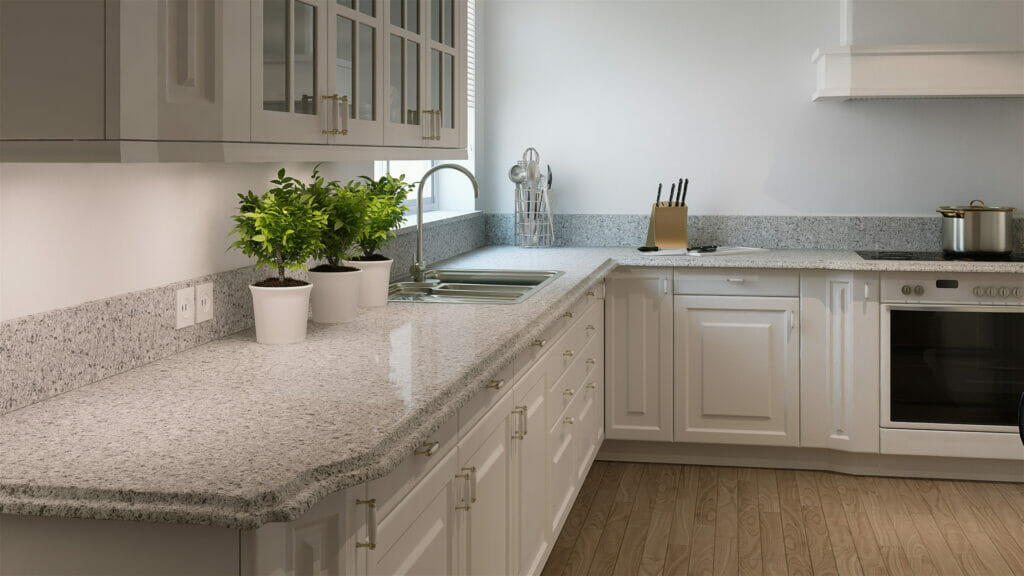 Five white speckled quartz countertops from Caesarstone:
6270 Atlantic Salt
Homeowners that are currently "on the fence" about buying speckled white quartz countertops because they are afraid of making their kitchen look boring and uninteresting, can utilize a glittering quartz countertop, like Caesarstone's 6270 Atlantic Salt. This product has a sufficient amount of understated, shiny speckles to add visual appeal while still being a safe and conservative choice, which is important for maintaining resale value.
Because this variety of white quartz countertop goes with a wide variety of decor, homeowners can make as many changes as they would like to the room, such as painting the walls, hanging new curtains and paintings, etc.
3141 EggShell
Many speckled white quartz products, like Caesarstone's 3141 EggShell, are characterized by having minute specks of gray embedded inside its otherwise white background. It enables the greatest degree of design flexibility possible. This material is available in a wide variety of slab sizes and may even be prefabricated into a variety of forms, making it an excellent choice for use in kitchen islands.
This product goes well with about everything a homeowner might ever want to install near it. Even if they end up replacing all of their home's appliances, this type of speckled quartz countertop will never lose its lustre.
9141 Ice Snow
It's hard to imagine a material that sparkles and shimmers quite like 9141 Ice Snow by Caesarstone. It has a striking dimensional depth because the various crystals and colored specks of minerals are blended into the countertop rather than just being etched on the surface. This gives the countertop a more natural appearance.
9141 Ice Snow[NH1] [KK2] is an excellent choice for modestly-sized kitchens, due to the fact that they capture and enhance the light in the space, which makes the area cheerier and more welcoming.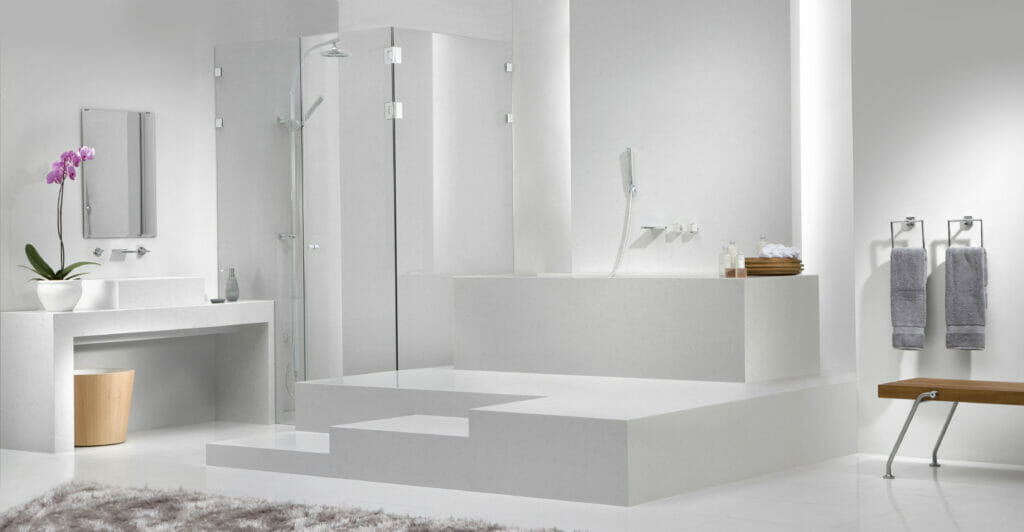 4600 Organic White
Although white has long been considered to be one of the most popular colors for kitchens, the glossy, solid white quartz countertops like Caesarstone's 4600 Organic White are the ideal choice for even the most modern of layouts.
6600 Nougat
Even though the surface of Caesarstone's 6600 Nougat is smooth, it has the appearance of having a three-dimensional texture because it contains dazzling crystal pebbles. The shiny pieces do not have any exposed corners or edges that are sharp or abrasive.
This indicates that the countertop is simple to clean, does not require any upkeep, and may be fashioned with a wide selection of various cut outs or edge treatments without the need to worry about defects or rough patches.
Regardless of which type of white quartz countertop they go with, homeowners can be certain that any of those sparkling, light-catching options will take their design style from mundane to extraordinary.
Please view the catalog on the Caesarstone website to get an idea of the breadth of our collection.
Why are speckled quartz countertops a smart investment for homeowners?
When it comes to quartz countertops speckled designs are a smart investment for kitchen remodeling projects because they provide excellent value for the money spent on them.
Quartz is a man-made substance that is resistant to heat and stains, making it an excellent option for use in areas of the kitchen that see a lot of action.
A mixture of polymer resins is combined with approximately 95 percent powdered quartz, which is one of the minerals with the highest mineral hardness on the globe. This technique is part of the production process. The final product is a surface that resembles stone and is extremely durable; it can withstand the normal wear and tear that occurs on a regular basis in residential spaces.
The convenience of the engineered material is matched only by the fact that, unlike natural stone surfaces such as marble or granite, it does not need to be sealed.
Quartz countertops are available in a broad variety of colors, and stone-like patterns that actually look like the real thing.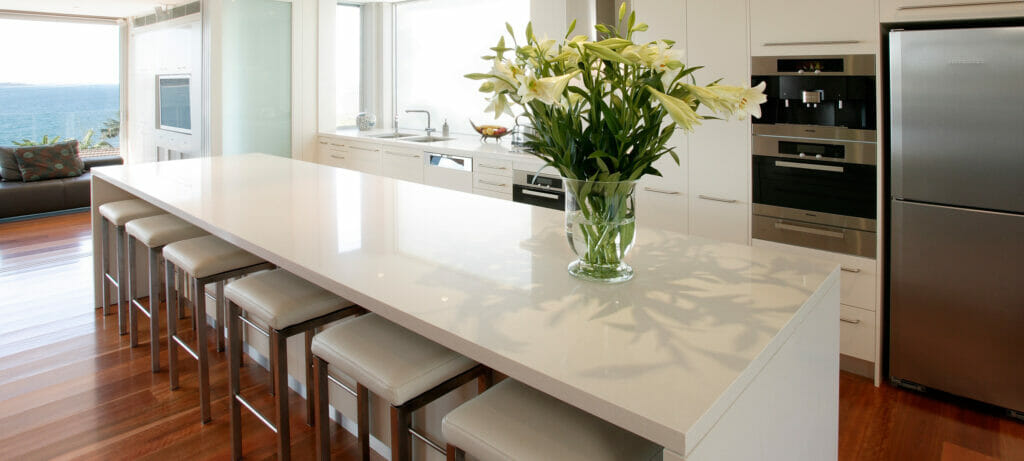 The all-white speckled kitchen — Final words
Quartz is one of the most popular materials for use in countertop construction, and for good reason.
This high-quality material is well-liked and dependable for usage in the construction of countertops due to its hardiness and abundance. The natural quartz content of a slab might vary widely depending on the producer of the quartz. It has a naturally high level of hardness, which contributes to its extraordinary durability, and it is resistant to both scratches and stains.
Quartz countertops are susceptible to discoloration from any substance containing pigment if the substance is allowed to remain on the surface of the quartz countertop for extended periods of time.
Its shine and color provide it the properties of a gemstone, and the most common applications for it are kitchen counters and other surfaces that receive heavy foot traffic. This is something that homeowners should keep in mind if they are thinking about installing white quartz counters in their homes.