Ever thought of a scullery being a part of the kitchen space? Most homeowners might be unfamiliar with this old word. But once they witness its brilliance, homeowners will be sure to find it something that should be a part of their kitchen space.
A kitchen scullery serves as a place where homeowners can hide their working dishes while they're entertaining. Simply put, with such a design, homeowners can have easy reach to small appliances yet out of sight.
A kitchen scullery is the ultimate addition to a convenient kitchen design, isn't it?
Let's dig deeper into the scullery kitchen design and some of the design trends to use when it comes to renovating a kitchen space.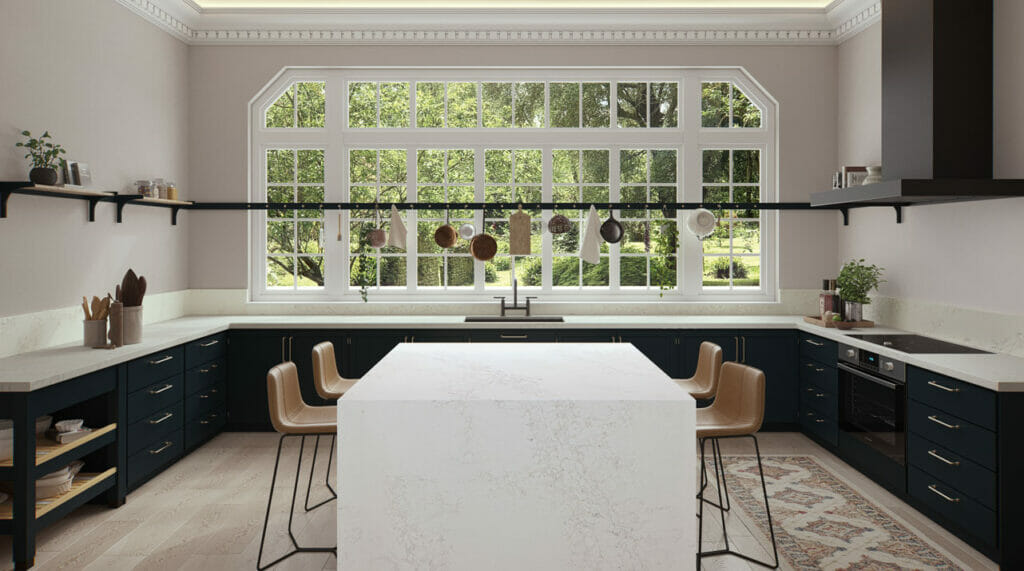 What exactly is a scullery kitchen design?
A scullery is generally an additional kitchen, or a second kitchen, specifically used for storing and cleaning dishes. A scullery kitchen offers more room and, in modern times, may also hide unkempt cooking and cleaning tasks from the main kitchen.
A scullery must have a lot of storage space, counter space, and a sink. To fit one's demands, homeowners can modify a traditional scullery design as they please. Since it is a homeowner's place, it may be adjusted to their family's preferences.
A kitchen scullery is also commonly referred to as a mess kitchen, caterer's kitchen, refrigerator pantry, or butler's pantry, and it is the ideal complement to an opulent kitchen.
4 modern kitchen scullery design ideas for homeowners
Now, let's look at some of the scullery kitchen design ideas that homeowners can utilize to make their kitchen space look authentic:
1. Give the kitchen a calm refinement
Give a kitchen scullery design a calm elegance with all-white combinations. Go for white cabinetry with white quartz countertops with wooden flooring. It will give an illusion of a spacious kitchen. Plus, it will give a calm vibe all around the kitchen. Homeowners can try Caesarstone's 5121 Layalite. This countertop works perfectly when it comes to giving a calm refinement in a kitchen space.
2. Shelve it up
Open shelving works best for the kitchen when homeowners want to focus more on the "functional" and less about "fashion".
This way, homeowners can have a more organized scullery kitchen, so things don't look messy. Plus, one can also add high-quality quartz countertops with shelves to give it a more enhanced look. For instance- Caesarstone's 1003 Raindream works well with white shelves in a kitchen scullery.
3. Fill it with lighting
As sculleries kitchens are situated inside, they don't often receive natural lights from the windows. Therefore, adding lights to the kitchen would light up the space. Plus, it would stop homeowners from losing things in dark corners.
Also, to match lights with the space, one can opt for dark shade countertops such as 5820 Darcrest. It would enhance the lightning around the space.
4. Conceal the mess
Hidden sculleries are a perfect spot to keep messes and dirty dishes out of sight for those who enjoy hosting parties in their kitchen. Include a second sink, or alternatively, put the dishwasher in the scullery to free up space on the island and serving area. Tuck it around a corner or install doors to keep scullery inconspicuous.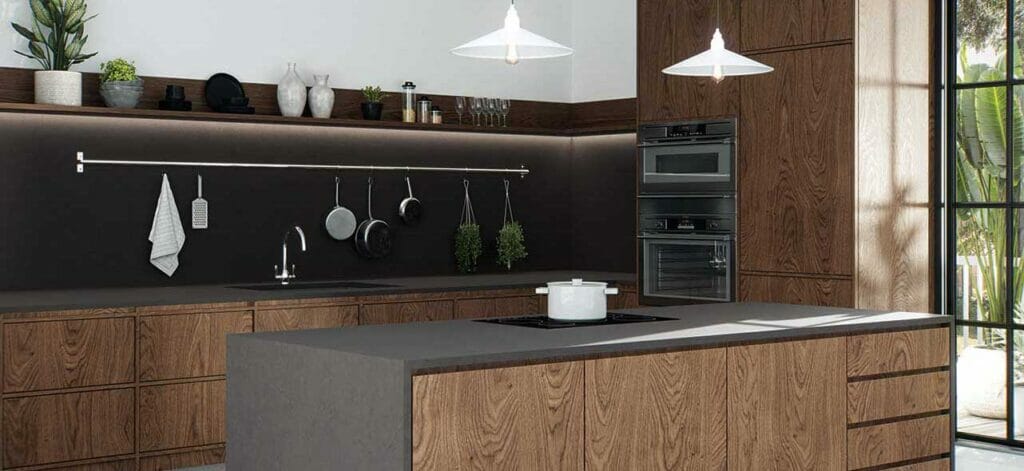 Tips for designing a perfect scullery kitchen
These were some of the kitchen scullery design ideas that can make kitchen spaces a beautiful place. Now, let's look at some of the tips when it comes to renovating a kitchen space into a scullery kitchen:
Fit for purpose
Homeowners should first select what will be done in their new scullery space. For example, will it only be used for kitchen and pantry storage? A station for toast and tea? A location where food can be cooked and prepared for school lunches?
It's crucial to decide what functions the new scullery will fulfill so that one can design the right appliances, plumbing, storage, power outlets, and lighting.
Appliances
Appliances should unquestionably be taken into account if scullery will be used as a workspace. For example, this can be the ideal microwave or a second oven location. One might also consider adding a refrigerator or a second "drinks fridge" here if the scullery is conveniently connected to the kitchen.
To add a sink or not to add a sink in the kitchen scullery
Modern kitchens frequently have two sinks — one in the main cooking area and one in the scullery. However, an additional fee is associated with this, and in most kitchens, just one of the sinks is often used.
Homeowners should decide which sink will serve as the primary sink if they are thinking about adding a second one. This is where they should also place any dishwashers and a trash can. Place high-use storage adjacent to the primary sink and dishwasher after that to ensure easy unloading.
Smarter storage
Homeowners must make the most of the space to store things efficiently. They can include functional storage, such as drawers, for food and kitchenware. They can also add a combination of cupboards and open shelves with doors to store a variety of objects, including tall, heavy appliances, items to be displayed, and items to be kept hidden.
In addition, use the space above the workbench with open shelves or overhead cupboards. Finally, make sure there is enough worktop area to accommodate any food preparation.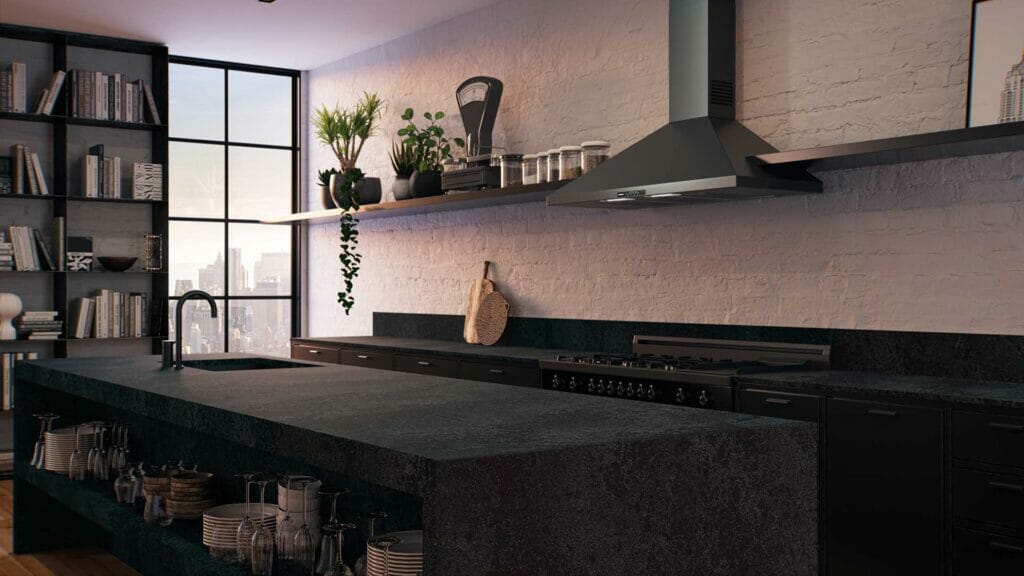 Position
One of the most important aspects of a scullery's success is actually its location.
Why? Because a scullery can end up becoming a second kitchen instead of an additional storage space and workstation if the connection and flow between your kitchen and scullery is awkward.
The key to making the two areas function as one is positioning the scullery so that it is an extension of your kitchen. When visitors drop by, swiftly and easily hide any mess out of sight by adding a sliding or hinged door to the scullery. This will facilitate separation and help maintain a clean appearance in the kitchen.
4 Kitchen scullery design ideas – Conclusion
So that was it. These were some of the kitchen scullery design ideas that one can utilize if they want to design a luxurious kitchen space that is easy to organize.
Adding shelves and high-quality quartz countertops to spaces like a kitchen scullery will surely make the space look spacious and organized. Homeowners can check out the Caesarstone catalog to find the right countertops for their kitchen scullery.