A cleverly designed small kitchen in your basement will do wonders in transforming the overall design of your space.
Basement kitchens, often referred to as basement kitchenettes, are gaining popularity as more homeowners maximize the space in their homes. Whether the goal is to create a basement apartment, a bar or food prep area, or a hosting space for guests, small kitchen ideas for basements are endless. Given the small nature of most basements, basement kitchen sizes vary due to space restrictions and individual preferences.
Just because basement kitchens are often small, doesn't mean they don't require special planning. Before diving into small space basement kitchen ideas, it's essential to understand the desired look of your basement. Is it finished or unfinished? Do you have sufficient space? What's the main use of the basement kitchen? All these questions, and more, need to be answered to ensure the desired look and functionality is achieved.
Here are some small basement kitchen ideas for tackling a basement kitchen renovation.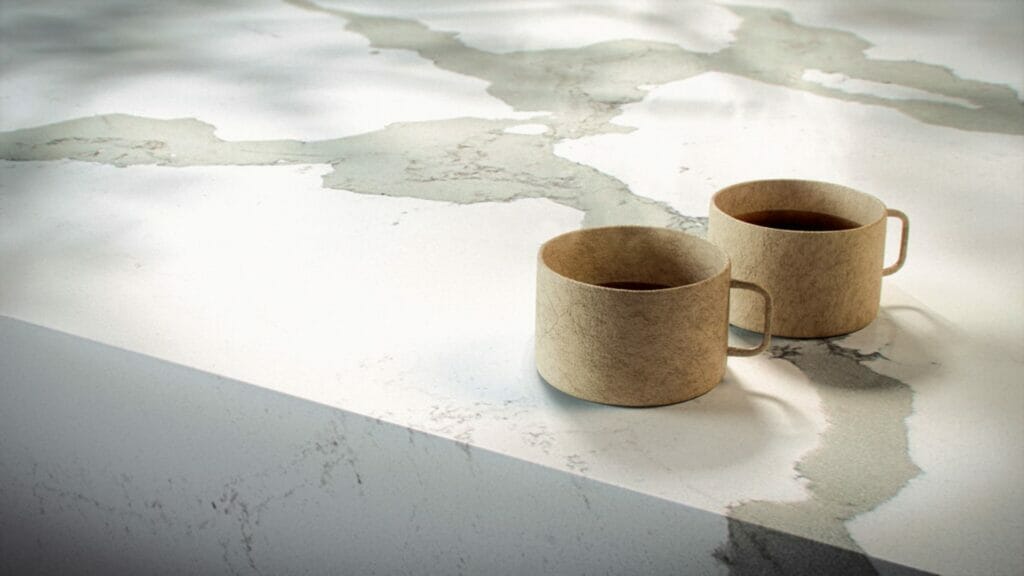 Designing a Small Basement Kitchen – Don't Underestimate the Power of Elegant Countertops
It's no question that countertops are the best surfaces to bring out any kitchen design. They transform any space by being the focal point and accentuating a homeowner's preferred kitchen aesthetic.
In addition to their beauty as a showpiece, kitchen countertops also need to be functional and have the right attributes to withstand everyday use and stay beautiful for many years. This calls for careful selection.
Selecting the perfect basement kitchen countertop comes down to the countertop material. Here is what to look for in a basement kitchen countertop.
Durability: Kitchen countertops should be durable, hard-wearing, and able to withstand everyday use. For families who use their kitchen daily, having a heat-, scratch-, and stain-resistant countertop is a crucial asset.
Easy to clean and maintain: Homeowners should not have to spend their time worrying about countertop cleaning and maintenance. A countertop material that is easy to clean and requires minimal maintenance and no sealing is a great investment for families who want a countertop that will last many long years.
Timeless appeal: When it comes to countertops, style matters. Most homeowners do not carefully select the perfect countertop, opting to change their countertop a short while later. This is why choosing a material with timeless appeal is a sound decision for any countertop investment. A countertop color like Calacatta Maximus by Caesarstone will add vitality to the kitchen design and provide a classic elegance.
Versatility: Not all countertop materials are created equal. For homeowners who like options, browsing a versatile countertop material like quartz — available in just about any color or pattern — is the best way to go. Countertop hues such as Jet Black are becoming increasingly popular for their contemporary minimalistic vibe, which add next-level luxury and sophistication to any space. If you prefer a lighter shade, White Attica will do a perfect job of standing out and contrasting darker cabinetry.
Non-porous: For your basement kitchen countertops, you need a material that resists stains. A non-porous surface that is highly impenetrable is not only great for preventing stains but also a perfect choice for food safety, as it does not host bacteria or germs.
Free from defects: Homeowners who require multiple slabs for their kitchen countertop project will likely prefer a countertop that offers the best in color and pattern uniformity.
A top-quality countertop material, such as premium quartz, will offer all this and more.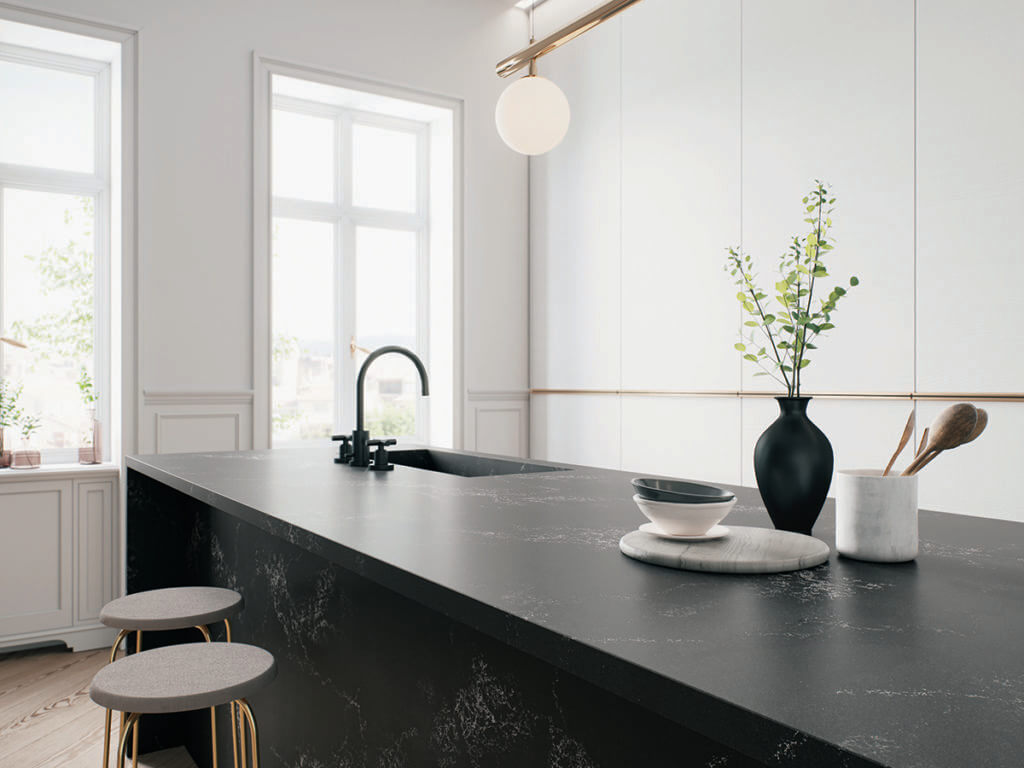 Power with Cabinetry and Storage
One of the most common problems with small basement kitchens is insufficient storage, which can easily lead to mess, clutter, and frustration using the space. This results from poor planning when designing the space.
Before any renovations are done, consider the kitchen use. If the space is primarily used for entertaining, then you will require more cabinetry. The cabinets will serve as storage space for glassware, snacks, and drinks.
Another vital consideration when it comes to cabinetry is color. As most basements are dark with low natural light, a homeowner will want to ensure their cabinetry perfectly compliments the overall kitchen design.
Match the Lighting and the Design
In the basement, a homeowner will rarely have enough natural light. To brighten the basement kitchen space, homeowners can opt for under-cabinet or over-the-counter lighting and recessed ceiling lights. One of the best small kitchen ideas for the basement is to look for every opportunity to brighten your space using reflective elements such as mirrors, polished quartz countertops, glossy tile, glass, or metallic finishes.
Be Creative with Color
The color choice of your countertops, cabinetry, backsplash, walls, and floors determines the final look of the space. Since the basement is already dark, you might be tempted to keep away from dark colors. However, properly pairing a dark countertop like Empira Black with brighter colors and patterns of cabinetry and flooring can provide a great contrast in the basement.
Properly Pair the Floors and Ceilings
The height of the basement ceiling plays a significant role when creating a basement kitchen, and will determine what kind of ceiling designs can be implemented. It's best to choose a classic design that will add a timeless look to the space, and will pair well with your chosen flooring.
Pay Careful Consideration to the Appliances
It's easy to match countertops with cabinets and backsplashes, but don't forget the kitchen appliances. Once clear on the main use of your small basement kitchen, decide which kitchen appliances are needed. This planning ensures you match the colors and placements of your kitchen appliances such as a refrigerator, microwave, or dishwasher to your overall small kitchen design.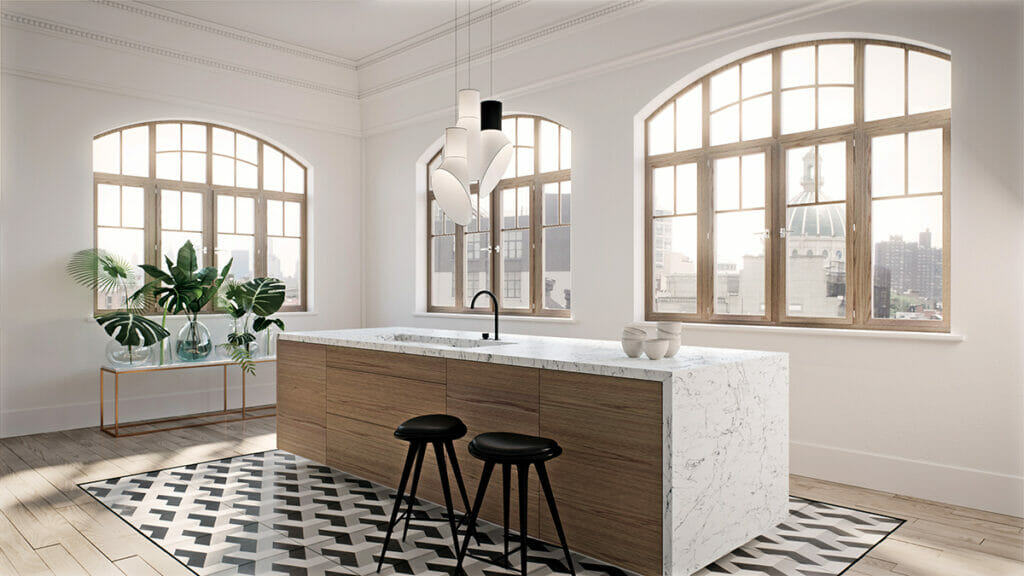 Final Thoughts on Small Basement Kitchen Design
A warm and inviting basement kitchen offers ample space for hosting, food prep, and more. With these small basement kitchen ideas, you can get ready to make your small kitchen basement design one to be admired and enjoyed.