Remodeling a kitchen is not an easy task. From choosing the right cabinetry to purchasing all the decor elements, the entire process can become overwhelming. However, to make it easier, start with the key element that will determine the design: the countertop. This surface will be the central point of any kitchen. This is why homeowners looking for quartz countertops in Raleigh, NC are on the right track to creating their dream kitchen.
Quartz countertops in Raleigh offer many benefits to homeowners, including durability, style, and ease of maintenance.
Several manufacturers offer quartz countertops in Raleigh, NC, but homeowners should keep in mind that not all quartz slabs are created equal. For a top quality countertop, homeowners should opt for a premium quartz manufacturer, such as Caesarstone. To find out where you can buy Caesarstone products, click here. 
What is a quartz countertop?
Choosing the right countertop is a crucial decision that affects the overall look of a kitchen. That's why, before looking at samples, it is important to get to know the material. Quartz countertops are engineered stones, which means the surface is made up of a mixture of a natural mineral and different resins and pigments.
However, despite quartz not being a natural stone, several color options, such as those supplied by Caesarstone, are made to mimic the look and feel of natural stone surfaces. For example, 5031 Statuario Maximus and 5151 Empira White offer an elegant, marble-inspired aesthetic.
Benefits of purchasing quartz countertops Raleigh, NC
Buying this type of countertop will provide homeowners with a timeless style in their kitchen. This means they won't have to spend any extra money every couple of years to revamp their design and make it more modern. But, apart from this, there are other benefits they will get to enjoy when purchasing quartz countertops in Raleigh.
Consistent color and pattern
Quartz is an engineered countertop, which means each slab is as consistent as possible in both color and pattern. This is an important attribute for homeowners who require more than one slab.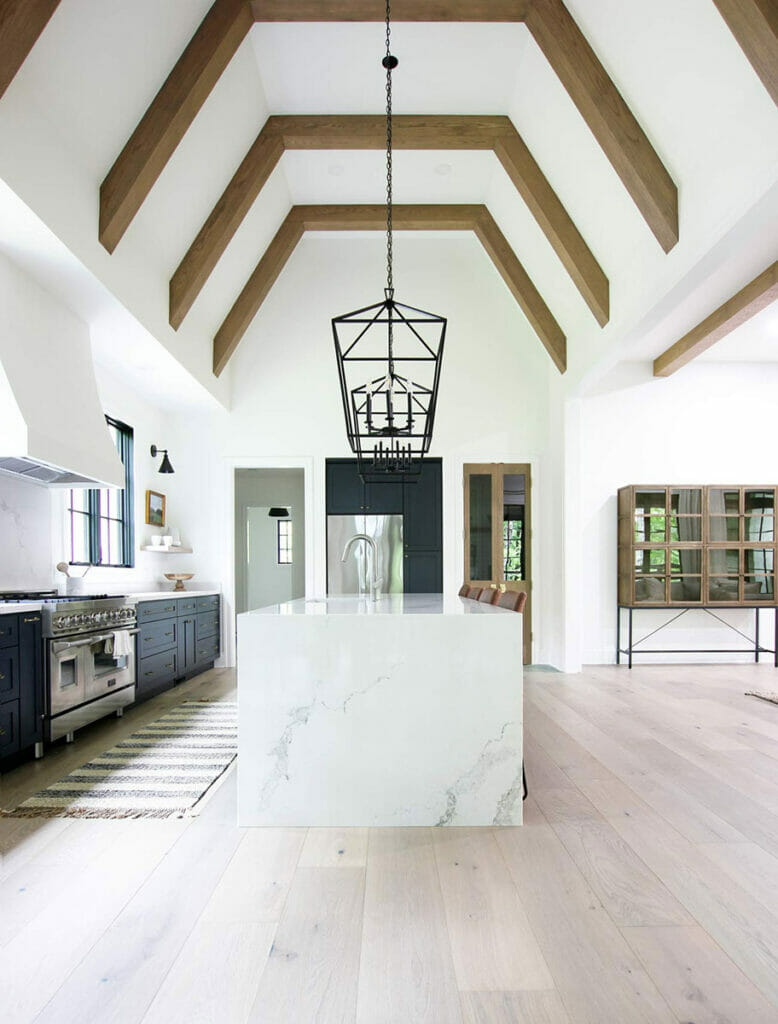 Environmentally friendly
Homeowners searching for environmentally friendly products can rest assured that quartz meets that requirement. The extraction of the mineral does not produce great damage to the earth. Plus, thanks to the mixture of resins that are necessary to create a countertop, this product is durable. This means homeowners won't have to throw it away in the next couple of years. They can even repurpose any extra quartz slabs and install them in the bathroom or near the fireplace.
Easy maintenance
Quartz countertops are low maintenance and perfect for heavy everyday use. With some simple daily cleaning, they are sure to stay beautiful for many years. The surface is non-porous, which means it is stain-resistant. However, we recommend cleaning it regularly with some warm water, mild soap and a cloth to keep it looking its best.
While these counters don't stain easily, any stubborn marks can gently be removed using an approved quartz cleaner like Soft Scrub Liquid Gel.
Sanitary surface
When choosing the surface for any kitchen, it is important to consider if the product creates a safe environment for cooking a meal. That means making sure homeowners don't have to think about any bacteria or viruses accumulating in their countertop. Thankfully, all quartz countertops in Raleigh are antibacterial. As we mentioned above, the surface is non-porous, so it does not host germs, mold or mildew.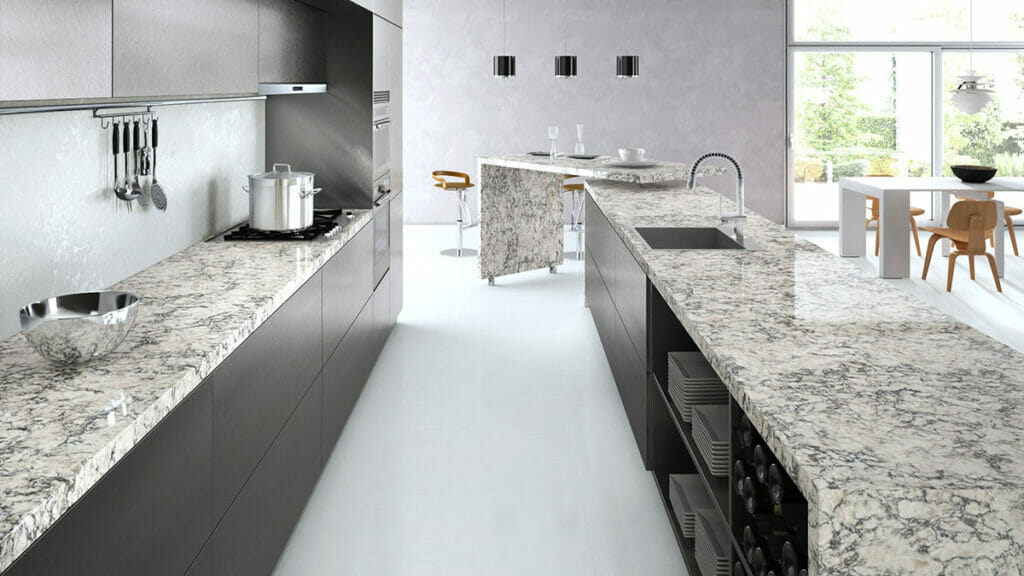 Several designs and colors
One of the things that many homeowners love about quartz is that it is a versatile product that can match any kitchen design. Depending on the provider, buyers can find a wide range of solid color surfaces as well as some with patterned designs. Caesarstone offers several premium options from crisp, natural colors like 4600 Organic White to bold, dramatic colors like 6611 Himalayan Moon.
Because of the engineered process of quartz, people also have the option to ask for a personalized countertop. That means they can choose between thin and thick veining. Plus, they can determine the tonality of the final product.
It is important to remember that if a customer asks for something personalized, that will increase the cost. However, quartz is a timeless product that homeowners will have for several years. That means the additional investment will be worth it.
Return on investment
Quartz can be more costly than other common countertop materials, and typically falls between $60 and $100 per square foot. However, homeowners need to keep in mind this is a one-time investment that brings a lot of benefits. For instance, a quartz countertop will last for many years, and it won't need any sealing or repairs. Further, by choosing quartz countertops in Raleigh, homeowners can increase the value of their property.
Final Thoughts
Purchasing quartz composite countertops in Raleigh, NC, is the best decision for any property. As we have mentioned in this article, this premium product can be more expensive than other materials, but on the other hand, it offers endless benefits for many years. One last recommendation: it is crucial to hire professionals to install quartz countertops. Otherwise, the surface could get damaged, which would end up increasing your budget.