One of the most critical tasks in remodeling a kitchen or constructing a new home is choosing the countertops. Besides being the working area for cooking, entertaining guests, and eating, they also provide a key focal point that draws the eye in the room. Quartz countertops offer the best of both worlds, making them a worthwhile investment. In fact, quartz is known for its stylish, yet easy-to-clean and durable nature, which is why this countertop material is a popular choice among homeowners, designers, and architects alike.
If you're considering quartz countertops in Philadelphia, PA, but not sure if they are the right choice, we've got you covered. Let's dive deep into quartz countertop facts and benefits so you'll be better informed when making this decision.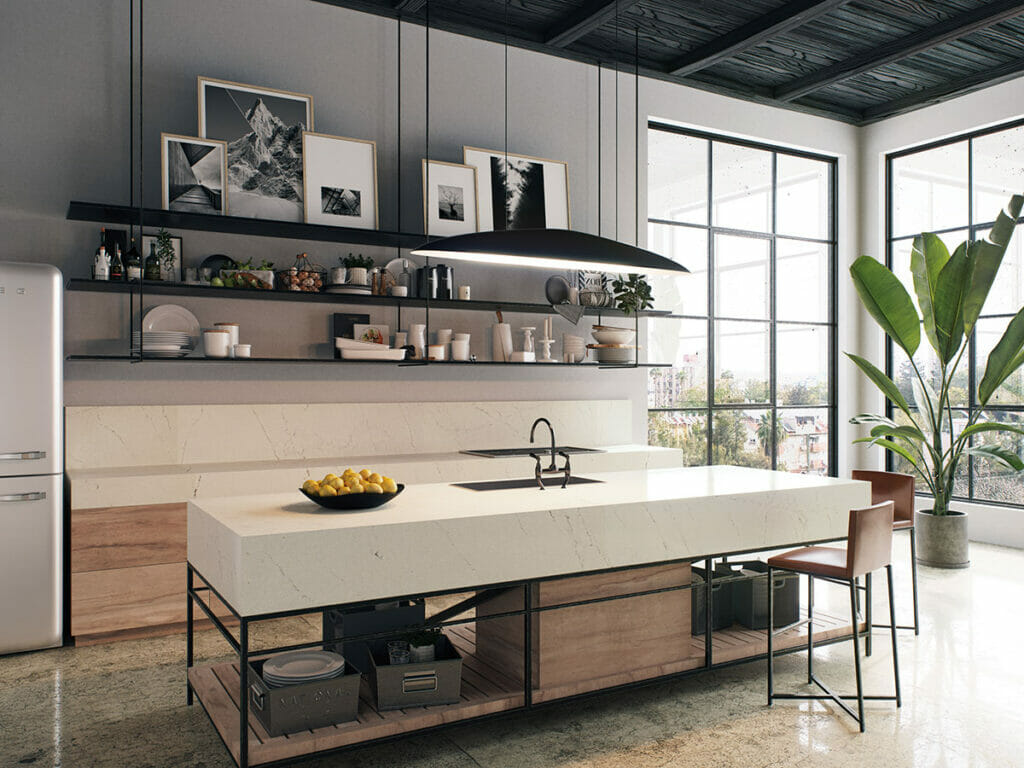 How Are Quartz Countertops Made?
Quartz slabs are made from natural quartz, one of the toughest materials on the earth's surface. The natural quartz is ground and mixed with polymers, resins, and color pigments, before undergoing intense heat and pressure to form firm solid slabs.
The percentage of natural quartz used in this process varies across quartz manufacturers. Caesarstone, for instance, uses over 90 percent quartz minerals to make hard-wearing, durable slabs. The slab goes through a high-quality standard of control, ensuring they're exceptionally made.
Desirable Features of Quartz Countertops
Quartz countertops have unique qualities that have won the hearts of many homeowners. Here are a few reasons to choose quartz countertops:
Easy to Clean and Low Maintenance
If you're looking for a contemporary, upscale look that demands low maintenance, quartz countertops are definitely worth considering. They don't need any advanced cleaning routines for everyday cleaning. Water, soap, and a soft cloth will do the job. Besides, since quartz countertops are non-porous, they don't require sealing or any oiling to keep their shine. With proper everyday cleaning and care, such as wiping spills immediately after they occur, quartz surfaces will last many long years.
Extremely Durable
Quartz countertops are among the most durable countertop options for any kitchen or bathroom. After all, they are made from one of the hardest minerals on earth. They are engineered to ensure the highest standards of strength. With strength comes high resistance to scratches, cracks, and chips. To give you a sense of quartz's hardness, quartz is rated 7 out of 10 (10 being the hardest) in the Mohs scale of hardness.
Non-Porous
Quartz countertops are highly impenetrable, which means they do not allow spills to seep beneath the surface. This creates a high resistance to staining, slab discoloration, and irreversible damage. Another benefit of this is that the surfaces can't host germs or bacteria, making them safe for use in the kitchen.
Virtually Unlimited Patterns
Quartz countertops are engineered surfaces, which means they are available in a wide variety of styles to suit any home aesthetic. You can easily get a quartz countertop in any veining or pattern combination.
In fact, the possibilities of the patterns you can get with quartz are virtually endless. They can be customized to pair with any cabinetry, flooring, backsplash, or design.
Timeless Appeal
Quartz countertops are stunning and sleek, giving every room a timeless feel. They add a touch of luxury with bold and unique colors and patterns. Curious to learn more? Read on to discover all the benefits that make Caesarstone quartz countertops especially popular among homeowners.
Popular Quartz Countertops Colors
Quartz countertops come in a wide range of colors. The style, pattern, veining, and material all depend on exactly what you want for your space. Here are some of the most popular colors of quartz countertops by Caesarstone.
Whites: If you're looking to brighten your space or make a small space feel large, white is a perfect choice. It's easy to pair whites with any design or color. Try some popular whites like 5151 Empira White (for perfect contrast) or 5112 Aterra Blanca (to add a calm feel).
Greys: Grey quartz adds a more natural vibe to any space making it feel relaxed. Check out these elegant greys for your space: 4044 Airy Concrete (for a bolder look) or 406 Clearskies (for a warm and welcoming feel).
Blacks: Elegant and sophisticated black countertops always make a statement. They are growing in popularity recently for their ability to meet vast design needs, whether for a traditional or contemporary design.
If you want to make a bold statement in your space, there's no denying black quartz will do the trick. Consider 5101 Empira Black (for a dramatic, luxurious, and vintage effect) or 3100 Jet Black (for a rich, minimalistic look).
Are Quartz Countertops Right for You?
As you can see, quartz countertops have a variety of benefits. But to answer the question of whether quartz countertops work well for your space, you must consider the benefits the countertops offer and if they fit in with the needs of your space. Consider the aesthetics, maintenance, durability, and non-porous abilities; are they essential for the space you're designing? Then make an informed choice.  
Cost of Quartz Countertops Philadelphia
The cost of quartz countertops is directly proportional to the value they offer. They are an eye-catching focal point in the home, with a durability that can last a lifetime. Additionally, they require low maintenance, which makes them a great investment. The countertops also maintain their original value, adding on to the home assets if you decide to sell in the future. With that in mind, expect quartz countertops in Philadelphia to cost approximately $50 to more than $150 per square foot.
Where to Find Quartz Countertops in Philadelphia
To browse through premium quartz countertop options by Caesarstone, visit our Where to Buy page and search by your location in Philadelphia.