Every homeowner in Austin craving a striking kitchen space should consider installing countertops made of quartz. In addition to their beauty, quartz countertops are durable, stain-, heat-, and chip-resistant, and non-porous. Plus, they are low maintenance and easy to care for.
For those considering quartz in their Austin home, here is what to consider.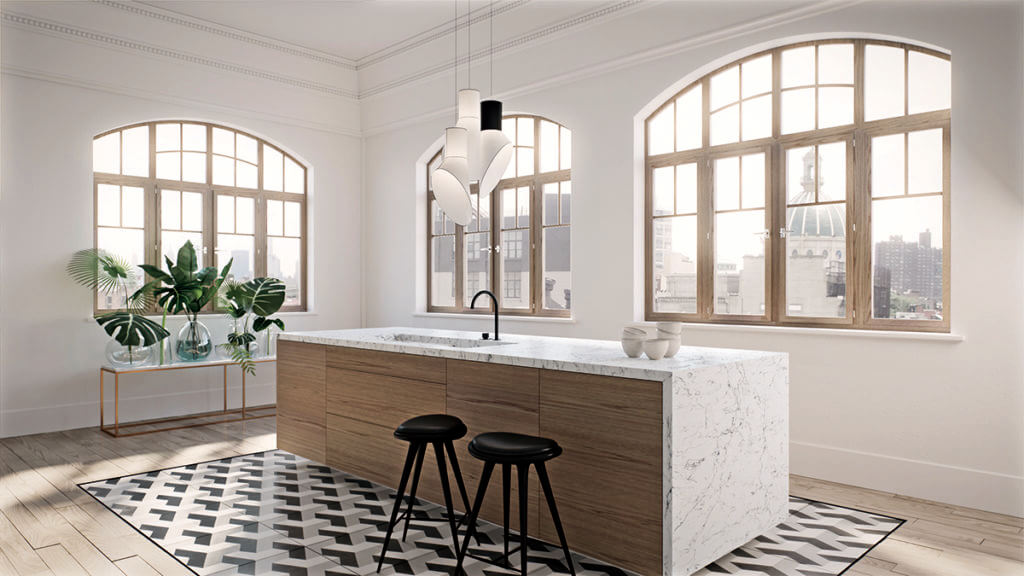 Is Quartz Right for Your Space?
Quartz is a popular countertop choice today for its eye-catching appeal and timeless strength. As an engineered stone, quartz opens up a world of possibilities when it comes to functionality.
Quartz countertops are versatile, coming in a virtually limitless range of colors and styles. Austin homeowners will find there is an option to suit just about any kitchen design, be it traditional, contemporary, farmhouse, or anything in between. They're a perfect choice for anyone looking to add long-term value to their home.
The strength of quartz makes this countertop material a go-to choice for busy kitchens as it can withstand everyday wear and tear. Any homeowner who wants a surface that will last without requiring upkeep will find that quartz countertops are a great option.
Quartz countertops are ideal for any kitchen or bathroom surface for their versatility and good performance. Caesarstone offers premium quality indoor and outdoor quartz countertops that will stand the test of time.
What to Consider When Buying Quartz Countertops in Austin
The quality and longevity of quartz countertops highly depend on the quartz countertop manufacturer. Here is what you need to know when purchasing quartz countertops.
Quality
Not all quartz countertops will give you the same durable and long-lasting results. Though most of these quartz countertops are quite alike in appearance, a distinguishing factor may be their price (we'll discuss more below).
A more careful study of low-end quartz countertops may reveal issues, such as lack of consistency in their color and veining, non-thorough body (where the slab veining and hues don't run through the entire countertop), cracks, stained spots, and superficial resin coats. To get the best quality quartz countertops, be sure to go for a trusted and reliable countertop manufacturer like Caesarstone.
Price
Price is a key factor to consider when purchasing any kitchen or bathroom countertop materials. When considering quartz countertops, the price is a key indicator of the quality of the quartz. For premium, high-quality quartz countertops, a homeowner should be ready to spend more. In fact, a homeowner should be wary of discounted quartz. These are often low-quality surfaces that will not stand the test of time.
Warranty
When looking to install quartz countertops into your space, it's critical that you consider the warranty offered by the quartz manufacturer.
While nearly every manufacturer offers a warranty, what differs is the guaranteed length, limitations, types of property offered, and transferability.
Caesarstone offers a lifetime warranty on all indoor countertops and a 10-year warranty for outdoor countertops.
What's the Cost of Austin Quartz Countertops?
Quartz countertops are undoubtedly some of the best countertops available on the market. With an upfront cost of between $50 to $150 per square foot, you're sure to make a great decision by purchasing premium, high-quality quartz countertops.
Consider this purchase a big investment—one which will last a lifetime. Investing in a subpar, yet cheap product isn't a wise decision, as the cost of repairs can add up over time. It's better off paying a bit extra to ensure you have high-quality, long-lasting countertops that can add to the value of your home.
Popular Quartz Countertop Colors
Choosing the perfect color for your quartz countertops in Austin, TX, can be challenging. We invite you to explore some quartz countertop color options, after which you can easily pick your preferred surface for your kitchen or bathroom space.
White Quartz Countertops
Whites are a perfect candidate for anyone looking to brighten their space. White never goes out of style and can pair well with just about any other color or design. Here are some popular whites to consider:
5143 White Attica – An opulent choice that mimics the look and feel of marble.
5151 Empira White – Stands out from the crowd with its pure white base and interplay of color, shadow, and movement.
5131 Calacatta Nuvo – A striking white quartz elevated by soft, cascading grey veins.
Grey Quartz Countertops
For anyone looking to add a natural or industrial feel to their space, grey is a go-to option. The versatility of this color is well-known, and can bring a new look to your kitchen or bathroom space.
6003 Coastal Grey – Brings a unique appeal with its dynamic play of whites, blacks, and greys.
4044 Airy Concrete – Adds a cosmic, airy feel with its swirling clouds of white flashes and darker hues.
5003 Piatra Grey – For an earthy marble-like design crafted to bring sophistication to any contemporary home.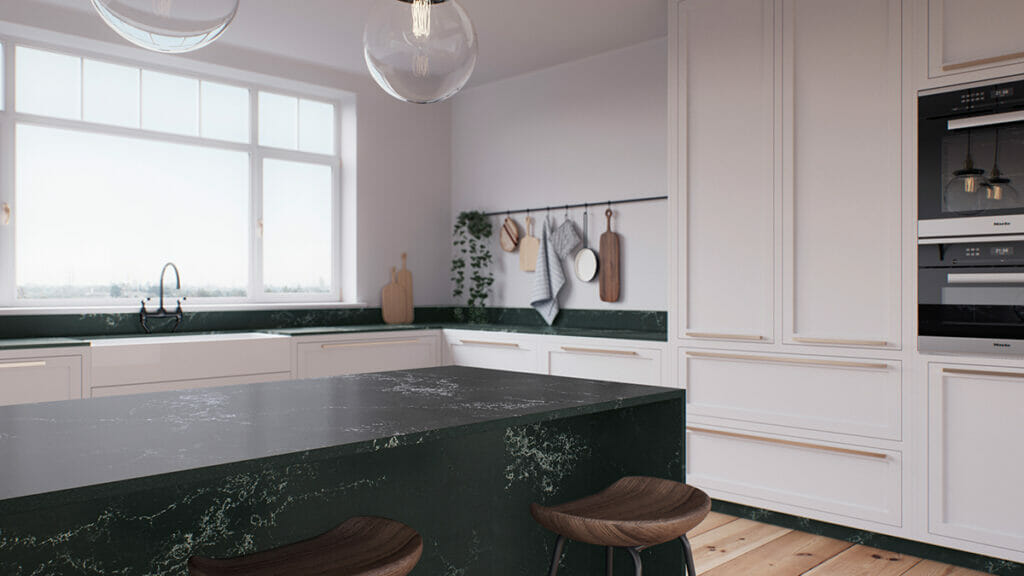 Black Quartz Countertops
Black quartz countertops are a bold, yet refined feature that can add depth and character to any home. As a color that is quickly gaining traction, black elevates the look of your kitchen or bathroom space.
5101 Empira Black – A rich black surface with delicate white veins that inspires an edge of class and luxury.
5810 Black Tempal – A complex surface featuring soft mineral deposits to complement industrial designs.
3100 Jet Black – A captivating solid dark surface with consistent subtle specks that speak to a classic, timeless design in modern spaces.
Where to Find Quartz Countertops: Austin
You, too, can have timeless, hard-wearing, and easy to care for quartz countertops installed in your kitchen or bathroom space. Find Austin's best quartz countertops at any of Caesarstone's showrooms, fabricators, retailers, or home centers. By visiting our Where to Buy page, you'll be sure to find premium quartz countertops near you.