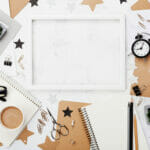 No matter how much we love our hobbies, finding the motivation to be creative or keep up a collection can be difficult when you don't have the space. It's important that your environment inspires productivity and passion. Even more—you need room to actually use that canvas, guitar, sewing machine or whatever else brings your hobby to life.
We've compiled some tips to help you transform your space and make your hobby part of your home.
Pinpoint Your Space
First things first, you'll need to determine where your hobby fits—literally! If you're lucky, you might have a whole bedroom, garage or basement to shape into a studio. Check out HomeAdvisor's tips for transforming a basement into a bright, fresh space.
If space is tight, don't despair! You can turn an empty corner, closet or stretch of hallway into a compact studio. I love using curtains and vintage room dividers to hide clutter and create cozy craft nooks.
Find the Perfect Work Table and Chair
Crafting sometimes means sitting still for hours at a time. Once you've picked your hobby space, search for the table and chair that will help you get to work.
If your craft requires a work table, go for something that is sleek, durable, nonporous and easy to maintain like a Caesarstone quartz surface. Whether it's your kitchen island, office desk or a custom piece of furniture, Caesarstone has your crafting covered. Surfaces are scratch-, stain-, crack- and heat resistant.
Don't settle when it comes to your chair. If you'll be working in share space, pick a stylish accent chair that complements your décor. A unique craft chair can feel special without crowding your home.
Prioritize the Right Light
Especially if your hobby involves small details or visual arts, lighting is key! If possible, plop your desk under a window. A good view can be calming and inspiring.
It's okay if you don't have a window. Select a lamp that's the right height and size. Pick a bulb that's bright enough to illuminate your space, but not so bright that your eyes ache.
Paint, Even Just an Accent Wall
If you are claiming an entire room, a fresh coat of paint can make the space feel brand new. Pick a color that feeds your creativity. Or, if you're a painter, let a wall be your canvas!
If you are turning a small space into a mini-studio, consider painting an accent wall. This can make your hobby area feel distinct from the rest of the room. A pop of color can also lend your whole home a warm, energizing vibe.
Create Functional, Stylish Storage
Make the most of your space by keeping materials off the floor. When it comes to storing your supplies, don't be afraid to go vertical with simple shelving. Cubbies, hangers and hooks are your friends!
You might also find a clean way to keep organized on the ground. Create dividers inside a chic vintage steamer trunk. Or, refinish a thrift dresser or credenza to create unique, highly functional craft storage.
If your hobby involves collecting, invest in a nice display case. Collections can make great conversation pieces when properly displayed.
Incorporate Tools and Instruments Into Your Décor
Combine organizing and decorating. To save space and create an attractive display, hang your hobby accessories right on the wall. For example, embroidery hoops and musical instruments make for fun, practical wall art.
Larger pieces, such as dress models and painters' canvasses, can also be attractive. Keep your work tools tidy so there's no need to hide them away. You can save space and avoid the hassle of repetitive set-up.
No matter how large your home is, there are lots of ways to make space for your favorite hobbies. Give your passions a place of honor, and let the creativity flow!