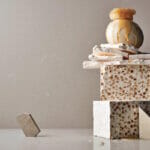 As Caesarstone continues to pave the way for innovative designs, popular interior design magazines continue to take notice. Most recently, LA Magazine and California Home + Design featured Caesarstone surfaces.
California Home + Design
When Caesarstone takes the cement look to a whole new level, architects, designers and individual home decorators notice. Caesarstone Takes On Concrete, The Newest Raw Trend in Design explores what it takes for a trend, like concrete in design, to be set in stone.
Along with defining the Caesarstone product designers' creative process and describing the lasting power of quartz, the informative article lists out and describes the colors in the Concrete Series, including Rugged, Raw, Sleek and Fresh Concrete.
Los Angeles Magazine
The Los Angeles Magazine article, Caesarstone Quartz Surfaces are Befitting of LA's Best Chefs, discusses how internationally-renowned master chef and LA native Ludo Lefebvre wants a multifunctional, durable, stylish kitchen, just like the rest of us. The piece also explores the concept of color in interior design and highlights a few of the pairings highlighted in Caesarstone's Perfect Pairings Guide.
These two popular publications join a number of national magazines that have and continue to highlight both the traditional and fashion-forward attributes of Caesarstone when it comes to maintenance, color, texture and style.