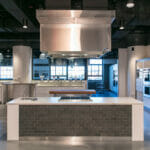 The growth of the America's Test Kitchen has been unprecedented. While they've always been innovators in culinary media, they've grown to the point where they host multiple television shows, magazine features and a wide variety of online content. It's no wonder ATK has been called America's most hardworking kitchen.
Recently, ATK moved out of their offices in Brookline, MA, which they had called home for over twenty years. They simply grew too big. Their new offices, in Boston's Innovation and Design Building, provide much needed breathing room as well as high quality studio spaces for all of their on-going projects. Not only does the move give them more space, but it also provides a chance for an upgrade, ensuring that ATK remains an industry-leading culinary brand.
ATK's designers looked for state-of-the-art equipment, stylized interior design and the highest quality materials for ATK's new kitchens. While some elements of the new kitchens may have been difficult to decide on, selecting the right countertops and work surfaces for ATK's new headquarters was an easy choice. They turned to Caesarstone.
As a luxury quartz surface manufacturer, Caesarstone has extensive experience helping beautify interiors with high quality, durable surfaces for more than just large developments. Caesarstone serves a customer base ranging from families looking to upgrade their kitchen to artists crafting their next work. When some of the top chefs from around the world are looking to open their own restaurant, Caesarstone provides countertops that not only stand up to the intense demands of the food industry, but also are designed to impress. It was only natural that ATK's designers turned to them when it was time to outfit their new studios.
This summer, ATK's 200+ employees moved into the Innovation and Design Building. The headquarters covers 55,000 square feet and includes multiple television studios, space for photography and editing, and, of course, the kitchens themselves. There are custom designed kitchens for the America's Test Kitchen and Cook's Country television shows as well as the increasing video content for social media. They also developed a kitchen specifically for recipe testing and tasting as well as product testing. Throughout all of these kitchens, Caesarstone products provide the surfaces needed to help provide engaging and creative media to ATK's huge audience.
While ATK's designers chose the Statuario Maximus Honed, Raw Concrete and Alpine Mist Honed styles for ATK's kitchens, Caesarstone has a number of designs to choose from, allowing you to create the kitchen you've always wanted. Be sure to look for their products when ATK's new headquarters is seen on TV for the first-time next year. To find out more about Caesarstone, visit caesarstoneus.com today!