Hotel designers are well-known for their skill in curating luxurious spaces. After all, staying at a hotel should feel like an upgrade from daily life, chock-full of comfort, relaxation, and a spa-like appeal. Every facet of a hotel room should be built with the guest in mind, and the bathroom is no exception.
When it comes to bathroom countertops, there are a wide variety of colors, materials, and finishes to choose from. When making a decision, a hotelier should choose a surface that is not only beautiful but can also last for years to come.
Caesarstone has been at the helm of surface innovation since 1987, driven by a passion for cutting-edge design and technological power. Known for our premium quality and sustainable craftsmanship, we produce quartz countertops that are suitable for any commercial or residential space.
Read on to see which surfaces from Caesarstone are ideal for elegant hotel bathroom countertops.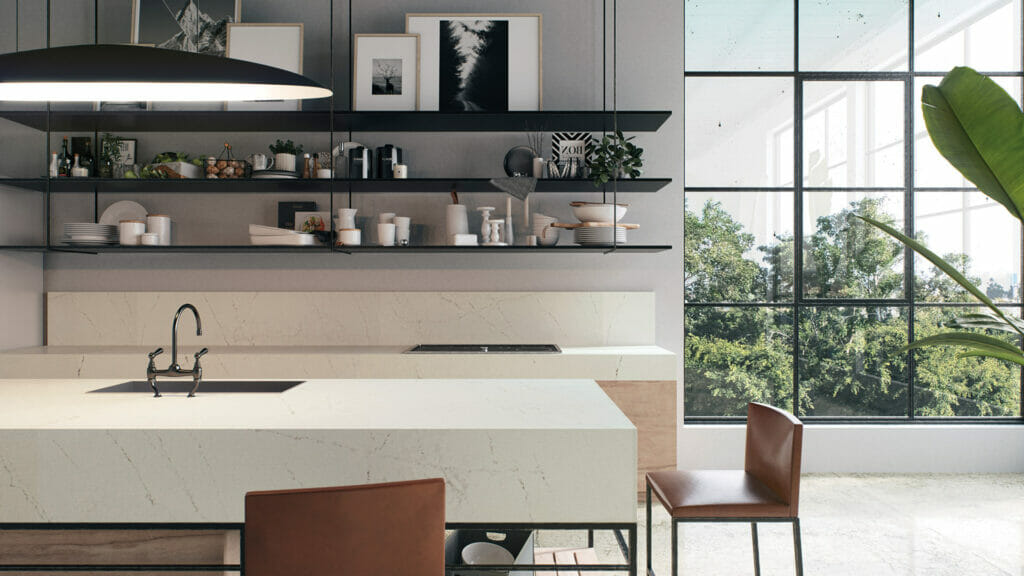 5112 Aterra Blanca
5112 Aterra Blanca is a sleek, sophisticated, and calm expanse of pure white, accented by delicate gray veining which dances across the surface of this subtle, yet potent color. Mimicking the look of marble, this unique quartz countertop elevates the feel of any hotel room vanity. 
5112 Aterra Blanca works beautifully with cabinetry in white, black, or wood. To add a calming effect, pair with fresh paint in soft gray tones or nature-inspired hues like ecru, cream, ochre, sand, or clay. To create a serene, spa-like space, complete the look with a small indoor plant.
Lastly, add gold or rose gold accents to the bathroom space, such as the vanity faucet, shower head, or cabinet handles. Doing so will create intrigue and complement a hotel's upbeat and contemporary style.
1141 PURE WHITE
White quartz countertops are the go-to choice for any hotel bathroom since they give a bright, clean, and spacious feel. For a truly modern look, 1141 Pure White adds a soft, comforting presence, creating the perfect reprieve for guests to relax and unwind.
1141 Pure White is also highly stain-resistant, which comes in handy in hotel bathrooms. Whether a guest spills their cosmetics, skincare, or toothpaste, a soft wash cloth and some warm water is sure to do the trick.
In addition to its easy-to-clean nature, this quartz surface works great with almost any color, whether a hotel designer favors soothing pastels or exciting jewel tones. Colors ranging from grays and taupes, to creams and beiges complement this countertop beautifully.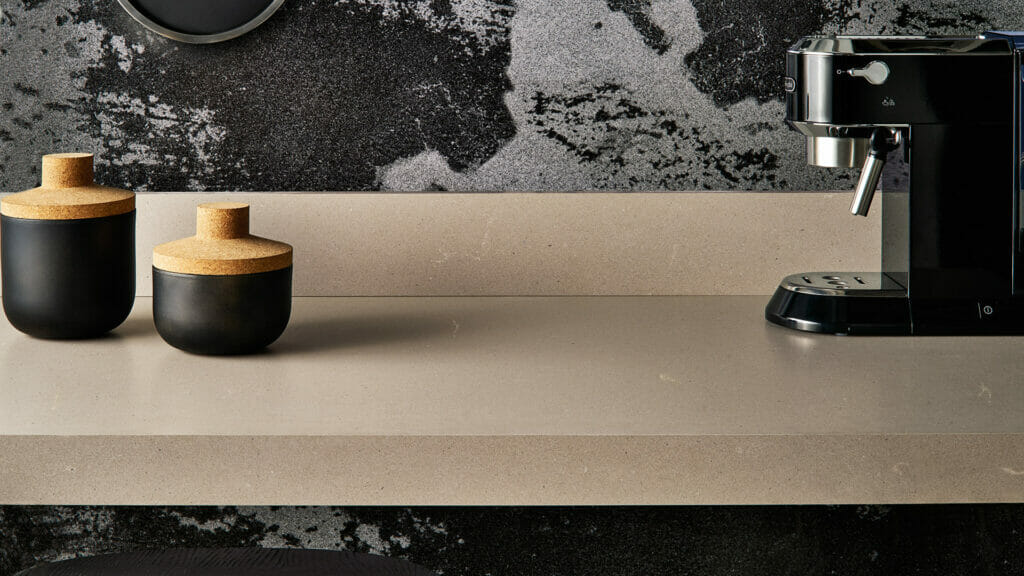 4004 RAW CONCRETE
While crisp whites countertops are still popular, a kitchen or bathroom that feels like an icy fortress may not be the ideal choice. 4004 Raw Concrete provides just the right amount of warmth to make a space feel more casual and inviting while maintaining a refined sense of luxury appeal.
This quartz, which has a pristine white backdrop with faint, feathery veining in gold and brown, is the ideal match to warmer décor as far as premium surfaces go. Whether a hotel designer likes delicate, honeyed hues or dark mahogany, it works well with any wood-tone cabinetry.
5171 ARABETTO
A striking color like 5171 Arabetto creates major visual appeal in a hotel bathroom, especially when the countertop extends from the vanity into a backsplash. A swirling galaxy of bold grey veins layered onto a crisp white base, this unique quartz surface from Caesarstone captures a complex blend of minerals like jade and copper that weave through this breathtaking stone.
Not only does engineered quartz come in a wide variety of styles, colors, and patterns, but it is also very durable. In fact, quartz countertops are highly chip, scratch, and heat resistant. Additionally, engineered quartz is non-porous, which means it is easy to clean and maintain. In a hotel bathroom, this comes as a major advantage, as housekeeping staff can keep this space in pristine condition.
To complete the look, add neutral-colored decor pieces like towels, shower curtains, or rugs. Doing so will make the countertop the focal point of the space. Paired with gold accents, any hotelier is sure to make a splash with their guests.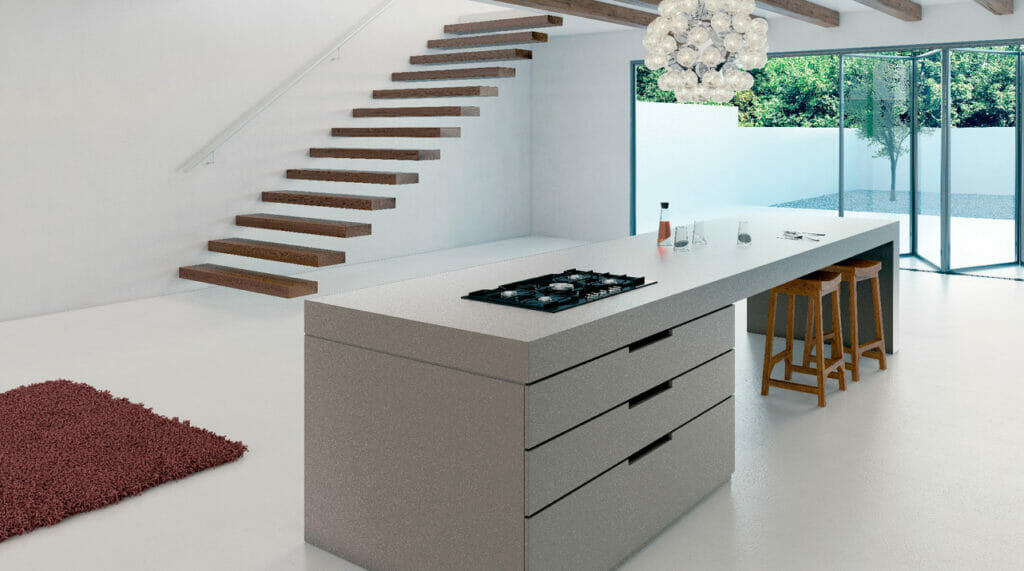 4003 SLEEK CONCRETE
It's difficult to deny the allure of luminous marble, but granite countertops' striking patterning and dimensionality have a lot to offer as well. Quartz may be made to seem like a variety of natural stone materials, offering a wide choice of options for bathroom countertops that make a statement.
4003 Sleek Concrete is an excellent choice for contemporary hotel vanity tops. Darker and lighter gray patches, as well as creamy swirls, punctuate the concrete gray backdrop, providing a mild, relaxing pattern suggestive of a blanket of clouds. For added visual intrigue, nougat-colored bits are strewn throughout.
The stormy, mid-tone gray has a greige-like warmth to it, so it works well with white, black, and gray elements, as well as a variety of wood tones. Hotel designers may still prefer ashier tones to a golden oak, but this gray is highly flexible.
It's not as difficult as it may appear to give a house the luxury appearance of a spa-like hotel bathroom, especially with so many great quartz countertop options to select from.
If one acquires countertops from Caesarstone, they can rest assured that they'll always get the greatest quality, regardless of the product they choose.