In general, buying quartz countertops boils down to two simple, uncomplicated factors: style and price. But how does pricing come into play?
Price is determined by a quartz countertop's size, color, labor, and grade. The thickness, color hues, percentage of resin, and percentage of quartz minerals in the slab determine the grade of the countertop. Choosing a good grade ensures that a homeowner's countertop will stand the test of time.
Before purchasing, we recommend that our clients become familiar with the various grades of quartz available to understand how this categorization affects cost, durability, and beauty. Feel free to take a look at the key elements that both residential consumers and design professionals consider in order to make smart countertop decisions that pay off in the long run.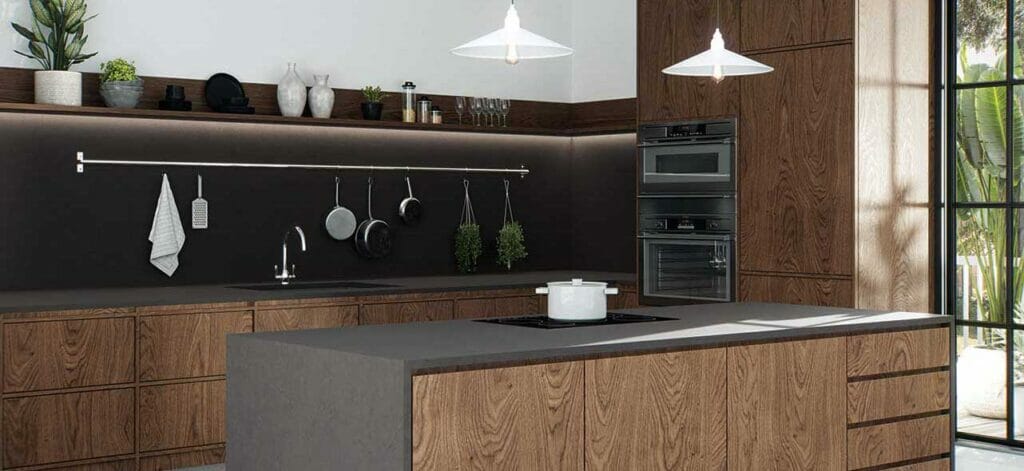 Different Grades of Quartz Countertops for Residential Spaces
There are three distinct grades of quartz: first choice, commercial-grade, and second choice. Each grade influences cost, durability, and beauty, as well as the overall value of the home.
FIRST CHOICE GRADE QUARTZ PRODUCTS
Colors are rich and brilliant, with few veins.
Surface has a smooth finish that looks like marble.
Costs range from $80 to $100+ per square foot.
In pristine condition, with a distinct gleam.
Expensive, yet can last for years.
Contains 7 to 8% resin.
COMMERCIAL GRADE QUARTZ PRODUCTS
Made for hotels, retail chains, cafes, pubs, and other service-related businesses.
Not always as pristine as first choice, but defects in commercial grade are hard to come by.
Cost per square foot ranges from $60 to $80.
The best price-to-quality ratio.
Contains 8 to 11% resin.
SECOND OPTION GRADE QUARTZ PRODUCTS
Basic, construction-grade material.
Duller than first choice and commercial grade quartz.
Cost per square foot varies from $50 to $60.
Frequently used in prefabricated models.
Contains more than 12% resin.
Suitable for first-time projects.
Evaluation Of Quartz Countertop Grades
Several visible tell-tale signs might warn today's consumers of low-quality quartz if they know what to look for. When looking at slabs to buy, keep the following in mind.
Color Consistency On The Surface Of The Slab
The color of high-quality quartz is consistent within and across slabs. This is a must have for kitchens that require more than one slab, in order to produce a cohesive look and feel. While veined quartz varies on purpose, the base color or hue, as well as the patterns of movement inside a quartz slab, should be similar.
To maintain an ideal level of uniformity, reputable quartz brands such as Caesarstone make slabs according to particular formulas. Low-cost quartz manufacturers might employ less precise engineering processes or testing cycles, resulting in a jarring color variation from product to product.
Purchasing low-grade quartz can be avoided by using name-brand quartz with a solid warranty and engaging the services of a well-known fabricator. Fabricators with experience have the skill and foresight to lay out comparable parts with little change when seamed.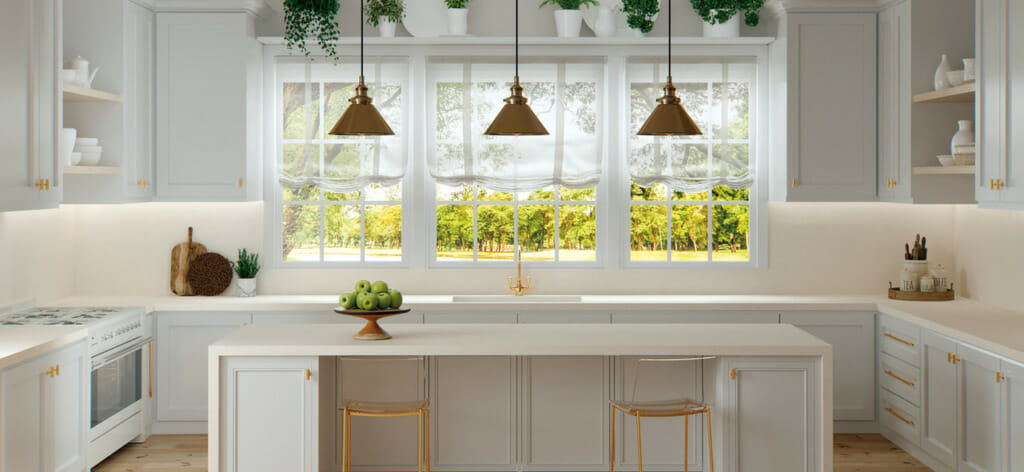 Aggregate Setting & Body Color
A countertop's veins, patterns and textures should permeate through the slab's body. Styles like undermount sink cuts or waterfall countertop edges will look tacky if the chosen quartz slabs only feature surface-deep designs. If the color fades or disappears halfway through the edge, don't buy it.
Examining the aggregate setting is also crucial. Crushed material that forms patterns in quartz is referred to as aggregate. Fine or chunky aggregate can be used as long as it is equally distributed throughout the slab.
Pits, pockets, weight, and density imbalances increase fragility. A visual examination will rapidly indicate whether a quartz slab is uniform in color, thickness, and crystalline texture. It goes without saying that a homeowner should never order from a suspicious catalog and should always inspect the slab in person before making a purchase.
Quartz Countertop With Constant Polish
A constant polish on quartz slabs should be observed when viewed from eye level. The surface of a countertop, whether polished, natural, honed, concrete or brushed, should be smooth. A blotchy sheen on a countertop indicates inexperienced surface polishing, working with polishing pads that have passed their "use-by" date, or a substandard quality of resin.
How To Check The Quality Of A Sample Of Quartz
With the naked eye, determining the quality of quartz can be a complex task. Here are several surefire strategies for selecting a suitable quartz sample.
INSPECT THE SAMPLE
Examine the quartz slab for flaws, cracks, chips, scrapes, stains, watermarks, or contaminants. Quartz thickness levels should also be consistent throughout the slab, which is an indicator of its quality.
Using Quartz in Residential Spaces
Quartz is a fantastic material for a wide variety of residential spaces, but it is most commonly used it kitchens and bathrooms.
Engineered quartz is an ideal material for kitchens because it is extremely durable and scratch-resistant, allowing it to withstand everyday use.
Additionally, quartz is a fantastic choice for bathrooms because of its non-porous characteristics. Due to the fact that it's non-porous by nature, germs and bacteria rarely build up on the surface. This makes it a great choice for homeowners that want to keep their bathrooms clean and bacteria-free.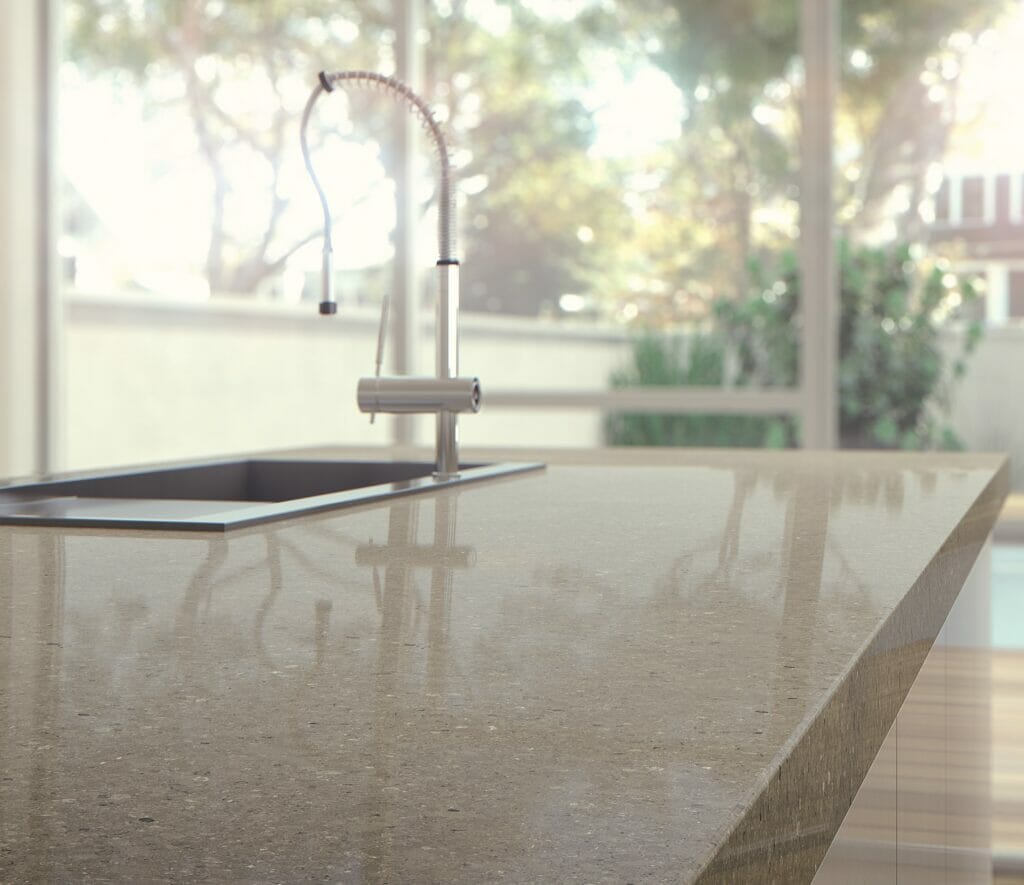 CONCLUSION
Quartz is amongst the most popular countertop materials due to its durability and non-porous, easy-to-clean nature. Aside from these benefits, quartz is also low-maintenance and comes in a wide range of colors, styles, and patterns.
Caesarstone has a long history of producing high-quality quartz countertops, and we are always delighted to provide customers with advice on which quartz is best for their residential or commercial space.
So, why not get started today with an expert?
With Caesarstone, homeowners and business owners get to choose from a wide selection of products. For a nature-inspired look, pick from soft, deep colors like 1003 Raindream or gentle, off-white hues like 1001 Riverlet.