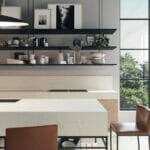 Earth-inspired lightness for any space
As people are spending more time indoors than ever before, they're being inspired to refresh their space and bring the warmth of the outdoors in. Light, earthy tones can brighten a home or workspace and inspire feelings of wellness and serenity. Use Caesarstone's newest Whitelight Collection as the foundation for spaces centered in productivity or rest. Deliver a clean sophistication to any design in tones of sand and the luster of pearls. A base that offers brightness and strength and will stand the test of time in a variety of environments.
Natural glow
Inspire your customers with visions of fresh, clean snow or glimmering white beach sand when designing their space. Present them with shades of clay, marble and stone that will envelop any room of their home or business in a luminous, earthy glow. The selection of designs and finishes of the Whitelight Collection are neutral enough to complement any style while also being distinctive enough to elevate and make a radiant statement in the space.
Flexible spaces
With non-traditional workspaces becoming the norm and schedules remaining full, every work environment must be reliable and offer adaptability. A Caesarstone kitchen island countertop offers heat/scratch resistance, an easy installation and an impenetrable, non-absorbent surface. It's ideal in any space from a hectic family home to a busy coffee shop. Whether it's providing a spot for after school crafts, Sunday night meal prep or latte art practice, it offers a timeless resilience no matter the situation.
Hues of the earth
Quartz enables great flexibility in surface design, making it possible for Caesarstone to offer a wide array of patterns, finishes and colors that are designed to inspire. Complement the earthy hues of the Whitelight Collection with a selection of other organic elements. Spark your design senses with the addition of natural rattan pieces, light wood cabinetry and lush green plants. These raw materials will only further enhance and elevate the pure beauty of Caesarstone quartz surfaces.
Commitment to craftsmanship
Caesarstone surfaces can enliven an office or restaurant setting and are also durable enough to stand up to daily wear and tear. Observing the highest standards of quality, environmental care and sustainability, our timeless countertops offer peace of mind. The nonporous surface is virtually maintenance free and won't hold onto stray pen marks or big spills. Caesarstone is the pioneer of quartz countertops but it's our passion for design and cutting-edge technological power that have kept us at the helm of surface innovation since 1987.
Earth-led design
Caesarstone uses natural raw quartz minerals to craft a work surface that's durable, safe and sure to become a favorite feature of your customer's home or business. Bringing the earth inside with purity and luminosity, The Whitelight Collection introduces three new colors to our range. From the graceful timelessness of 5112 Aterra Blanca and the serene desert hues of 5222 Adamina to the swirling, dynamic veining of 5171 Arabetto, Caesarstone's latest offerings provide a sense of calm normally only found in nature.
These three new colors are joined in the collection by the soft grey veins and fine copper-gold outlines of 5114 Calacatta Maximus, the refined ebony veining of 5151 Empira White, the classic natural marble inspiration of 5143 White Attica, the simple timelessness of 1111 Vivid White and the bold and dynamic thick veining of 5031 Statuario Maximus. Each one offering a unique take on an opulent, earth-inspired white base.
Bright ideas
Take a closer look at our newest white designs and the rest of The Whitelight Collection by contacting your Sales Representative for samples.

Bring the Earth inside! Read about Caesarstone sustainable practices and what Products for Residential Construction Professional says about it!

Check this great read from Design Milk about the Whitelight Collection!