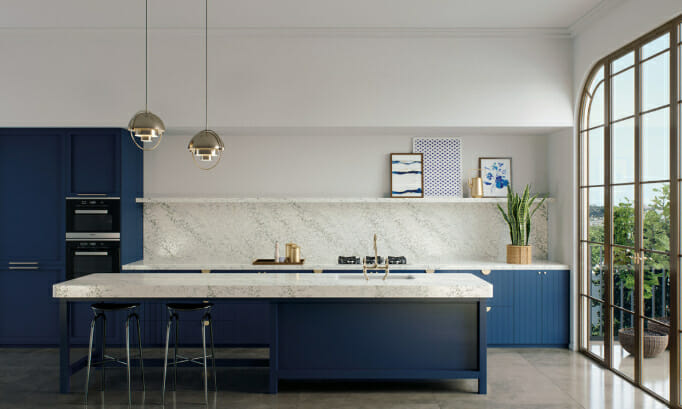 At Caesarstone, we are launching our striking, new Whitelight Collection and we held special virtual live events throughout the week of February 9-12, 2021.
The Whitelight Collection includes two new designs: the flowing beauty of dynamic veining with 5171 Arabetto, and the graceful timelessness of the classic 5112 Aterra Blanca. Both of which will be available to consumers in March and April.
These are featured alongside 5114 Calacatta Maximus and the stylish beauty 5151 Empira White. Also part of the Whitelight Collection: 5143 White Attica, 1111 Vivid White, and 5031 Statuario Maximus.
In addition to experiencing this new collection for the first time, Caesarstone hosted a few live events. Below are the details.
February 9th
12:30PM – 1:15PM EST
Introduction to our NEW Whitelight Collection
We held a live interview with Potter, Designer & Author, Jonathan Adler and Elizabeth Margles, VP of Marketing at Caesarstone, and introduced our new Whitelight Collection.
Watch the event recording here
February 10th
3PM – 3:30PM EST
Cooking Demonstration with FeedFeed's Julie Resnick
We apologize for the technical glitches we experienced today with our live cooking demonstration with FeedFeed, but rest assured we recorded the entire presentation! Download the recipe card here to recreate the dish in your very own kitchen.
Watch the event recording here
February 11th
5PM – 6PM EST
Virtual Happy Hour
We held a virtual happy hour and experienced some of our Whitelight Collection designs! A mixologist walked us through a bubbly concoction recipe that can be crafted as a cocktail or a mocktail depending on your desires. Download the cocktail recipe here!
Watch the event recording here

March 16th
4PM – 5PM EST
Panel Discussion on Innovation, Experience & Education
Join Elizabeth Margles (Caesarstone VP of Marketing), Jo Saltz (House Beautiful Editorial Director) and Anishka Clarke (Ishka Designs Interior Designer) for a lively discussion on innovation in design, consumer experience and learning.
Register Here
Read more about the latest product designs and innovations from the Kitchen and Bath Show! (Cottages & Gardens)