The countertops leader and surface science experts have teamed up with cabinet leaders for an unparalleled opportunity.  
Your home renovation just got a whole lot easier. Caesarstone has partnered with BOXI by Semihandmade to give you the best products on the market in a one-stop shop. Known for being the pioneer of quartz countertops, Caesarstone and BOXI have teamed up for an unparalleled opportunity. The BOXI kitchen remodeling system is the first and only all-inclusive solution that allows you to replace your old cabinets in one day, with no carpentry required. With BOXI by Semihandmade, you get premium quality cabinets at an unbeatable price with high-quality countertops to match. 
You will be able to design and create their dream spaces all in one place. Both the shopping and installation process is simplified, taking the stress away. You can even save time by choosing our pre-designed kitchens that come in different colors, styles, and sizes.  
---
With BOXI by Semihandmade, you get:  
A complete kitchen remodeling system including all cabinets and innovative quartz countertops in a variety of colors, styles, and sizes to fit your needs with pre-assembled panels for quick installation and top-notch customer service.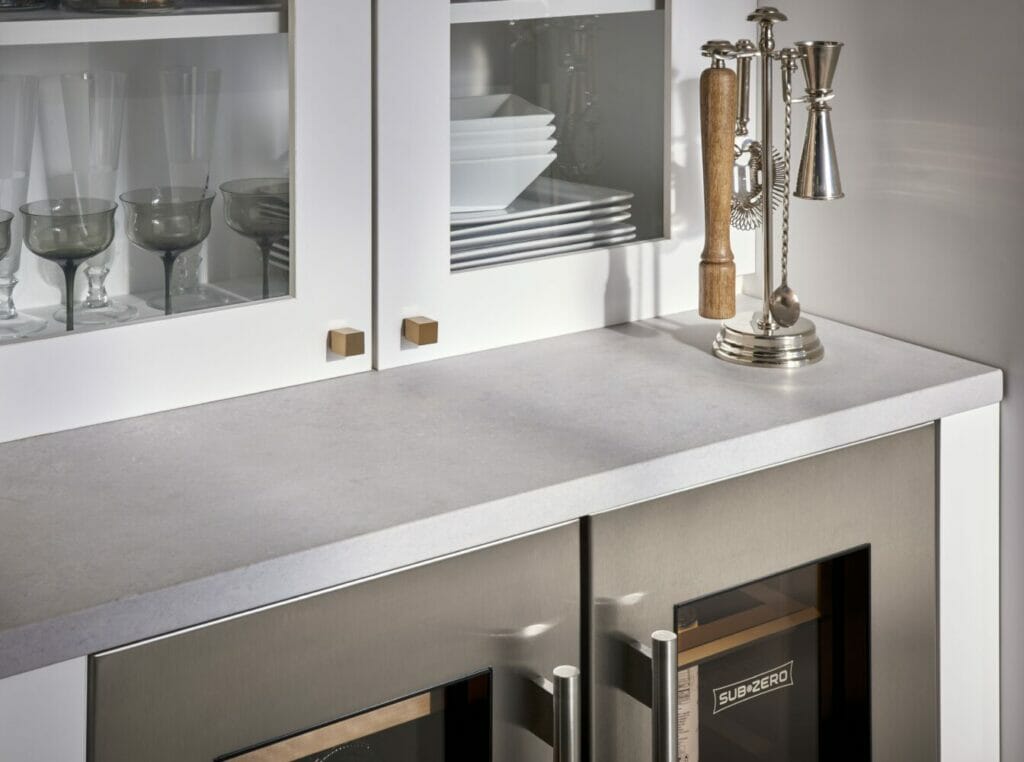 ---
The Caesarstone – BOXI Bundle includes everything 
This is the one-stop shop for creating the kitchen of your dreams. With Caesarstone's revolutionary online program, Caesarstone Connect, the entire design and installation process is online. What used to take many trips to a design center or store can now be completed online. This not only gives you more immediate options but also streamlines home projects. You can now view a wider range of options and select the perfect product for your home without leaving the comfort of your own home.  
---
How does this work? 
You'll start by setting up an online consultation with a Semihandmade specialist. During this time, you will discuss what you want your future kitchen to look like. Together you will decide what countertop you want and the matching cabinetry that goes with it. Make sure you start by choosing your countertop to make the statement you're looking for. At the end of your meeting, you will receive a quote and an accurate price for your new kitchen. 
When it comes to design, there are many places for adding your own flare. The space you create should reflect your style and that of your home. This is a time to get creative and enjoy the process. Since most of the work is done online you are freed up to get inspired and dream big. 
---
Sustainability 
Our surfaces are made from naturally occurring minerals that use the purest particles molded with resins and pigments. All combined to a sustainable surface that is non-porous, non-toxic, hosts no bacteria, mold, or mildew, and requires no sealants or wax, all SNF certified. That means you can literally eat off your countertop and be safe. All our surfaces are long-lasting and durable. Backed by a lifetime warranty to reflect the high performance and durability of all surfaces. This means we are here for you for life, making sure your countertop is timeless.  
Likewise, BOXI takes sustainability to heart as the first direct-to-consumer cabinet brand made in America. Doors are made of laminates and PET bonded to a furniture board or MDF. Fun fact: About 25 recycled water bottles are reused to create one medium door.   
To get your dream space started visit Semihandmade's website to schedule a virtual meeting.