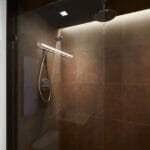 As kitchen design expands into more spacious and open floor plans, so expands the applications of Caesarstone surfaces. From benchtops, splashbacks, wall panels and kitchen islands to bathroom vanities, shower recesses and bathroom window sills, integrating beautiful and durable quartz into your living spaces creates a truly unique look throughout the home.
It goes far beyond kitchen countertops and bathroom vanities, though. Caesarstone surfaces are ideal for furniture pieces like coffee tables and entertainment units. They are a designer's favorite to use around the fireplace, on featured walls and in the dining room to add a touch of style and sophistication. The quartz surfaces retain the cool and tactile qualities of natural stone, are non-porous and are stain, scratch and heat resistant.
Kitchen
You already know Caesarstone is the only stone for your countertop and island areas but are you are aware that it works beautifully in other parts of the kitchen as well? With so many stunning colors and designs to choose from, quartz surfaces are ideal for other kitchen applications like wall panels, backsplashes, benchtops, floor panels and more.
Bathroom
Caesarstone surfaces are also perfect for wet areas due to the non-porous nature of the material. Our quartz prevents mold and mildew from settling in the cracks as it can do in many other natural surface materials. Upgrade your bathroom vanities, bath surrounds, inset shelving, shower recesses, floor panels, wall panels and window sills to Caesarstone.
Furniture
Designer Daniel Germani chooses Caesarstone as his quartz of choice when creating unique custom-made furniture pieces like entertainment units. You can find 5131 Calacatta Nuvo in his most recent designs.
Make your rooms stand out by adding quartz surfacing to dining room tables, coffee tables, entertainment units and more to transition the flow of materials from room to room. All Caesarstone products can be used for custom-made furniture for use in residential and commercial interiors.