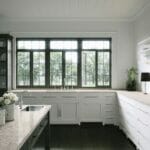 Classico is an Italian word that describes a wine which was produced in its namesake region, thus giving the product a seal of quality and authenticity. The Caesarstone Classico collection builds upon this tradition through a selected curation of surfaces that blend a sense of place with possibility.
We are excited to announce the addition of four more colors launched in Spring 2017!
The four colors are: 4033 Rugged Concrete, 5043 Montblanc, 6046 Moorland Fog and 6313 Turbine Grey. This palette was designed to help meet the needs of designers, architects and builders who are capitalizing on the industry movement toward grey and soft earth tones. Each of these surfaces can be matched with a wide selection of secondary colors and tones that give a space depth.
Rugged Concrete is one of the most exciting new products we have ever put on the market! Rugged Concrete is the first quartz to market with a texture, but with the inherent reliability and minimal maintenance you have come to expect from Caesarstone.
"Rugged Concrete is a new finish from Caesarstone that will offer a clean, industrial look, perfect for modern spaces," said Nick Harris, VP of Marketing at Caesarstone US. "We are excited to see the way this color option will completely transform different spaces whether it's used as a countertop surface, wall paneling, furniture or in other creative ways."
Other industry professionals are taking notice as well. Claire Zinnecker of Claire Zinnecker Design in Austin, Texas says, "So many of my clients want concrete counters without the maintenance, and Rugged Concrete is the perfect solution. The imperfections make this counter feel rugged yet refined."
The Montblanc quartz surface is breathtaking. This light grey stone has darker veins that run throughout and give the finish an amazing complexity. Montblanc is the perfect quartz to break the divide between very dark and light spaces.
Moorland Fog is a softer mushroom-colored material. Its natural swirls of complimenting earth tones give a space a nice, light, airy feel. Try using Moorland Fog in the kitchen with light-colored cabinets for an outstanding effect.
Turbine Grey is the darkest of these four new color additions, with a stormy grey complexion that features very intricate veining. The overall impression is bold and calming. Think about pairing this option with dark green colors.
Each of Ceasarstone's newest Classico colors represent a real opportunity for clients wanting to update their space with nonporous quartz surfaces that not only look incredible, but are easy to clean and keep looking like new without hours of tedious maintenance.
If you are interested in viewing any of these surfaces, visit Caesarstoneus.com.