Back to Main Blog Page
Reading:
BOSCH, CAESARSTONE AND THERMADOR: THREE LEADING BRANDS UNITE FOR CONSTRUCTION WEEK 2014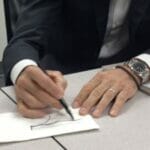 Three Brands of Choice, Three Innovative Days, One Stage – February 4-6, 2014
Bosch, Caesarstone and Thermador are uniting to showcase inspiring design, a range of kitchen solutions and new products during Construction Week, February 4-6, 2014 in Las Vegas. Over three days, the brands will share their vision of today's kitchens and aspirational design in one masterfully designed booth conceived by award-winning kitchen designer Mick De Giulio.
"Bringing together these three iconic brands under the direction of Mick De Giulio is an unprecedented achievement, which Caesarstone is proud to be a part of," said Sagi Cohen, Caesarstone US CEO. "As an industry leader, Caesarstone sees the builder community as an important partner, which is why it was imperative for us to have a strong presence at this year's Construction Week. Our product's ability to compliment any design, but also add value to a project will be highlighted during the show."
Bosch, Caesarstone and Thermador see their partnership as a natural one for the inaugural Construction Week, as it allows the three brands to present attractive home and kitchen solutions to both the builder and designer communities.
"The uniting of these brands will demonstrate to builders, architects and designers alike that together, BSH Home Appliances and Caesarstone offer quality solutions to suit every kitchen design," said Michael Traub, president and CEO of BSH Home Appliances. "Bosch provides European precision engineering in a sleek, modern package, while Thermador offers innovation for the culinary enthusiast."
Bosch, the definitive European kitchen brand for the Mass Premium market, will unveil a completely redesigned cooking line, which will set a new benchmark in kitchen design – available to consumers in April 2014.
Caesarstone, the industry trendsetter in combining artful home design with durability and quality, will offer an exclusive preview of their newest color innovations at the show. In addition, they will present innovative programs and offerings, which meet the unique demands of the builder community.
Thermador, a leader in luxury kitchens designed for culinary enthusiasts, will showcase its latest products that provide true performance and real innovations for real cooks.
"Creating the Construction Week booth for these three brands allows me an opportunity to demonstrate how warm and inviting today's stylish kitchens can be," said De Giulio. "I hope the space I am creating will inspire builder and design professionals to bring attainable luxury into more homes, because quality products never go out of style."
Construction Week 2014 takes place from February 4-6, 2014 at the Las Vegas Convention Center. The Thermador, Bosch and Caesarstone booth will be located on the International Builders' Show (IBS) at booth number C3837, though attendees at any of the Construction Week shows are encouraged to visit. More information about the schedule of booth activities will be available in the coming months.