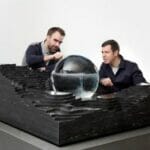 "Caesarstone Presents: Altered States by Snarkitecture" is the sixth installment of Caesarstone's Designer Collaboration Program, which aims to inspire designers, architects and interior decorators to experiment with and push the boundaries of Caesarstone quartz.
The 2018 collaboration is with NY-based collaborative architect firm Snarkitecture, known for taking everyday materials and converting them into unique installations that are characterized by the firm's signature blend of architecture and design. Snarkitecture has worked with high profile companies, including Calvin Klein, COS, Adidas and Pepsi.
Caesarstone's 2018 Milan installation focuses on the idea of the kitchen island as not only a place for entertainment, hosting, performance and technology, but also as the hub for social life in general. By making the island the center of the space, Snarkitecture embedded this theme into Altered States, which is inspired by the changing states of water both in nature and in the kitchen.
In the outer courtyard, three kitchen islands that were presented at Interior Design Show Toronto are on display. Each island represents a changing state of water and is formed in layers, referencing the earth's natural geography. Vanilla Noir, Alpine Mist and White Attica are three of the colors used in the art display.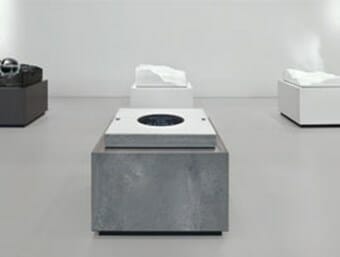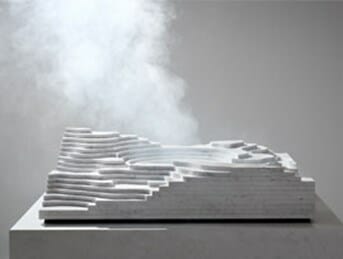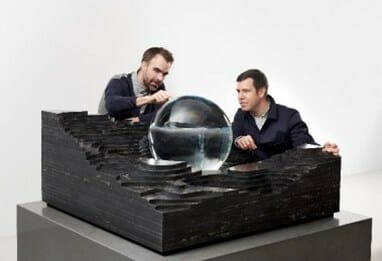 In the main room of the installation is a circular kitchen island made with White Attica, located in the center of the space. The island unifies multiple stations within, further showing the centrality and importance of the kitchen island. Each station, like the islands in the outer courtyard, represents a different state of water and its parallel use in the kitchen.
Surrounding the island is an amphitheater of over 200 Caesarstone pedestals made from colors in the New Metropolitan Collection – Cloudburst Concrete, Airy Concrete and Rugged Concrete. The amphitheater emphasizes the kitchen island as the central stage of the kitchen, a place where performances are made to the hosted audience who sit gathered around the island. The pedestals vary in height, emulating the look of topography, while the various colors of the pedestal's surfaces create a light to dark effect.
The installation is presented at the Palazzo dell'Ufficio Elettorale di Porta Romana.
During Milan Design Week, which runs from April 16-21, 2018, the city will see over 1,300 brands and 400,000 visitors.
Past Caesarstone collaborations include:
Nendo 2013
Raw Edges 2014
Philippe Malouin 2015
Tom Dixon 2016
Jaime Hayon 2017
Watch this video for more on the Snarkitecture collaboration.