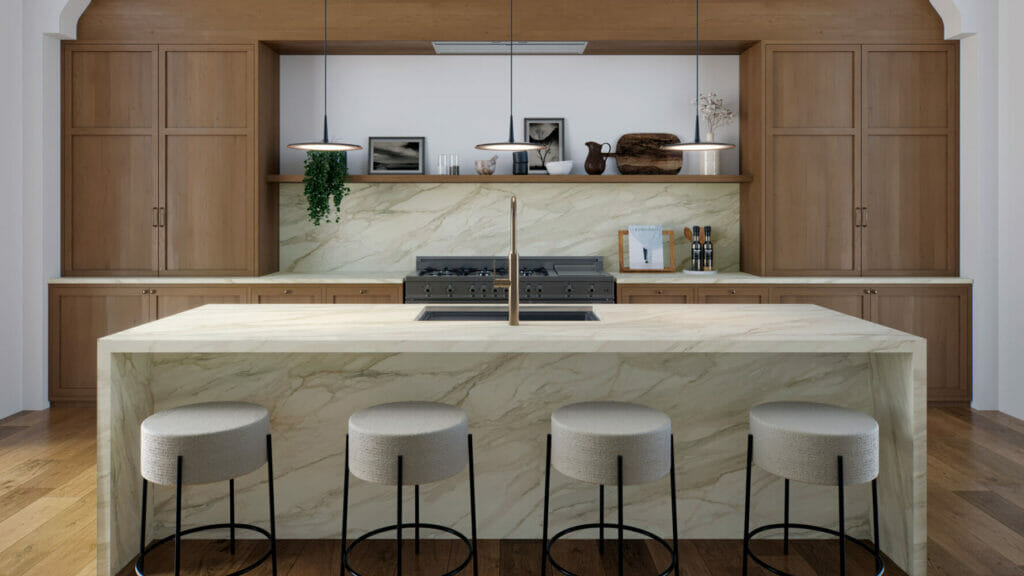 Caesarstone to unveil new collection of multi-material countertop surfaces which now include Porcelain and Natural Stone at the Kitchen and Bath Industry Show, January 31 – February 2, 2023. Experience our new point-of-view on countertop surfaces through the style, creativity, and innovation of designer Brian Brown who has crafted an immersive Caesarstone experience named Juxtaposed.
We will be celebrating our news with different in-booth events, including a Meet and Greet with Brian Brown, to provide customers, partners, and industry friends ample opportunities to see the new designs, celebrate its entire portfolio and connect with the Caesarstone team. We will also have informational sessions about our revolutionary Caesarstone Connect platform, wellness sessions, and other surprises!
For a FREE Expo Pass, use Promo Code: EXIV151574
Join us at Booth N651. We can't wait to see you!
Surface the possibilities
Designer Brian Brown has a longstanding relationship with us and this year he will bring together the world of Caesarstone and his passion for creativity with Juxtaposed.
Juxtapose means to place (different things) side by side (to compare or contrast them or to create an interesting effect). He drew inspiration from Psychologist James F. T. Bugental, "Juxtapose unexpected combinations of colors, shapes, and ideas."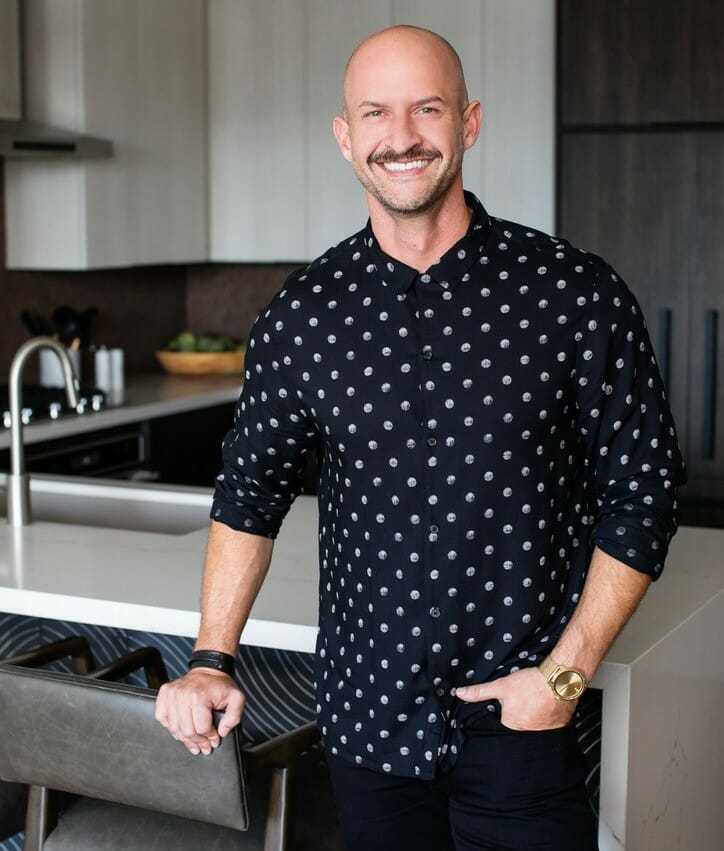 "In creating the design, we used the idea of using different materials and colors of product to create a dynamic design. Celebrating the diversity of options that Caesarstone has curated." – Brian Brown
---
35 years of innovation
Caesarstone is a global leader in premium surfaces, specializing in countertops that create dynamic spaces of inspiration in the heart of the home. Established in 1987, its multi-material portfolio of over 100 colors combines the company's innovative technology with its powerful design passion, spearheading high-quality sustainable surfaces that deliver functional resilience with timeless beauty.
Since it pioneered quartz countertops over thirty years ago, the brand has expanded into porcelain and natural stone and is on the ground in more than 50 countries worldwide, while enhancing customer experience through the expansion of groundbreaking digital platforms & services.
Caesarstone captures the authentic aspects of a broad range of materials, from natural stone to the industrial aspects of concrete and metal, with products that are suitable for a vast range of applications, including kitchen countertops, bathroom vanities, and more, for both indoor and outdoor spaces.
Caesarstone offers a rich variety of colors, patterns, and textures that empower consumers with more design freedom for making a uniquely personal statement and is constantly evolving and developing to meet the latest global trends and the highest level of international quality standards.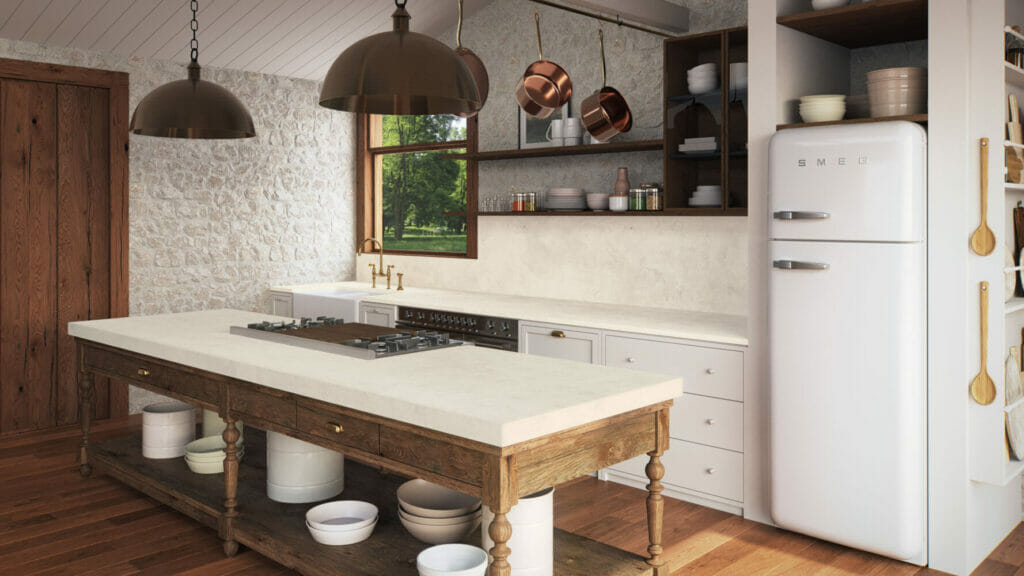 KBIS In-Booth Event Schedule
Outdoor Oasis
Tuesday, Jan. 31, 3:00PM – 4:00PM
Wednesday, Feb., 1 9:30AM – 10:30AM, 2:00PM – 3:00PM
Thursday, Feb. 2, 10:00AM – 11:00AM, 2:00PM – 3:00PM
Design an Outdoor Oasis right from your studio! Anthony Barbagallo from Pro-Fit Living will introduce you to an innovative self-intuitive design platform, which will help you bring your client's dreams to life. Exclusively featuring Caesarstone's Outdoor and Porcelain Collections. Change the way you design with this revolutionary software!
Wellness Time: Disconnect
Tuesday, Jan. 31, 1:00PM – 3:00PM
We invite you to rest and recharge from the busy show with Caesarstone, and visit our booth to enjoy a relaxing set of wellness offerings. Put on noise-canceling headphones, and enjoy a relaxing hand massage with aromatherapy, followed by a hot tea of your choice at our tea bar.
20/20 Spaces with Caesarstone in 20/20 Booth #N2825
Wednesday, Feb. 1, 12:30PM – 1:00PM
Want to learn more about how the 20/20 Design software is integrated with our Caesarstone Connect platform? The combination of these two systems brings you unparalleled business opportunities to set you apart and offer your clients a better way to accomplish their design goals! Meet the Caesarstone team at the 20/20 booth #N2825 to discuss the new way to sell.
Champagne Toast
Wednesday, Feb 1, 3:00PM – 4:00PM
Join us for a toast to kick off the launch of Caesarstone's Multi-Material launch! Visit our team and Brian Brown for hors d'oeuvres and drinks in our immersive booth, Juxtaposed. Hear from the creative mind of Brian Brown and explore how he was inspired by the freedom of choice in our new offerings, taking his design concept Juxtaposed to life.
From Sketch to Reality
Wednesday, Feb. 1, 2:00PM – 2:30PM
Thursday, Feb. 2, 12:00PM – 12:30PM
Booth designer Brian Brown and booth fabricator Scott Ainsworth will take you through the design and fabrication process of Caesarstone Porcelain. Bring any questions you have for our live Q&A with the team!
Turn Up the Heat
Tuesday, Jan. 31, 11:00AM – 12:00PM, 4:00PM – 5:00PM
Wednesday, Feb. 1, 10:30AM – 11:30AM, 12:30PM – 1:30PM
Did you know you could cook directly on your Caesarstone Porcelain countertop? High heat resistance porcelain pairs uniquely with the technology of Invisacook – an induction cooking system that sits underneath your countertop. Chef Kev D will showcase the capabilities & benefits of our new Porcelain collection, through an engaging and fun cooking presentation prepared using fresh, organic ingredients. We will also demonstrate how easy it is to clean and maintain our Caesarstone surfaces no matter the mess!
Caesarstone Connect Demo
Tuesday, Jan. 31, 10:30AM – 11:00AM, 2:00PM – 2:300PM, 3:30PM – 4:00PM
Wednesday, Feb. 1, 11:30AM – 12:00PM, 1:00PM – 2:00PM, 4:30PM – 5:00PM
Thursday, Feb. 2, 9:30AM – 10:00AM, 12:30PM – 1:00PM, 3:30PM – 4:00PM
Our Caesarstone Connect experts will demonstrate how this revolutionary program will streamline selecting and ordering your customer's countertops, making designing their space easier and bringing joy back to the process. Did you know that we will automatically connect you with a certified fabricator to speed up your timeline? Come by to get a quote when you work with a Caesarstone Connect representative in our booth!