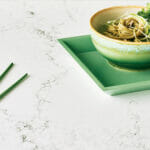 Thanks to their versatile style, quartz surfaces are a popular choice for kitchens. White quartz can be enhanced with beautiful black veins that add character and interest.
This striking countertop design creates a dramatic and elegant effect that fits within practically any homeowner's individual style.
Although the combination of white quartz with black veins can be considered minimalist, it can also represent a traditional look with its elegant quality. Here are some design ideas that homeowners can use to bring a refined taste to the kitchen area.
Why quartz?
Quartz countertops are one of the most popular material choices for kitchen and bathroom surfaces. Quartz countertops are quickly gaining popularity due to their numerous advantages.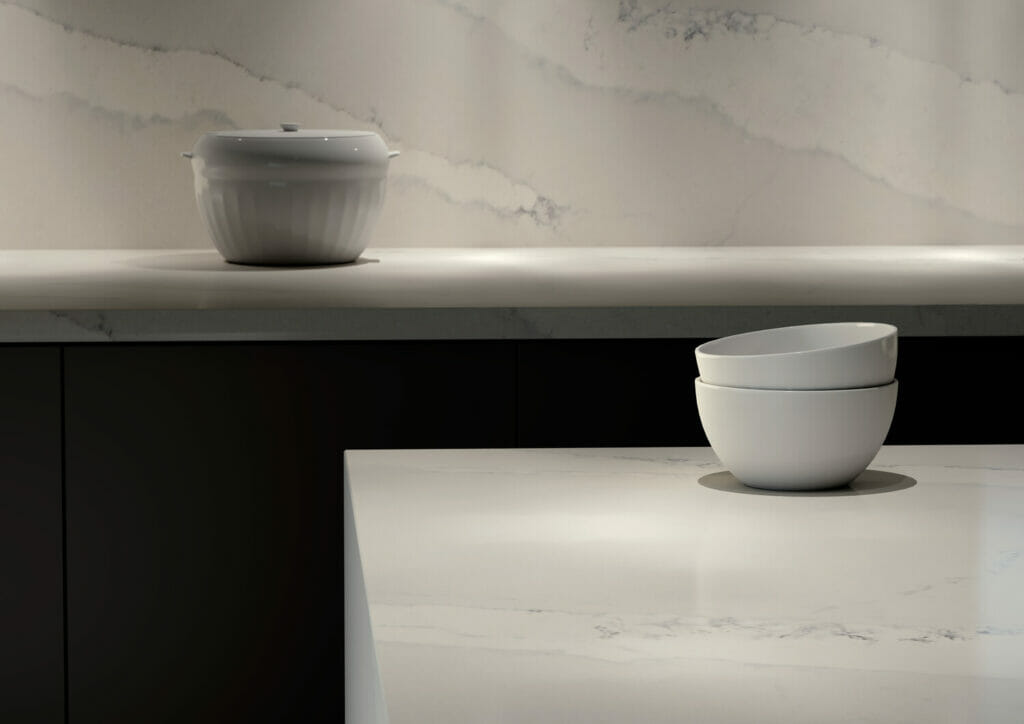 Here are just a few reasons why quartz countertops are a great choice:
Quartz is one of the strongest minerals on earth, which is why quartz surfaces are incredibly durable and resilient. They are resistant to scratches, heat, chips, scratches and staining, making them ideal for busy areas.
They are safe, non-toxic and hygienic. Quartz is naturally non-porous, so it will not absorb spills or harbor bacteria.
Quartz is also one of the most eco-friendly options on the market. This environmentally friendly and sustainable material can be recycled at the end of its lifespan.
Quartz countertops made by top-rated manufacturers, like Caesarstone, are available in a wide range of colors and patterns. Whether homeowners are looking for a product with a classical appearance or something more unique, there is always a quartz countertop that fits the style and complements any décor.
The advantages of white quartz with black veins
Since quartz comes in various colors and patterns, why should a white quartz countertop with black veins be one of the top choices?
For homeowners looking to create a dramatic effect in the kitchen area, a white quartz counter with black veins is the ideal choice. On the white quartz canvas, black or charcoal veins create an elegant and timeless look.
With its dark streaks, Caesarstone's mystifying 5131 Calacatta Nuvo creates a sense of luxury with its vein pattern. Because the vein pattern is situated in blurry roots, it constitutes a classical look rather than a minimalist vibe.

On the other hand, 5151 Empira White presents sophistication in a modern finish with an interplay of dark and light. The clean, pure white with darker veining in longer sections makes a statement for a bolder look.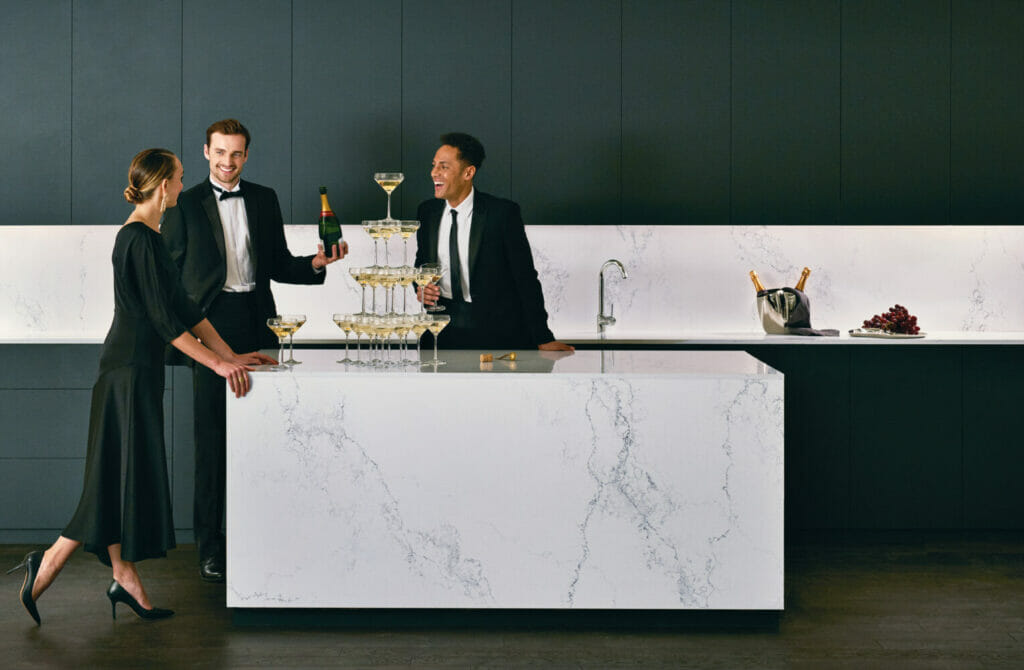 How to care for a white countertop with black veins
Light-colored surfaces are popular because they do not show stains and dust as easily as darker-colored products.
White quartz countertops with black veins are an elegant addition to a house and do not require special care or maintenance to keep them looking their best. They can be easily cleaned with mild soap and water. Harsh scrubbing is not necessary, and using a soft cloth or sponge when cleaning is usually enough.
Avoiding harsh chemicals or abrasive cleaners is advised since many of those can damage the veins.
If any spills do occur, wipe them up immediately to prevent persistent stains. Most of the time, simply wiping them down with a damp cloth will keep the countertop looking like new.
Also, using coasters helps protect the countertop from water rings and other damage, while cutting boards will contribute to the quartz's long-lasting quality. By following these simple tips, homeowners can keep their white quartz countertops with black veins looking elegant and clean for years to come.
Design ideas for incorporating this trend
With their striking appearance, quartz countertops with black veins can be a bold choice for homeowners who want to obtain a more subtle look. In this case, Caesarstone's Pebbles Collection is a fantastic option. Caesarstone's Pebbles Collection is full of neutrally-colored products, making it the go-to collection for subtle (yet stunning) designs.
When selecting white quartz countertops with black veins, it is important to consider the space's overall design and how the countertops will be used.
For example, white quartz countertops with black veins can be used to create a bold statement if they are used with dark, sleek cabinets. This will create movement through the kitchen and a minimalist look.
White quartz with black veins is a beautiful and classic design element that can add intrigue and a touch of elegance when paired with light-colored cabinets. This consistent color transition creates harmony and puts forward the classical elements in the kitchen.
The veins in the quartz can vary in thickness and pattern. If homeowners want to achieve a sleek and contemporary look, they can opt for a white quartz counter with black veins. This paired duo results in a sharp, consistent appearance.
Whether homeowners just want to update their new kitchen countertop or spruce up the entire kitchen, white quartz with black veins is a great option to consider.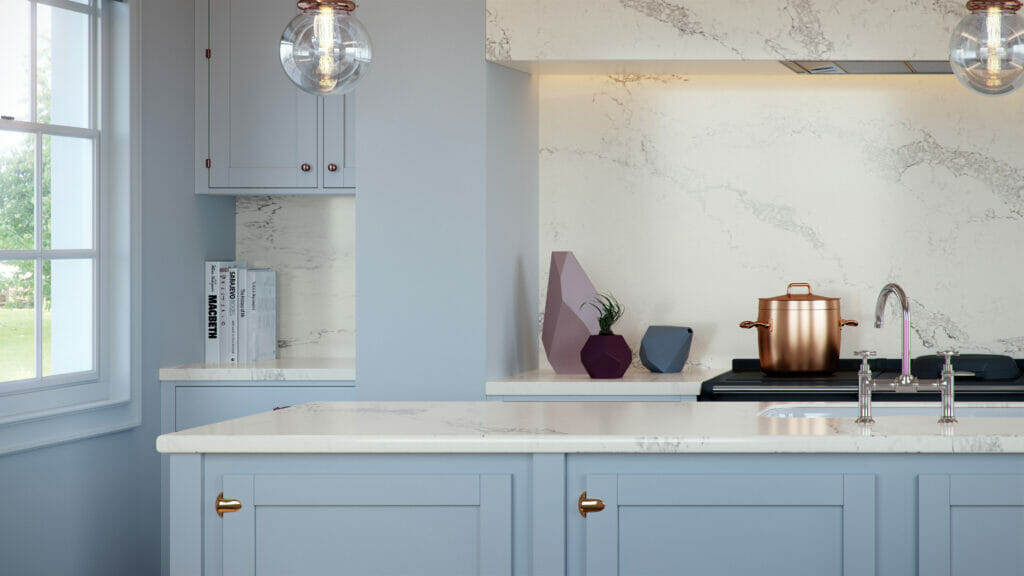 Accessorizing for white quartz countertops with black veins
Quartz countertops with black veins can be a stunning addition to any kitchen. But what are the best ways to accessorize these unique countertops?
One option is to keep the overall look white and crisp. Homeowners can try displaying white dishes and appliances to create a sleek and modern appearance. Another option is to use black accents that complement the black veins in the quartz. This could include using black stools or chairs on the island or hanging black pots and pans from a pot rack.
Homeowners can choose a few simple accessories that complement the white quartz countertop without overwhelming it. For a more subtle look, try using silver or gold hardware and accessories. A white vase filled with fresh flowers can add a touch of elegance, while larger decor is great for making a contemporary statement.
To enhance the look of this striking countertop design, homeowners should ensure that the design elements are consistent with the overarching style of the space.
White Quartz Countertops with Black Veins: Design ideas — Conclusion
White quartz with black veining will not only add visual interest to the area, but also it will be a great functional choice for homeowners with busy kitchens, as they are low-maintenance and easy to clean.
When selecting a color scheme for white quartz countertops with black veins, it is important to consider the surrounding decor. Complementing the countertops with light floors and cabinets can create a traditional look, while utilizing contrasting elements creates a minimalist style.
Homeowners can visit their local showrooms today to start their dream renovation with various colors in never-ending possibilities.