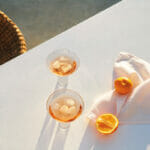 Even though there are different materials that you can choose for your countertops, the
popularity of quartz has been rising in the last couple of years. These countertops offer many benefits for every homeowner, plus several colors and patterns to choose from. However, picking the right quartz countertop can be a difficult decision if you don't know what aesthetic you want to achieve, which is why we've compiled a list of the top quartz countertops ideas for your home.
Before we take a look at the unique quartz kitchen countertop ideas we have picked, you might be wondering what exactly is quartz. A quartz countertop is an engineered stone, or in other words, one that is man-made. This special stone is made of resins and pigments (10%) and quartz minerals (90%). These percentages can vary depending on the brand that you pick, but they won't represent a significant difference in the material.
Most homeowners are now picking this material over granite for a variety of reasons, including how easy quartz is to clean. This is a great advantage, especially if you have kids. Homeowners also don't need to worry about any scratches or stains in your kitchen or bathroom. Keep reading for a more definitive list of all the advantages of quartz.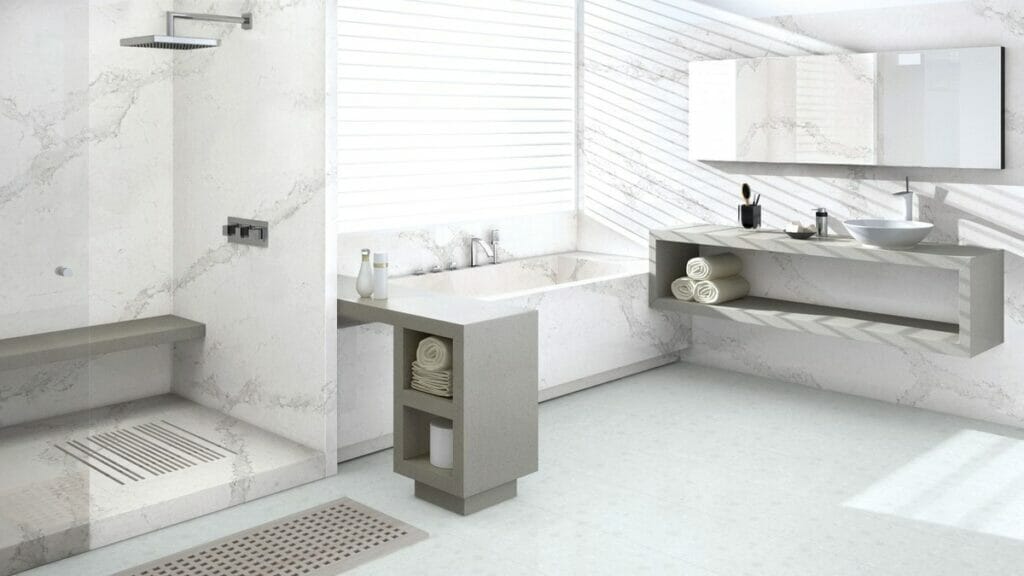 Benefits of a quartz countertop
1. Convenience
Did you know that quartz is the most sanitary surface available? A quartz countertop not only looks good in your home but its nonporous and non-absorbent surface that protects you against bacteria and microorganisms. These hygienic features give you the added reward of convenience. A quartz countertop is easy to clean, only requiring a little soap and water. Additionally, there is no need for it to be resealed or polished.
2. Style
Even though quartz is just one material, it comes in a wide variety of options. Choose from neutrals like white, grey and black or select a more unique pattern with veins of gold, grey or turquoise. Once you have decided on a style for your kitchen, you'll have no problem finding the right quartz countertop to enhance it.
3. Durability
Quartz is a very durable material that will last for many years. It's one of the hardest materials that you can find in the market (much harder than marble, as we discussed in this post). Consequently, cracks are less likely. Plus, it will be heat-resistant (although, it is recommended to use hot pads).
To get started with finding the perfect quartz countertop for your home, check out the Caesarstone catalog for our full range of styles.
Kitchen quartz countertop ideas
Since you now understand why a quartz countertop is the best idea for your home, we want
to help you choose a style that highlights your personal design preferences. Here's a carefully chosen breakdown of the best quartz countertop ideas for 2021.
1. Pure White Countertop
There's no denying the clean, minimal aesthetic of an all-white kitchen. Take this look to the next level with a pure white quartz countertop. Despite its light surface, white quartz is just as easy to clean as every other tone. There's no need to worry about lasting stains on this low maintenance work surface. Add some visual interest to the minimal colour palette with metallic or matte black cabinet hardware.
2. Waterfall countertop
A waterfall countertop is a new trend in design where the horizontal surface expands across the joints and touches the floor. For this design, this countertop resembles flowing water, giving a unique look to your kitchen. The design also creates more space for cooking and even offers extra room for seating.
3. Black Drama
Every homeowner has a different style they want to showcase throughout their home. For those desiring a luxurious, moody ambiance, Caesarstone has a wide range of black quartz countertops to choose from. The rich, dark palette can give your kitchen a dramatic look and a contemporary feel. An elegant black quartz countertop goes with everything but will particularly pop against navy blue or natural wood cabinetry.
4. Rounded edge bullnose
We can't list the best quartz countertop ideas without mentioning the rounded edge countertop. With this style, your kitchen will stand out against the more commonly chosen square edge. A rounded edge is not only unique but a safer option for families with young children.
Read more about the various types of countertop edges here.

5. Combining quartz
If you are somebody that likes creating trends instead of following them, this is the style you
have been looking for. As you might have guessed by the name, you will be combining
different tones of quartz. This looks best when you use one colour on the countertop and another on the island. Combining quartz in similarly toned neutrals adds depth and dimension while allowing you the freedom to play with colour with your cabinetry choices.
6. Orange countertop
Orange may be an unexpected choice in a kitchen but according to Allix Cott writing for Architectural Digest, it can create a warm and positive ambiance. Lean into the retro feel with 70s inspired decor and accessories or pair it with white cabinetry for a fresh and modern feel.
7. Cozy Style
Invite cozy feelings into your kitchen with natural materials. Pair your light wood cabinetry with a marble-like quartz countertop for a rustic elegance. It's a comforting oasis as the morning light fills the room and a romantic getaway on a cold winter night.
8. Creamy beige
The earthy hues of a creamy beige countertop pairs beautifully with a wide range of wooden elements in your kitchen. The soft tones are also a lovely foundation for open kitchen shelving featuring stylish ceramic dinnerware and lush green plants. 
Regardless of your desired aesthetic, there is a quartz surface that can elevate your kitchen to make all your dreams come true.